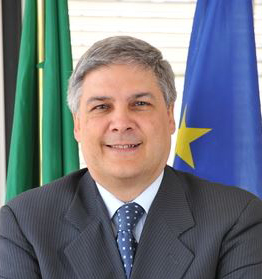 Roberto Luongo, born in Naples 60 years ago, of which more than 36 were at the service of the ICE Agency, was appointed on December 18, 2018, by Decree of the President of the Republic, Managing Director of the Italian Trade Agency – ICE Agency (ITA) for the next four years.
After graduating in Political Sciences, Roberto Luongo played different roles within the ITA Agency, which led him to hold operational positions in support of Italian SMEs and the promotion of Made in Italy worldwide.
Among ITA's executives since 1991, he developed a valuable experience in several key international markets as head of ITA offices abroad in Kuwait City, Prague, New York (as head of ITA's US network) and Istanbul.
In 2010, at ITA Rome headquarters, he was Director of the Promotion Department for Internationalization, coordinating, in collaboration with the Ministry of Economic Development and the business associations, promotional proposals coming from ITA worldwide network and the Italian embassies.
After managing the transition process to the reformed Italian Trade Agency in 2011, he began his first term as CEO and Managing Director in 2012. At the end of the first term in 2016 Roberto Luongo moved to the Coordination Department for Foreign Investment Attraction as head of the office, and then became Director of the ITA office in London.