Webinar: The Agribusiness chain in Africa. Focus on Kenya, Uganda and Rwanda - March 2nd 2023
__________________________________________________________________________________________________________________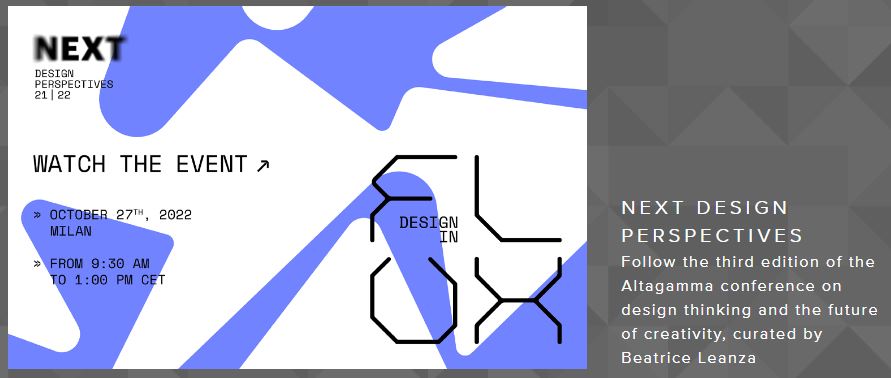 NEXT DESIGN PERSPECTIVES 2022 will be broadcast live on Thursday 27 October from 9:30 to 13:00 (Rome TIME)

NEXT DESIGN PERSPECTIVES is the annual Altagamma event dedicated to future trends in creativity and design and their impact on consumption, lifestyles and business models of the cultural and creative industries, with the participation of some of the most innovative thinkers, designers, artists, scientists.
The third edition is curated by Beatrice Leanza, the new director of Mudac (Musée Cantonal de Design et d'Arts Appliqués Contemporains in Lausanne).

The program is available on the website www.nextdesignperspectives.com. 
Key Partners of the event are the Ministry of Foreign Affairs and International Cooperation and ITA - Italian Trade Agency.
Read the Program: https://www.nextdesignperspectives.com/programme/

The conference is streamed on www.nextdesignperspectives.com