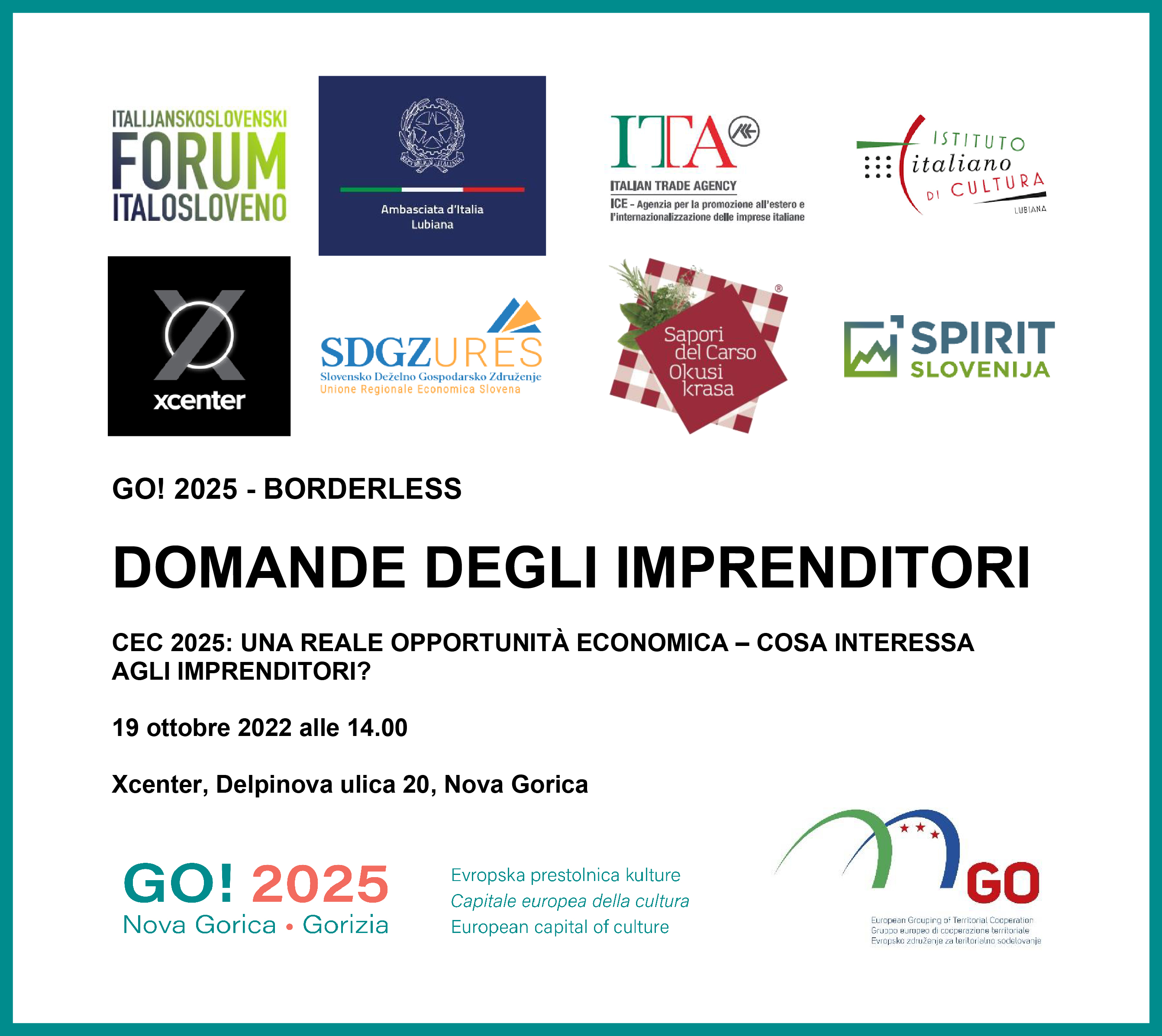 The 2022 edition of the Italian-Slovenian Business Forum was held on 19 October in Nova Gorica and entirely dedicated to the important GO!Bordessless 2025 project which led to the joint designation of the cities of Gorizia and Nova Gorica as Capital European Union of Culture for 2025. The Ljubljana Office of the Italian Trade Agency and the Italian Cultural Institute also collaborated in the organization. After two years of pandemic that forced to hold the works in a virtual format, the Conference could take place in Nova Gorica at the Xcenter headquarters, a new structure created as a connection point for creative, artistic, business, research and education and one of the first projects of the European Capital of Culture 2025 which will be able to host interactive exhibitions and workshops for students not only in the artistic and cultural fields, but also civil-social, sports and tourism.
Focus of the event entitled The European Capital of Culture as a commercial opportunity: what are the interests of entrepreneurs? it was to explore the possibilities of economic development of the already highly integrated border area, but with a potential not yet fully expressed.
The Conference was introduced by the President of the Forum, Jurij Giacomelli, who  emphasized the culture of sharing and coexistence which permeates the entire Gorizia's region. The Mayors of the two cities, Klemen Miklavič and Rodolfo Ziberna, underlined the strengths of a project with unique opportunities for economic development and that could provide the territory with important benefits from urban redevelopment.
The Ambassador of Italy in Slovenia, Carlo Campanile, praised the initiative as the first operative follow-up to the official launch of the Project, which took place just one year ago, on 21 October 2021, with the participation of the President of the Republic Sergio Mattarella and his Slovenian counterpart Borut Pahor. He then put Go!Borderless 2025 in the context of the progressive strengthening of bilateral relations between Rome and Ljubljana, marked in the last two years by particularly significant initiatives, including the joint tribute of the two Heads of State to Basovizza in July 2020. The Ambassador emphasized also the prospect that the border could become, also thanks to GO! Borderless 2025, a true aggregation point, generating ideas and projects as an element of connection and collaboration as well as a multiplier of entrepreneurial and cultural initiatives.