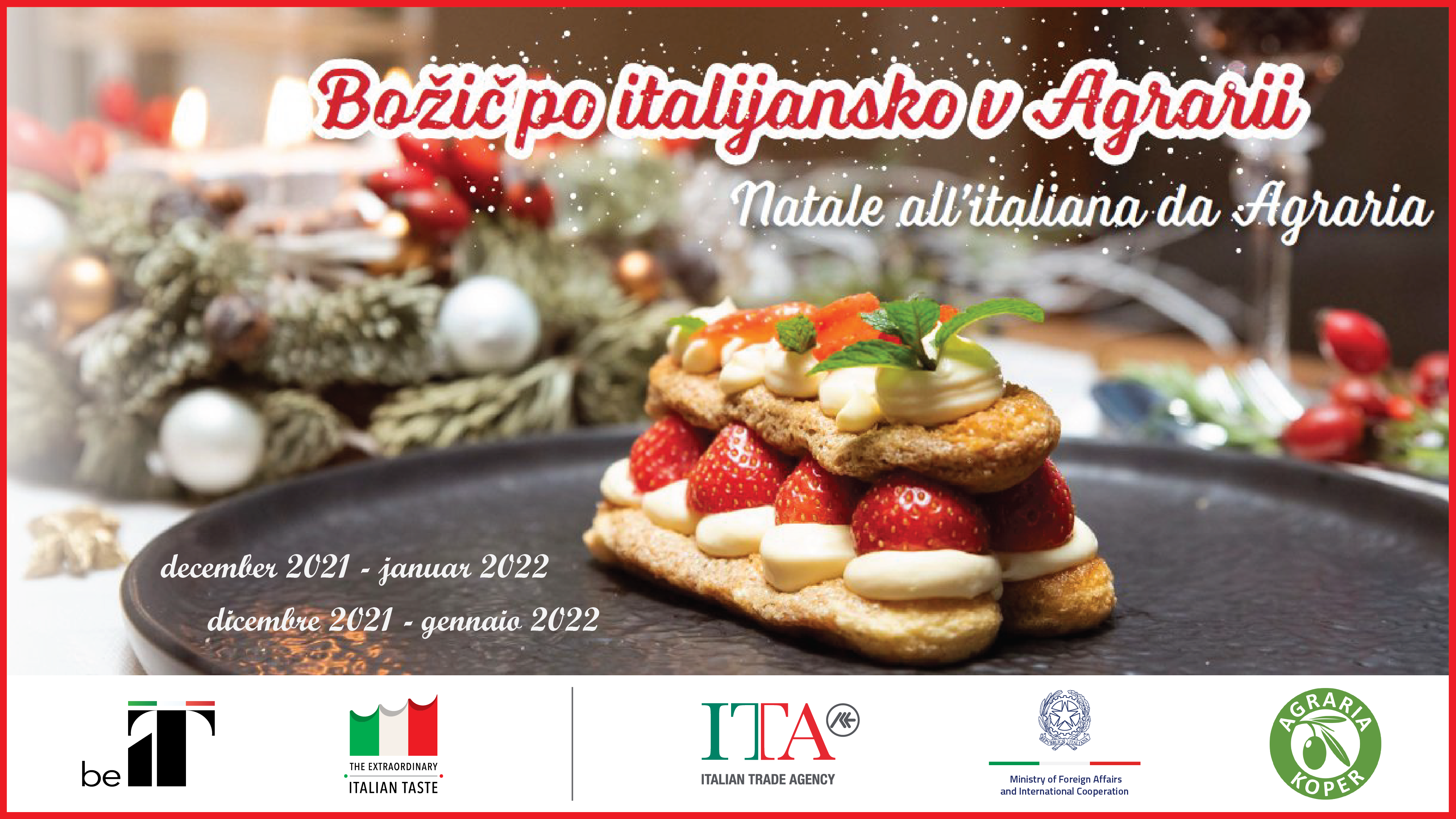 Italian Christmas meets the flavors of Slovenian Istria
The promotional campaign Božič po Italijansko v Agrarii in favor of Authentic Italian Food kicked off in Koper at one of the most representative stores of the well-known Agraria Koper food chain, which covers the Slovenian Coast Region. This is a new initiative of the Italian Trade Agency in Ljubljana - in collaboration with the Embassy of Italy - with an agreement promoted by the Italian Ministry of Foreign Affairs and International Cooperation as part of a special Christmas Promotion project.
At the opening event, in addition to the Ambassador of Italy Carlo Campanile and the Consul General of Italy in Koper Giovanni Coviello, participated the President of the KZ Agraria Cooperative Koper Luka Parovel, the Director of the Agricultural GDO Koper Nikola Šavle and the Director of the Italian Trade Agency in Ljubljana Serenella Marzoli. Until mid-January, thus covering the entire holiday season, about a hundred new Italian food products will be displayed on the shelves in special exhibition corners, but also the Italian brands already present in the chain's stores will indirectly benefit from this special promotion, identified by the unique distinctive sign The Extraordinary Italian Taste.
Besides being an agricultural cooperative that has been gathering local producers for over 50 years, Agraria Koper is a recognized retailer, also renowned for the wide selection of Italian products. In his opening speech, Ambassador Carlo Campanile highlighted how Italian and Slovenian cuisine have many points of contact and especially Slovenian Istria is an area where traditions and common values, in addition to territorial contiguity, ensure that excellence food from Italian industries combine with fresh products grown in the area. The Ambassador also reiterated the need for an increasing attention by local consumers to practices such as Italian Sounding, which, in addition to being unfair commercial competition, often represent a threat to consumer health. The project is part of the initiatives for the promotion of the VI Week of Italian Cuisine in Slovenia.
Opening Event - PHOTOS