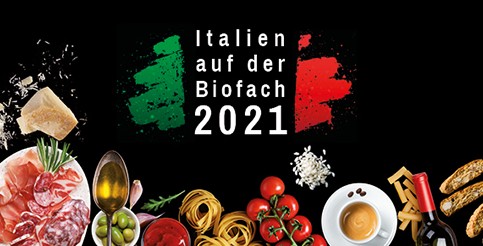 Italy at Biofach 2021 digital
Joint exhibition of the Italian Trade Agency
The organic sector of the Italian food industry has grown strongly in recent years. In 2019, over 80,000 Italian companies were active in this sector (+69% compared to 2010). Organic food products worth €2.6 billion were exported in 2020. This represents an increase of 150% since 2010. The main consumer countries for Italian organic products are Germany and France. Organic products worth around 400 million euros were exported to Germany alone.
The Italian Trade Agency is organising a joint exhibition with 70 Italian companies also at the digital edition of Biofach 2021, thus presenting a section of the growing Italian organic sector at the important international trade fair. Visit our exhibitors on the digital platform of Biofach 2021 at www.biofach.de. On the profile pages of the Italian companies you will find detailed information on the range and the individual products.
You can get a first impression of the variety of organic products offered by the 70 participating Italian companies in our exhibitor catalogue here.
For more information about Italy's organic market, click here.
If you are interested, we can provide free visitor vouchers for Biofach. For this purpose, please contact food.berlin@ice.it with a short profile.
We look forward to your interest in Italian organic products and invite you to get to know the excellent products of our exhibitors.
ICE - Italian Trade Agency
Berlin Office
Italien auf der Biofach 2021 digital
Gemeinschaftsbeteiligung der Italienischen Agentur für Außenhandel
Der Bio-Bereich der italienischen Lebensmittelbranche ist in den vergangenen Jahren stark gewachsen. 2019 waren über 80.000 italienische Unternehmen in diesem Bereich tätig (+69 % zu 2010). Lebensmittel in Bioqualität im Wert von 2,6 Milliarden Euro wurden 2020 exportiert. Dies entspricht einer Steigerung um 150% seit 2010. Hauptabnehmerländer für italienische Bioprodukte sind Deutschland und Frankreich. Allein nach Deutschland wurden Bioprodukte im Wert von rund 400 Millionen Euro exportiert.
Die Italienische Agentur für Außenhandel (ICE/ITA) organisiert auch auf der digitalen Ausgabe der Biofach 2021 eine Gemeinschaftsbeteiligung mit 70 italienischen Unternehmen und präsentiert damit einen Ausschnitt der wachsenden italienischen Biobranche auf der wichtigen internationalen Messe. Besuchen Sie unsere Aussteller auf der digitalen Plattform der Biofach 2021 unter www.biofach.de. Auf den Profilseiten der italienischen Firmen finden Sie detaillierte Informationen zum Angebot und den einzelnen Produkten.
Einen ersten Eindruck über die Vielfalt der angebotenen Bioprodukte der 70 teilenehmenden italienischen Firmen finden Sie in unserem Ausstellerkatalog hier.
Weitere Informationen über den Bio-Markt Italiens finden Sie hier.
Bei Interesse können wir kostenlos Besuchergutscheine für die Biofach zur Verfügung stellen. Bitte wenden Sie sich hierfür mit einem Kurzprofil an food.berlin@ice.it.
Wir freuen uns auf Ihr Interesse an italienischen Bioprodukten und laden Sie ein, die hervorragenden Produkte unserer Aussteller kennenzulernen.
ICE – Italienische Agentur für Außenhandel
Büro Berlin