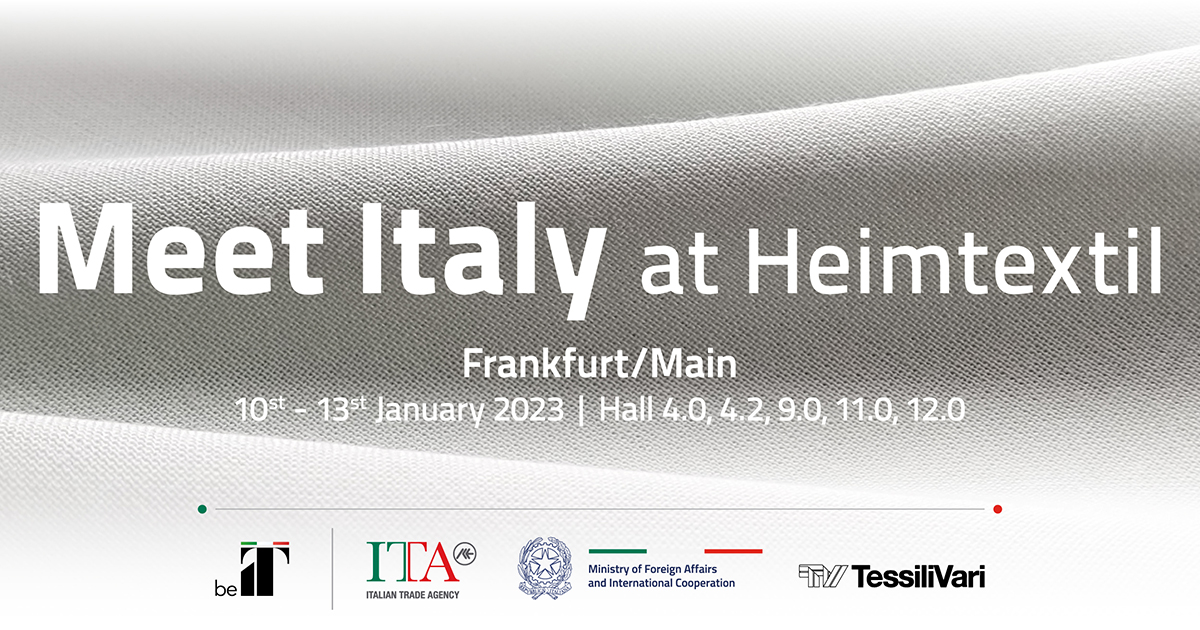 Heimtextil: discover the Italian Design and Decor trends 2023
From 10 to 13 January 2023, after the successful participation of ITA with 26 companies in the Summer Special edition in June, 22 Italian producers of home accessories and contract textiles will present their product innovations at the international trade fair Heimtextil.
The leading global trade fair maps the range of products for interior designers and hospitality experts, as well as market changes in response to the megatrends of sustainability and healthy sleep – and is the most important trend platform for textile materials and textile design.
The Italian producers will present all the innovations in terms of interior, architecture and hospitality in Halls 4.0, 4.2, 9.0 and 11.0. The participating exhibitors are various. They operate in fields such as textile design as well as decorative and upholstery fabrics, beautiful living, bathroom fashion and smart bedding. Furthermore, there will be a focus on the sustainability of the products and concepts on display.
The German textile market
Germany is one of the largest markets for home textiles in Europe, especially for the bed, bath and table linen segments. The industry has grown strongly over the last ten years. The reason is the increase in private consumer spending, which has risen from 6.97 billion euros in 2010 to 9.49 billion euros in 2021.
The visual identity of the Italian home and Design Industry
A conceptual key visual was created for the Italian home and design sector: an imaginary sea of textiles spreads out and creates space for the creativity of the sector. This visual identity is de facto a metaphor for the infinite design space and thus represents the wide range of products at the fair. The waves of the fabric give dynamism to the key visual; the recognizable texture stimulates tactile perception and handfeel, which play a central role in interior design alongside the visual. 
About the Italian manufacturers:
The complete catalogue with the profiles and products of all Italian exhibitors that will be present at Heimtextil 2023 can be downloaded here.
For all further information, you can contact the Berlin team of ITA at the following e-mail address: konsum.berlin@ice.it
********************************
Heimtextil: Entdecken Sie die italienischen Interior-Trends für das Jahr 2023
Vom 10. bis zum 13. Januar 2023 , nach der erfolgreichen Teilnahme an der Summer Special Ausgabe im Juni 2022 mit 26 Firmen, 22 italienische Produzenten von Wohnaccessoires und Objekttextilen werden Ihre Produktinnovationen in Rahmen der internationalen Fachmesse Heimtextil vorstellen.
Die globale Leitmesse bildet das Angebot für Innenarchitekten und Hospitality-Experten, sowie auf die Megatrends Nachhaltigkeit und gesunder Schlaf Marktveränderungen ab – und ist die wichtigste Trendplattform für textile Materialien und textiles Design.
Die italienischen Produzenten werden alle Neuheiten in Bezug auf Interior, Architektur und Hospitality in den Hallen 4.0, 4.2, 9.0, und 11.0 vorstellen. Die teilnehmenden Aussteller sind breit aufgestellt. Sie kommen aus den Bereichen Textilgestaltung sowie Deko und Möbelstoffe, schönes Wohnen, Badmode und Smart Bedding. Themen wie Nachhaltigkeit werden ebenfalls im Mittelpunkt der ausgestellten Produkte und Konzepte stehen.
Der deutsche Textilmarkt
Deutschland ist einer der größten Märkte für Heimtextilien in Europa, insbesondere für die Segmente Bett-, Bad- und Tischwäsche. Die Branche ist in den letzten zehn Jahren stark gewachsen. Der Grund ist der Anstieg an privaten Konsumausgaben, die von 6,97 Milliarden Euro im Jahr 2010 auf 9,49 Milliarden Euro im Jahr 2021 gestiegen sind.
Die visuelle Identität der italienische Wohn- und Designbranche
Für die italienische Wohn- und Designbranche wurde ein konzeptionelles Keyvisual erstellt: Ein imaginäres Meer von Textilien breitet sich auf und schafft Platz für die Kreativität des Sektors. Diese visuelle Identität ist de facto eine Metapher für den unendlichen Gestaltungsraum und stellt somit die Fähigkeit dar, ein breit gefächertes Angebot darzustellen. Die Wellen des Stoffes verleihen dem Key Visual Dynamik; Die Textur gewährleistet den Wiedererkennungswert, thematisiert die taktile Wahrnehmung und stimuliert den Tastsinn, der neben den Visuellen eine zentrale für Interior Design spielt.  
Über die italienischen Hersteller:
Der gesamten Katalog mit den Profilen und Produkten aller italienischen Aussteller, die auf Heimtextil 2023 vertreten sein werden, können Sie hier herunterladen. 
Für alle weitere Informationen können Sie das Berliner Team von ICE unter folgender E-Mail-Adresse erreichen: konsum.berlin@ice.it