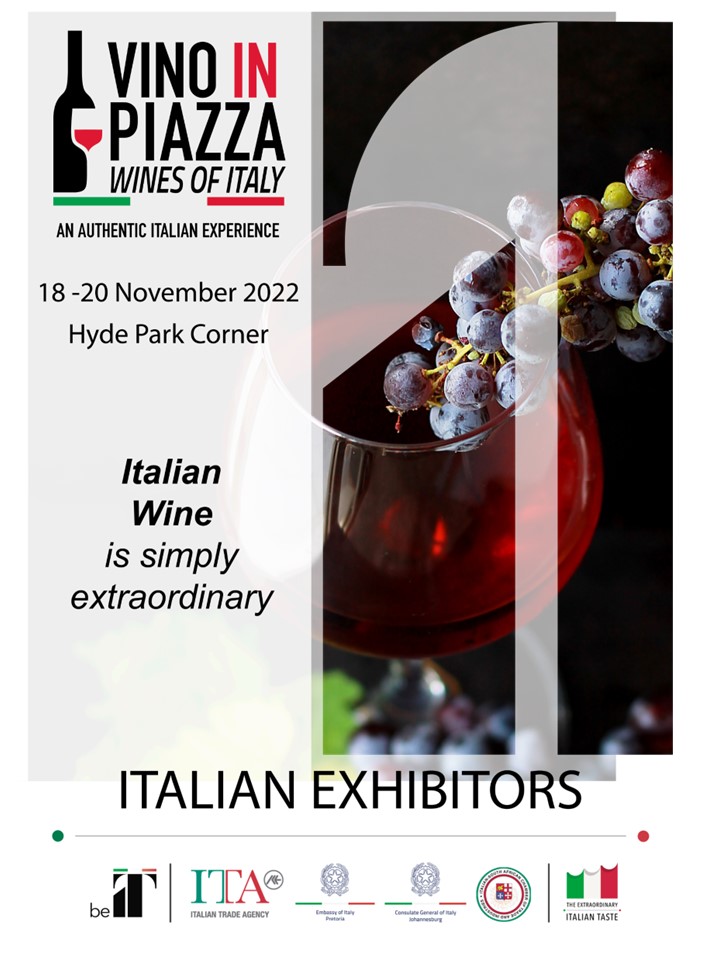 Wines of Italy - An authentic Italian Experience
Vino in Piazza – Wines of Italy is and Italian wine show, to promote and celebrate Italian products, lifestyle, and culture, taking place in the Ballroom of Hyde Park Corner, in Johannesburg, from the 18th to the 20th of November 2022.
Vino in Piazza will showcase 20 wine producers coming to South Africa from various Italian regions, most of them for the first time. They are from:
CALABRIA, CAMPANIA, FRIULI VENEZIA GIULIA,  LAZIO,  LOMBARDIA, 
PIEMONTE, PUGLIA, SARDEGNA, SICILIA, TOSCANA, TRENTINO ALTO ADIGE & VENETO
This event offers visitors a comprehensive picture of Italian wine geography through an extensive range of red, white, rose` and sparkling wines of high quality.
LINK to information on the Italian exhibiting companies
Italian wine facts:
Wi

ne has been produced in Italy for over 2000 years;

Italy is the top wine producer in the world, above France and Spain respectively;

There are as many as 310,000 producers of grapes for wine and 46,000 wine producers in Italy, 702,000 hectares of vineyards are cultivated all over the country;

Italy boasts 526 wine appellations that are officially recognized by the European Union, 408 of them specific to small geographical areas considered to be unique in terms of climate and soil characteristics;

Italy exported

€

7,1 billion worth of wine in 2021;

Italy is ranked second in the world as a wine exporter, following France, in value terms, and Spain in volumes;

Italy is the top exporter of wine to some of the leading world markets

, like US and Germany.
TASTING SCHEDULE:
18 November 2022: 15:00 – 21:00
19 November 2022: 10:00 – 21:00
20 November 2022: 10:00 – 16:00
https://www.facebook.com/ITA.Johannesburg1/videos/1170281883924567
Vino in Piazza 2022 (WINES OF ITALY) opens on Friday, buy tickets here: https://vinoinpiazza.co.za/
#winesofitaly #winetasting #joburgevents #vinoinpiazza #wine #italiancuisine #italiancuisine