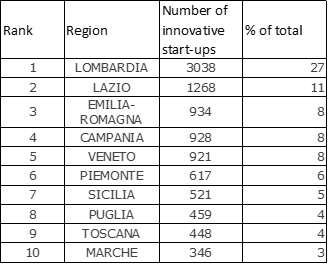 CDP Group, the third largest Italian Bank, will invest over €1bn into start-ups. In 2020 CDP Venture Capital will invest over 250M € in more than 1000 start-ups. It has €1bn to invest raised from the Ministry of Economic Development and CDP Equity. Four funds are already operating and focusing on: start-ups and innovative SMEs, VCs and accelerators for high growth potential start-ups.
This will boost the start-up ecosystem in Italy that right now account more than 11000 innovative start-ups in Italy employing around 14.000 people. The main sectors they operate in are Companies services (software production, ICT consulting, R&D - 73%) and Manufacturing activities (devices production – 18%). According to the "Cruscotto di Indicatori Statistici – 1Q 2020" document, 85% of these companies are concentrated in 10 regions.
CDP has a focus on supporting "the innovation, growth and internationalisation of small, medium and large companies". Under CDP umbrella, operate 8 different companies, supporting the growth and innovation of the Italian economic ecosystem from export credit to infrastructure and venture capital.