Manufacturing professional electric slicers since 1958.
We are specialized in the production of professional electric slicers. Since it was founded in 1958 by a tenacious group of artisans, Manconi & C. Srl. has always been focused on the quality of products and customer service.

Committing to these two focuses, during the decades we have developed different lines of professional slicers – we have always been investing in strategic and financial resources to stay competitive on the international market, where we sell more than 50% of our whole production.
between 2.5 and 5 million Euro
Reference year of turnover:
From 750.000 to 2.5 million Euro
Manufacturing of household appliances
Manufacturing of machinery for food, beverage and tobacco use
Contact Information
Business Proposals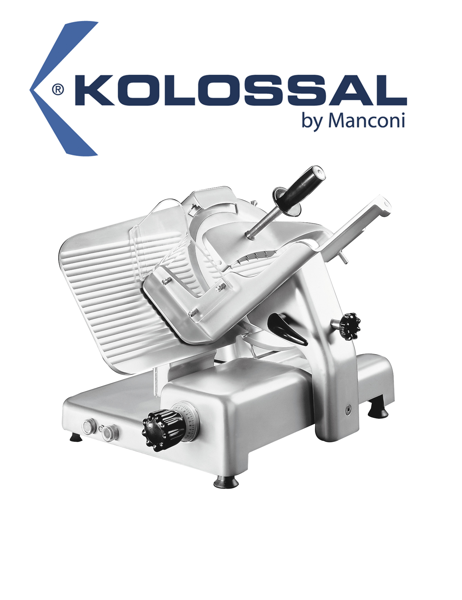 Line Kolossal is the top of the range among commercial meat slicers produced by Manconi and it perfectly expresses the dualism tradition-innovation, which is necessary to be always contemporary: the strength coming from a long experience and the ability to look forward. The exceptional performance of these industrial meat slicers rely on the top-quality materials and the state-of-the-art slicing mechanism, which is realized in most of the models with gear-driven transmission, the best available on the market.
Kolossal DUAL Gear and Belt driven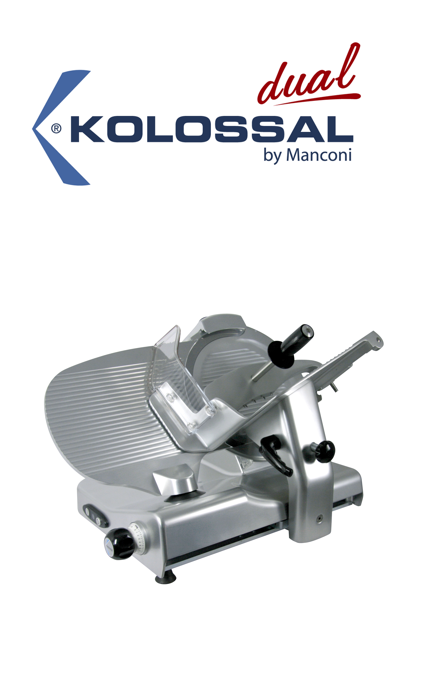 Kolossal Dual line is in a way a restyling of some professional meat slicers belonging to Kolossal line. Keeping high quality standards of Kolossal, this project develops an appealing and modern design coming from the more charming and rounded shapes than it was in the past. The electric power, the high-quality materials, the smooth slicing mechanism make these professional meat slicers the best machines for those who are looking for durable and reliable tools.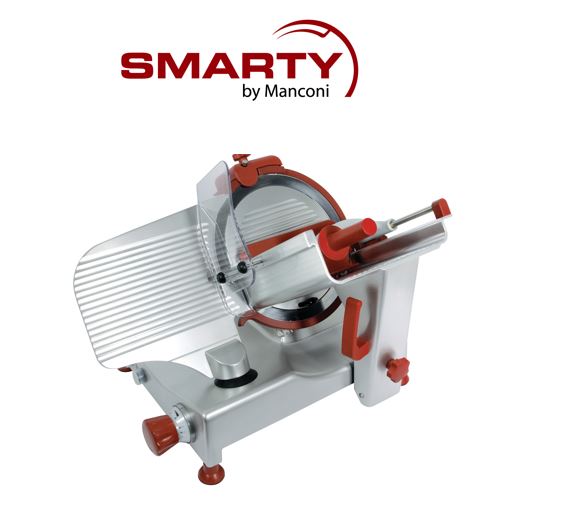 From Manconi's Family tradition here is Smarty, the new generation of professional slicers, developed and manufactured to work at high levels in Ho.Re.Ca.. Restaurants, pizzerias, canteens, fast food and takeaways are the ideal locations for this slicer, and it perfectly fits their needs.
The new materials are shock, corrosion and scratch resistant and they are able to grant the best hygienic safety.
Smarty is the synthesis of the values followed by Manconi & c. S.r.l. since the beginning of its activity: quality, reliability of its products with safety, hygiene and life. Smarty line is available in red or black colors.
Kolossal - 330 Semiautomatic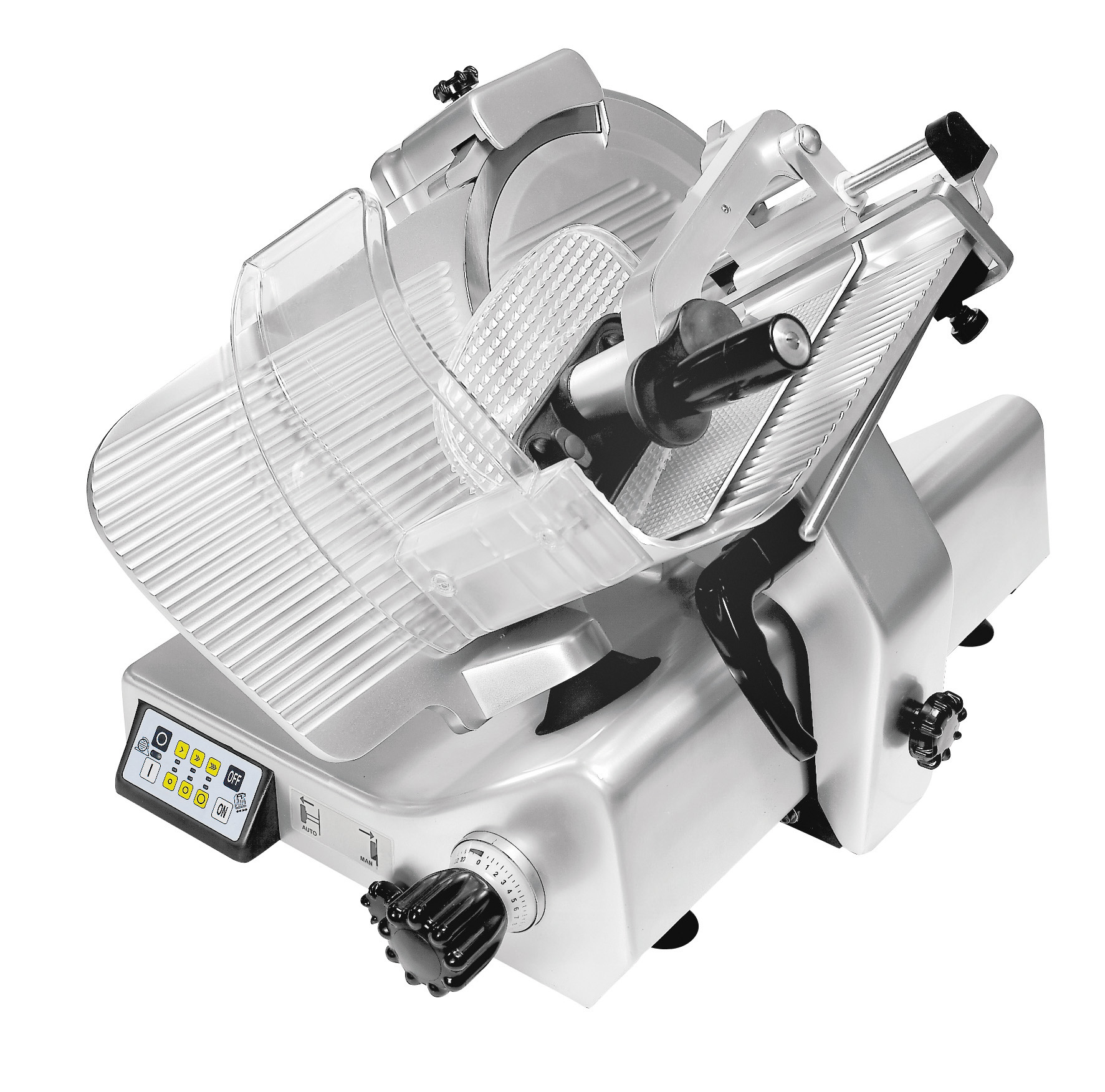 Automatic slicer, technologically at top, with all the good characteristics of the manual model. The machine can have plates differently equipped, like: plate with self-locking clamping device, transparent and removable remnant holder and sliding plate (AB option); plate with transparent and removable remnant holder (E option) or plate with swinging aluminium remnant holder (EF option)
Kolossal DUAL - Fully Automatic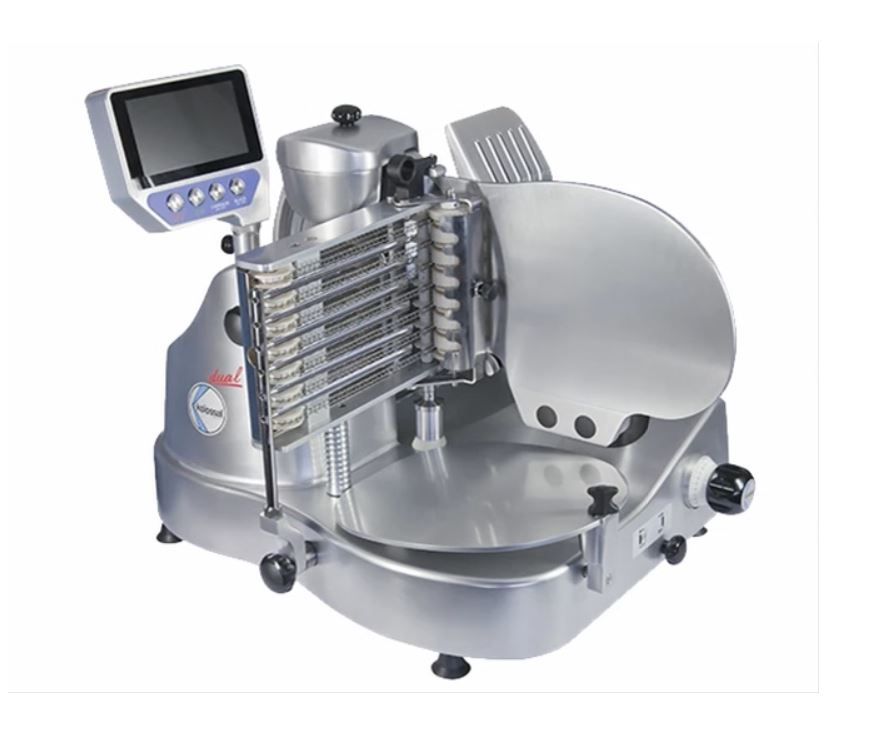 The new Kolossal Dual 330 VK FA, fully automatic, but also manual operating approaches the future and improves the present.

Thanks to its touch screen display you can easily set a slice program and store it, check error diagnosis, access its instructions for use and maintenance, have a wifi connection and customize its configuration. Its simple and easy automatic operation, grants a high and accurate quantity of meat, salami and cheese slices, without any intervention of the operator, for a maximum safety and hygiene.