Dalter Alimentari is specialized in cutting and packaging grated and portioned cheese (Italian PDO cheese like Parmigiano Reggiano, Grana Padano and Pecorino Romano, and other high quality European cheeses such as Doronico, Edamer and Emmenthal).
Today it is a market leader in the food manufacturing and food service sector: we serve restaurant chain, fast food franchising, catering services, canteens, whole sale distributors and food manufacturing.
On the foreign markets, where we make 70% of our turnover, thanks to a network of importers and local subsidiaries, we serve some of the most important supermarket chains in England, France and Germany, food processing industries and foodservice operators.
FROM 100 TO 499 EMPLOYEES
Reference year of turnover:
From 5 to 15 million Euro
Dairy-cheese industry, pasteurisation and milk preservation
Production of milk derivatives
Wholesale trade of dairy-cheese and egg products
Wholesale trade of other non-specialist food products, drinks and tobacco
Have you ever thought of adding a single-serving sachet of Parmigiano Reggiano cheese to your ready meals? Many of our customers have already made this choice, to offer their customers a complete meal, ready to eat.
Practical, pre-portioned and tasty. Parmigiano Reggiano (Parmesan Cheese) snack, available in individual packs from 20 to 60 grams, is the perfect solution for foodservice and catering.
The perfect solutions to keep food cost under control and offer high quality cheese for your customers. 5 g single serving tubs are available with Parmesan Cheese, Grana Padano and grated cheese mix.
40 years of innovation, passion for our territory and expansion abroad, to make the Italian dairy tradition known to the world. Dalter: 40th anniversary of the foudation.
Enter in the Dalter factory, and discover how the best Italian cheeses are cut and packaged.
Contact Information
Business Proposals
No business proposals uploaded
Single serving tub 5/10 g of grated cheeses

Dalter's single-serving tubs perfectly respond to the demands of restaurants, canteens and airline catering services, and are ideal for the use with rice dishes. They can be stored in the refrigerator at a temperature between 2°C and +8°C for up to 45 days.
Parmigiano Reggiano cheese mono-portion, vacuum packed 20/60 g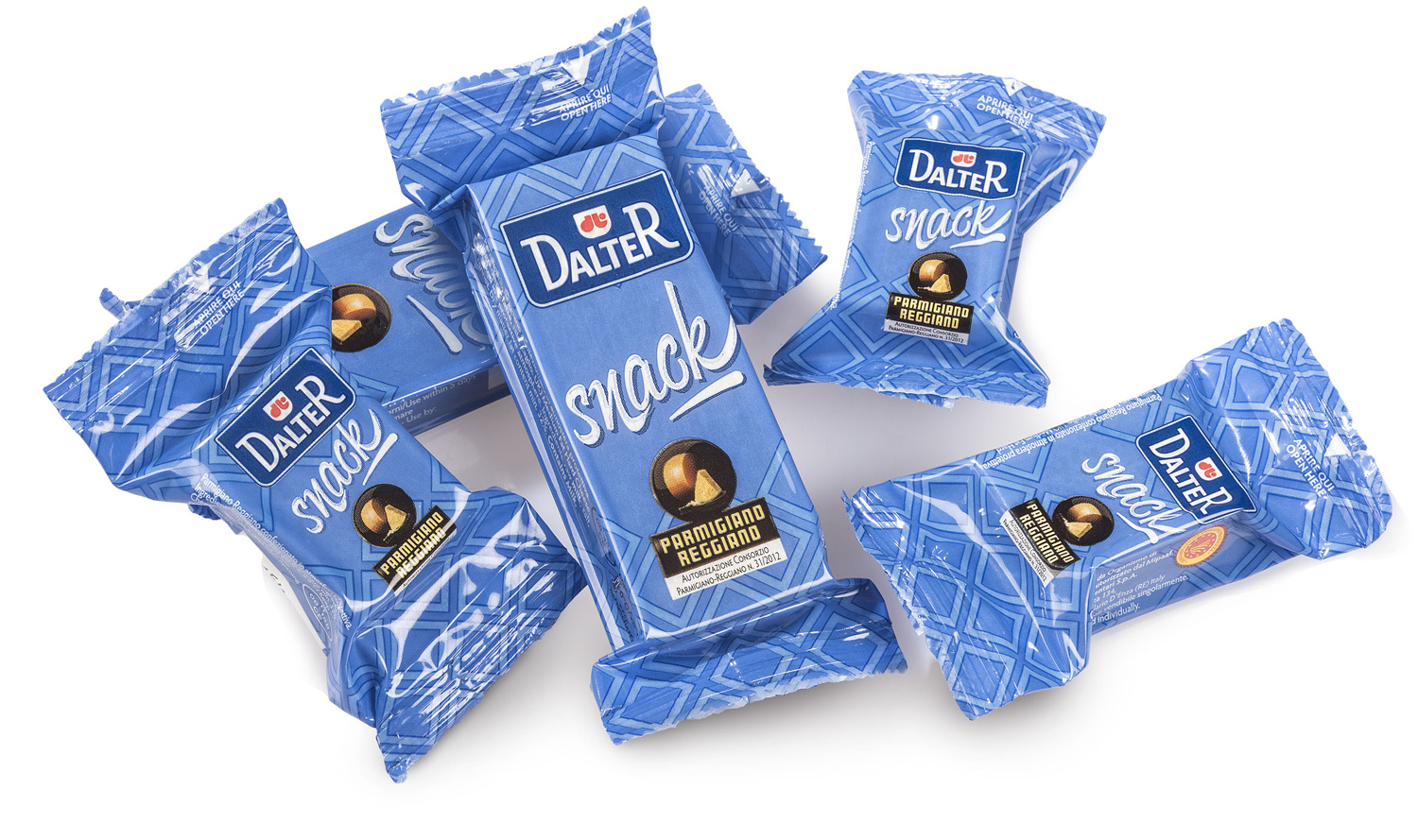 Monoportion snacks of Parmigiano Reggiano cheese from 20 g to 60 g, individually packed to meet the needs of catering, canteens and airport catering for all those who wish to keep the food cost under control and reduce preparation times. Shelf life: 180 days.
Grated Parmigiano Reggiano cheese, in bag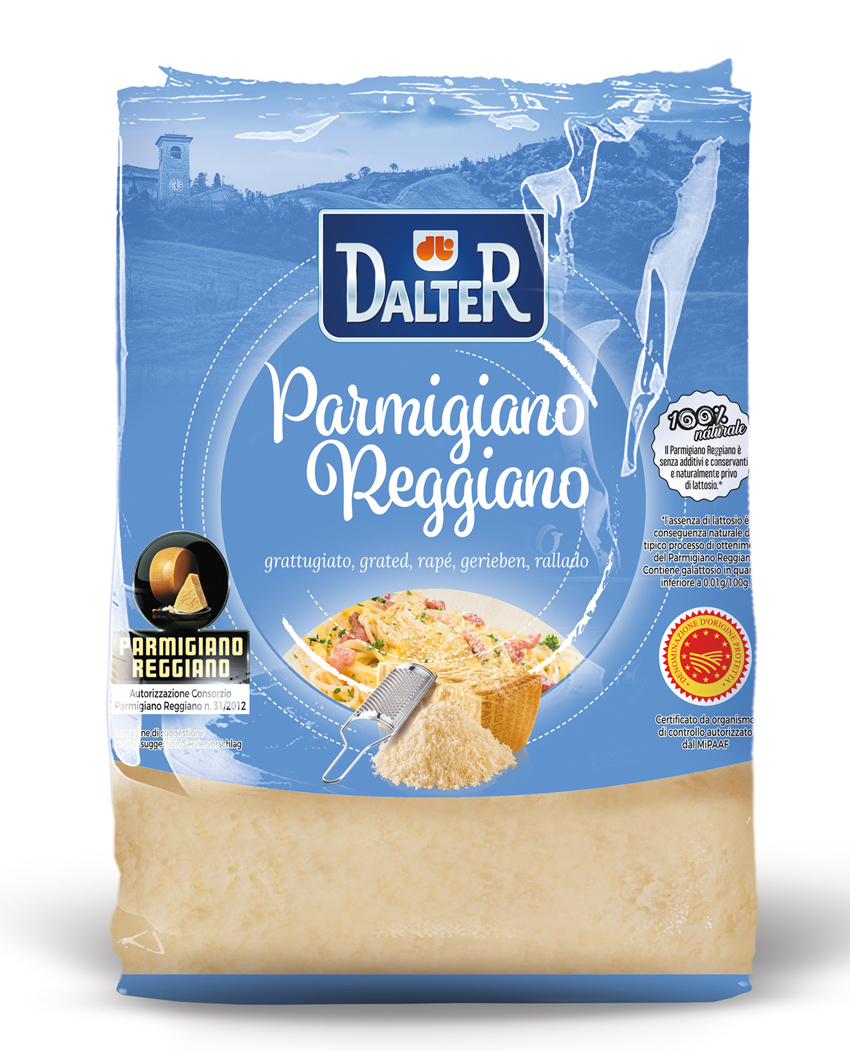 Excellent grated PDO Parmigiano Reggiano cheese, in convenient bag under a protective atmosphere. Ideal for catering and food industries that use cheese as an ingredient in the preparation of their recipes.The product maintains its just-cut freshness for up to 90 days.
Tray of Parmigiano Reggiano shavings 500g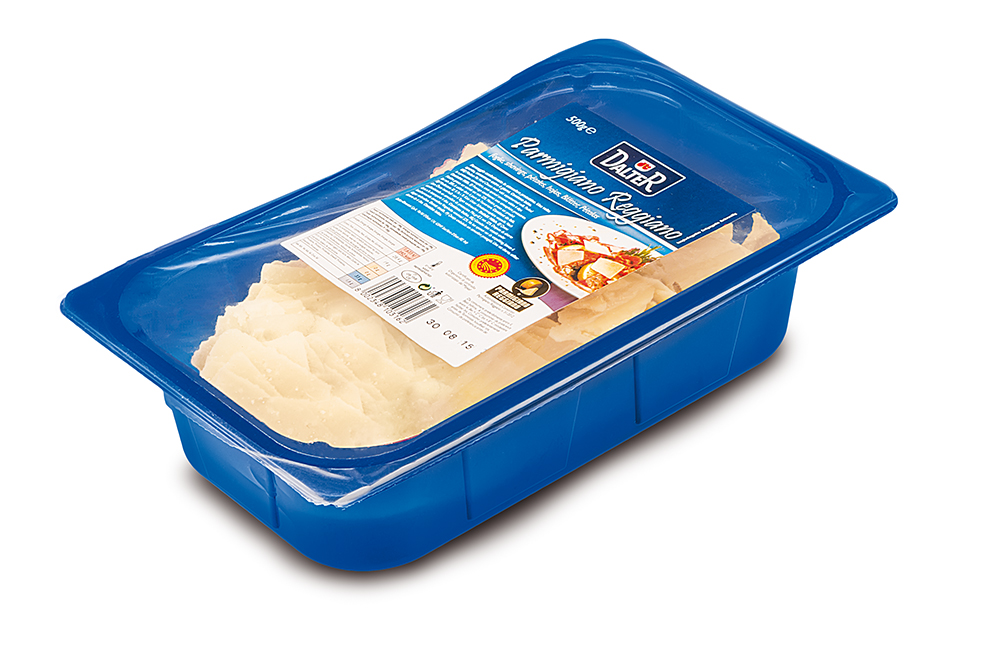 Practical trays from 500 g to 1 kg that help to preserve the best Parmigiano Reggiano cheese in shavings. A kind of cut that perfectly matches with carpaccio and pizza. It gives it a unique flavor to your recipes. Shelf life: 90 days.
Single serving sachet of grated Parmigiano Reggiano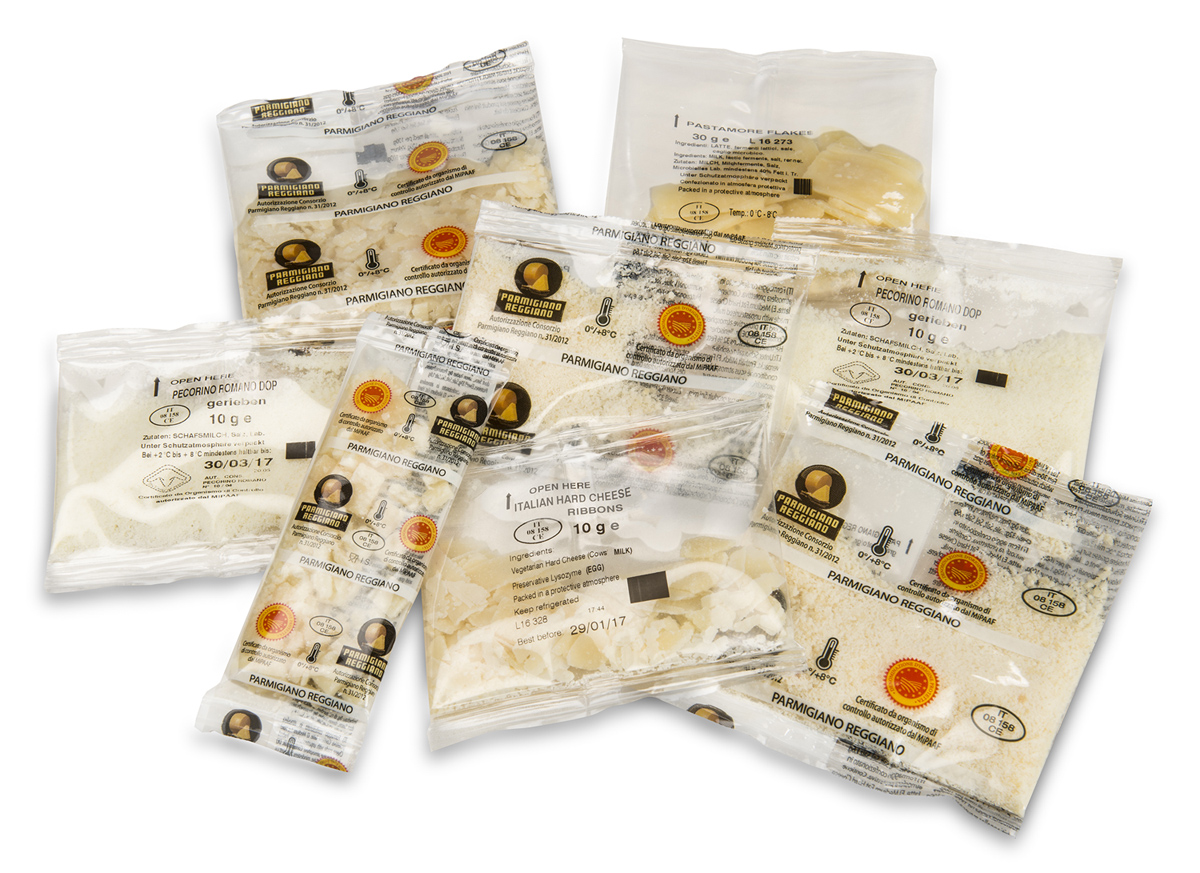 The best grated Parmigiano Reggiano PDO cheese is available in little single-serving sachets from 5 g to 15 g. Packaged in protected atmosphere, are ideal for being inserted inside packs of ready dishes or served with food of cantines and catering. Shelf life: 90 days.