Arkè is a family company that has been producing high quality extra virgin olive oil and flavoured olive oils for over three generations. In the heart of Sicily (at 600 meters above sea level, in an area which has always been suitable and devoted to growing olives), our farm produces high quality extra virgin olive oils typical of varieties such as Moresca and Nocellara. They are carefully processed by our own mill and our family manages personally every production phase. (Harvest, receipt of olives, crushing by our company's mill, conservation in stainless steel tanks topped with nitrogen inert gas minimizing oxidation and bottling implementing the Product Tracking and Traceability System for a quality control feature).
For over three generations the passion for olive oil production has characterized our farm, which devotedly searches out and selects the best olives to produce an extraordinary quality olive oil. Loam soils, sandy soils and chalky soils have been the inspiration for the creation of our 4 extra virgin olive olis: Arkè IGP, Arkè Bio, Arkè and Kora.
between 0.5 and 2.5 million Euro
Reference year of turnover:
From 250.000 to 750.000 Euro
PRODUCTION OF VEGETABLE AND ANIMAL OIL AND FAT
Production of olive oil mainly not own production
Wholesale trade of edible oil and fat of vegetable or animal origin
Retail trade or any type of product over the internet
Catering with consumption on premises
Contact Information
Business Proposals
OLIO ARKÈ E NATURA S.A.S.
No business proposals uploaded
Arkè extra virgin olive oil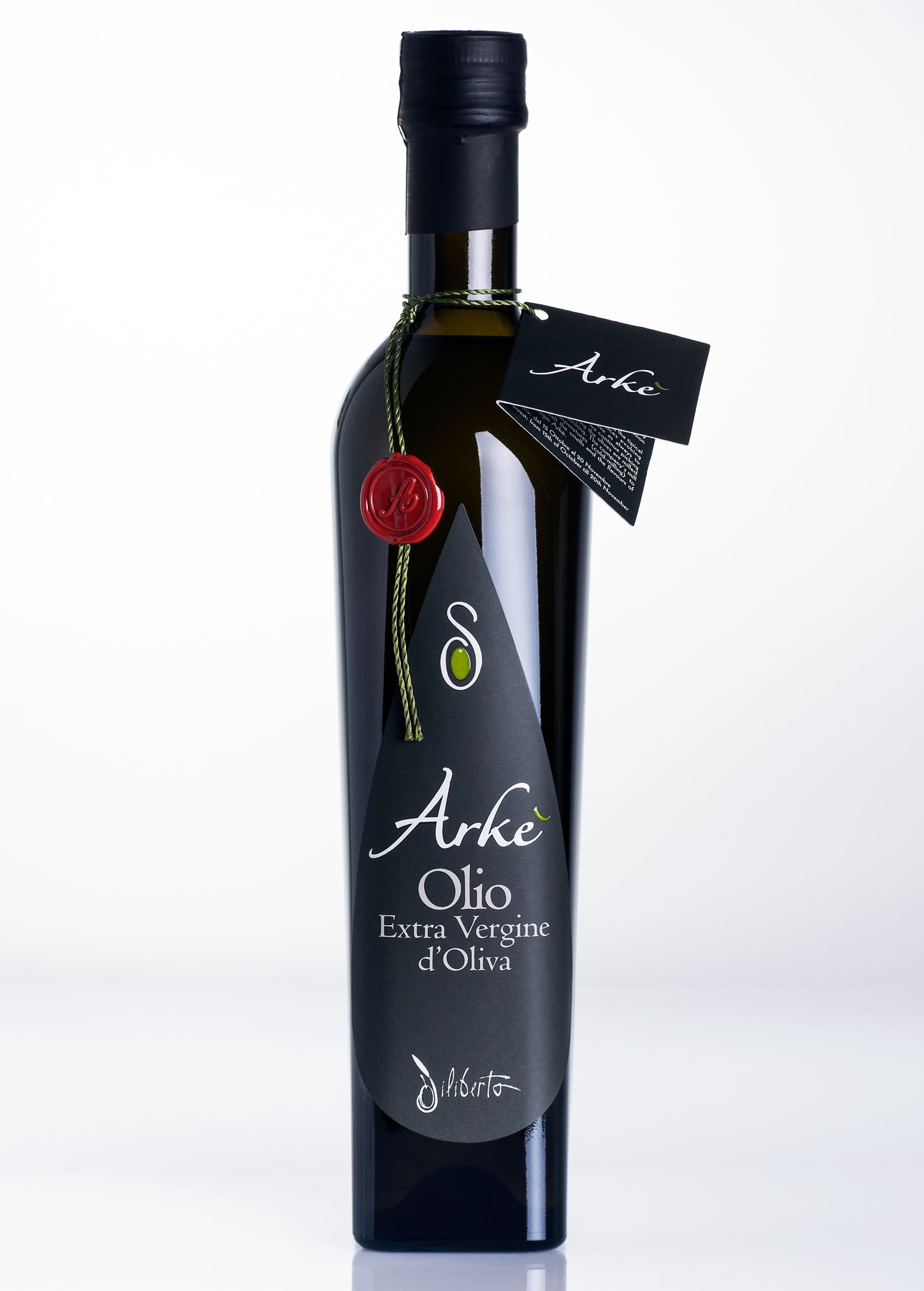 Arkè is the first born among our oils. It is so genuinely bound to the territory that it becomes an expression of its identity. It is produced from mid-mixture loam soils that give intensity and strength. These areas are near the towns of Caltanissetta, San Cataldo, Serradifalco and Delia. Arkè keeps the fingerprint of indigenous varieties like "Tonda Iblea", "Nocellara dell'Etna", "Giarraffa" perfectly set in a blend of a strong character. Varieties: Tonda Iblea 40%, Nocellara dell'Etna 30%, Giarraffa 30%. Production Area: San Cataldo, Serradifalco, Delia, Caltanissetta (central Sicily). Altitude: 600 m a.s.l. Harvest: hand-picking mid-way through the ripening period in order to preserve and exalt the antioxidant and aromatic characteristics, from October 15th to November 20th. Crushing: continuous cycle cold-milling process within 12 hours from the harvest. Storage: natural settling (without filtering) in steel silos in storage room with temperature monitoring (18 °C). Organoleptic Notes: The olfactive density is characterized by a definite nuance of green tomato accompanied by an intense sensation of freshly cut grass; vivid remembrances of aubergine and golden apple follow. At taste, it results simply magnificent with its great elegance and equilibrium. Well balanced in its bitter and spicy sensations, perfectly calibrated to support an agile and satisfying structure. The after taste is harmonious and lingering. Size: bottle 0,1 l, 0,25 l, 0,5 l, 0,75; can 2 l, 3 l, 5 l
Arkè Organic Extra virgin olive oil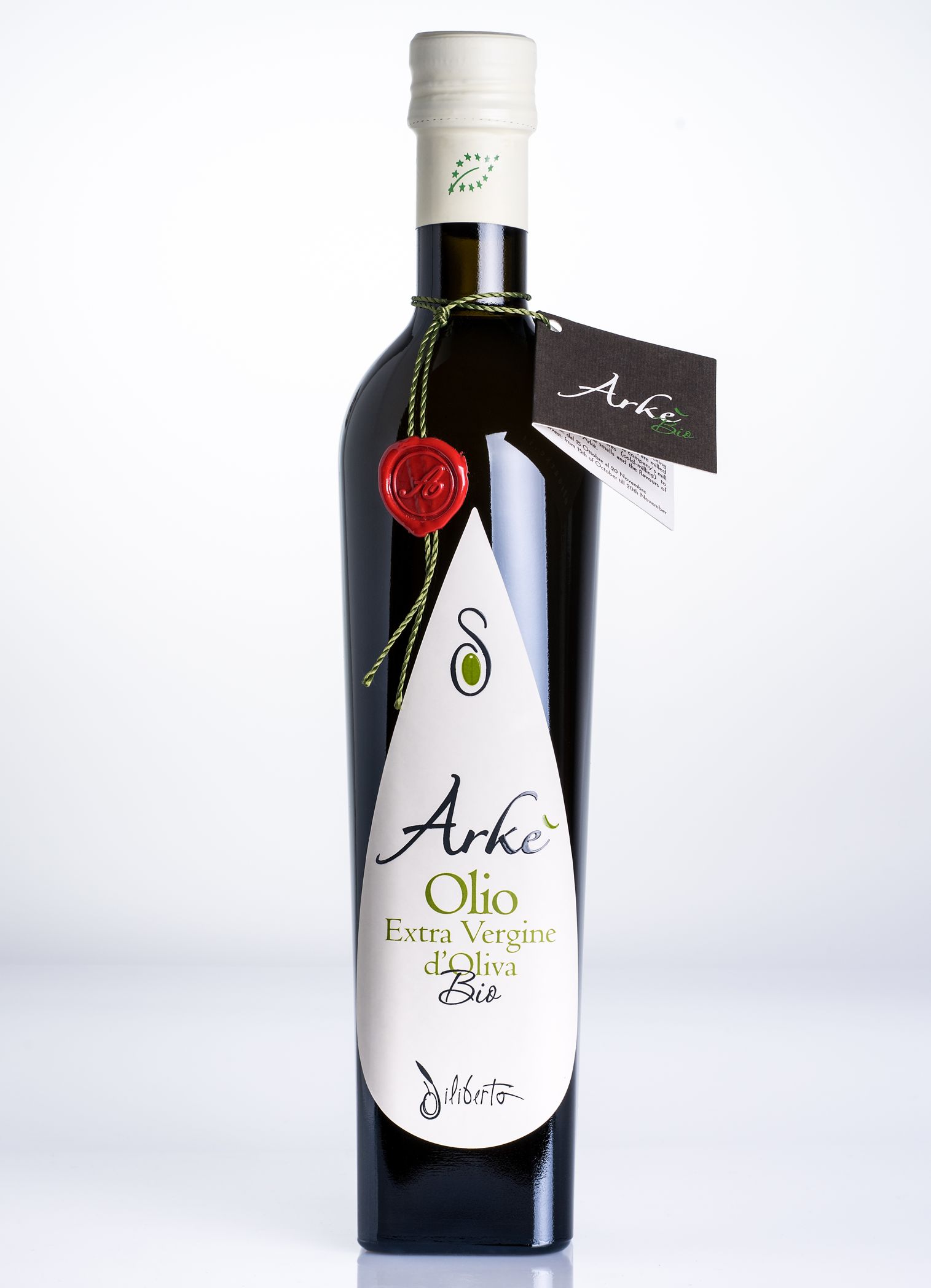 Arkè Bio is a single variety extra virgin olive oil produced from "Moresca" olives and it represents Arkè's diamond point. It's cultivated in reddish, ferrous, sandy soils that give elegant and excellently balanced flavours. It is obtained from organic farming of olive groves without using harmful chemicals (fertilizers, pesticides, insecticides, etc) fully respecting the environment and the health of the consumer. For this reason we incorporate natural fertilizer, seeding fava beans between the rows of plants and digging them into the soil as green compost. Certified by ICEA - Environmental and Ethical Certification Institute Variety: Moresca 100% from ORGANIC FARM Production Area: San Cataldo, Pietraperzia, Barrafranca (central Sicily). Altitude: 460 m a.s.l. Harvest: hand-picking mid-way through the ripening period in order to preserve and exalt the antioxidant and aromatic characteristics, from October 10th to November 15th. Crushing: continuous cycle cold-milling process within 12 hours from the harvest. Storage: natural settling (without filtering) in steel silos in storage room with temperature monitoring (18 °C). Organoleptic Notes: Olfactive profile featured by sharp and elegant traits presenting evident flavours of ripe tomatoes, artichokes and herbs. In the aftertaste it offers delicate smells of almond and sage. When tasted, the results are definitely soft, in its harmonious structure which perfectly describes the bitter-piquant balance. In the end of the tasting you are embraced by a sensation of fruit and pistachio. Size: bottle 0,1 l, 0,25 l, 0,5 l, 0,75; can 2 l, 3 l, 5 l
Arkè PGI SICILY Extra Virgin Olive Oil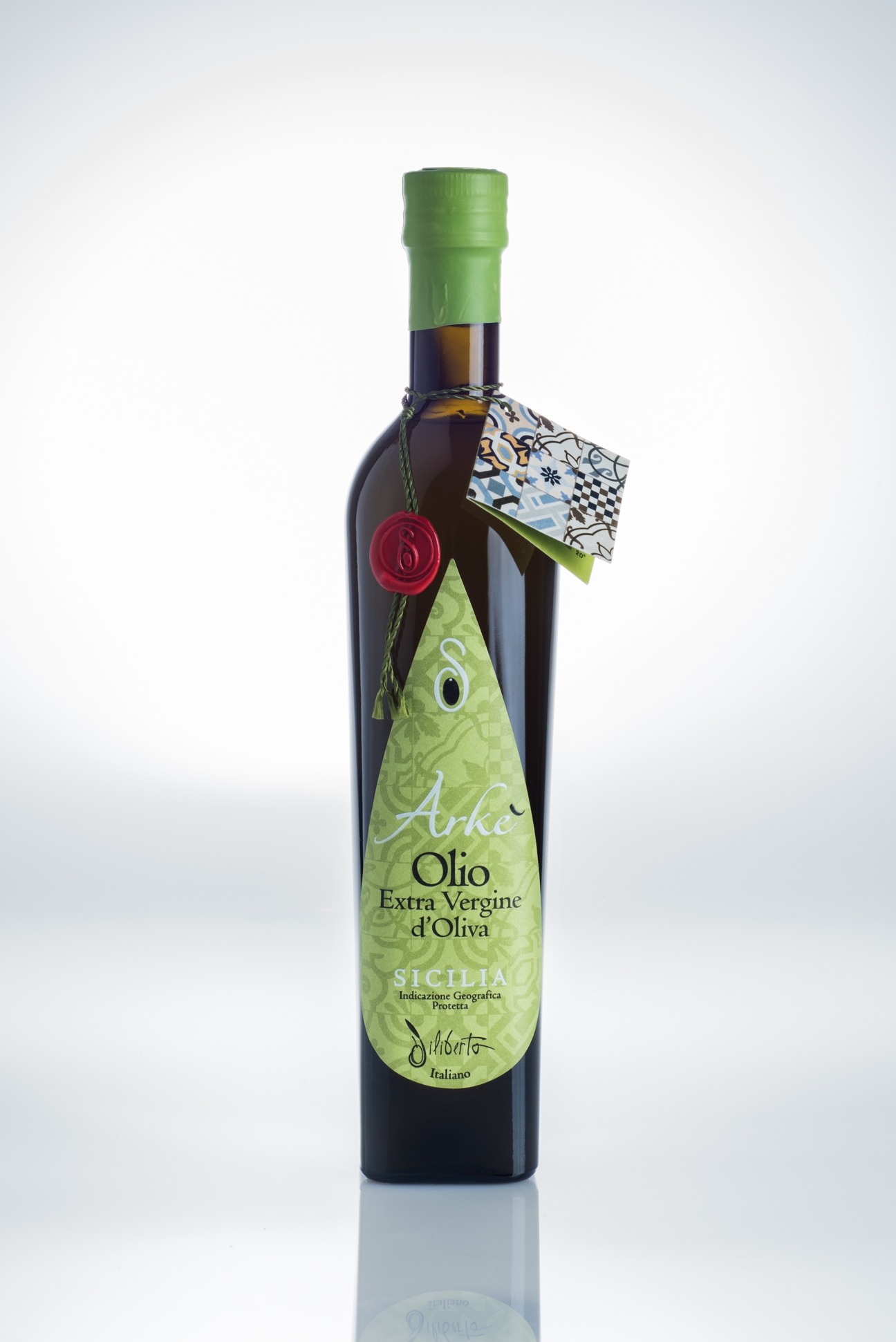 Arkè "PGI SICILIA" represents the synthesis of Sicilian territory, tradition and culture. It grows from the solid values of the island, from the landscapes and colors interweaving plains, mountains and hills, nestled in the blue sea. The many themes and colors of the majolica ceramic embody how such diversities merge to create a simple, yet unique and impactful decoration. This is Arkè PGI SICILIA: a patchwork of colors, scents and flavors that defines a highly valuable and distinctive extra-virgin olive oil. Variety: Cerasuola 40%, Santagatese 40%, Biancolilla 20% - PGI Sicily Certification (Protected Geographical Indication mark of Quality) Mark of Quality: PGI Sicily certification - Protected Geographical Indication SICILY certified by the Regional Committee Production Area: Serradifalco, Delia, Caltanissetta (central Sicily). Altitude: 500 m a.s.l. Harvest: Early hand-picking to enhance aromas and give a long-lasting quality. From October 1st to November 2th. Crushing: continuous cycle cold-milling process within 12 hours from the harvest. Storage: natural settling in stainless steel silos topped with nitrogen inert gas and stored in temperature controlled rooms (18 °C). Organoleptic Notes: Wide olfactory range to the nose: an explosion of soft and enveloping aromas. Initial flavours of ripe tomatoes stand out, followed by golden apple, almond and delicate artichoke notes. Powerful and lively to the taste. A majestic and well-proportioned structure pleases the palate with a perfect balance in its bitter and spicy persistence ending with a pleasant sweet fruit notes. Size: bottle 0,1 l, 0,5 l, can 2 l, 5 l
Kora Extra Virgin Olive Oil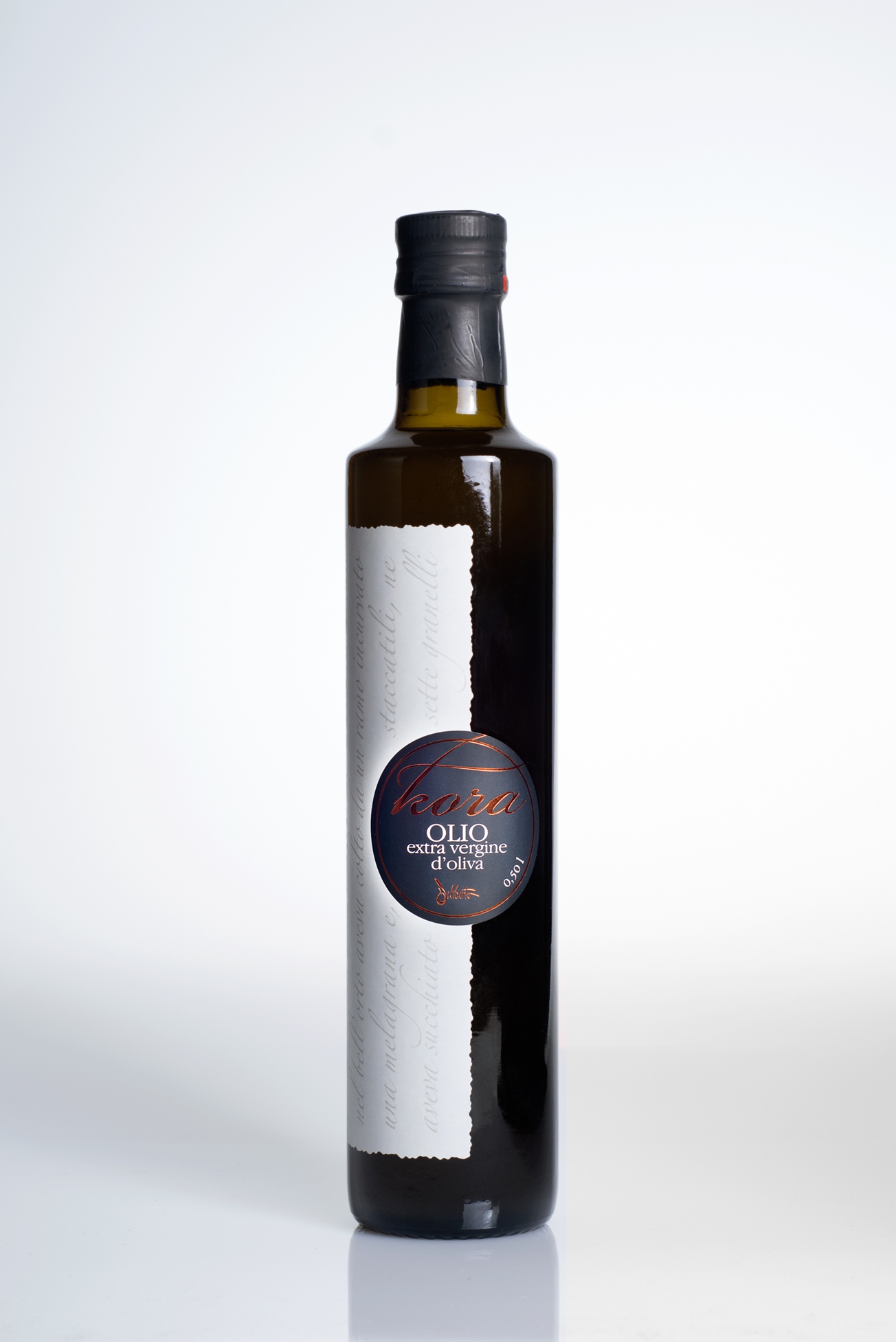 Kora draws inspiration from the Greek myth of Kore which is perfectly linked to the places not far from the Valley of the Temples. Calcareous soils give roundness and sweetness as well as an olfactory impact of great finesse. Variety: Nocellara Del Belice 50%, Cerasuola 30%, Biancolilla 20 %. Production Area: Agrigento area (South-eastern Sicily) Altitude: 380 m a.s.l. Harvest: hand-picking mid-way through the ripening period in order to preserve and exalt the antioxidant and aromatic characteristics, from October 1st to November 10th. Crushing: continuous cycle cold-milling process within 12 hours from the harvest. Storage: natural settling (without filtering) in steel silos in storage room with temperature monitoring (18 °C). Organoleptic Notes: The smell is characterized by energy and elegance. It contains resolute sensations recalling herbs, accompanied by a wide range of flower and almond marks. The taste is unique for its expressive power. A majestic and well-proportioned structure pleases the palate with fruity sensations that advances in a lingering and delighting persistent taste. Size: bottle 0,1 l, 0,25 l, 0,5 l, 0,75; can 2 l, 3 l, 5 l
Arkè Flavoured Olive Oils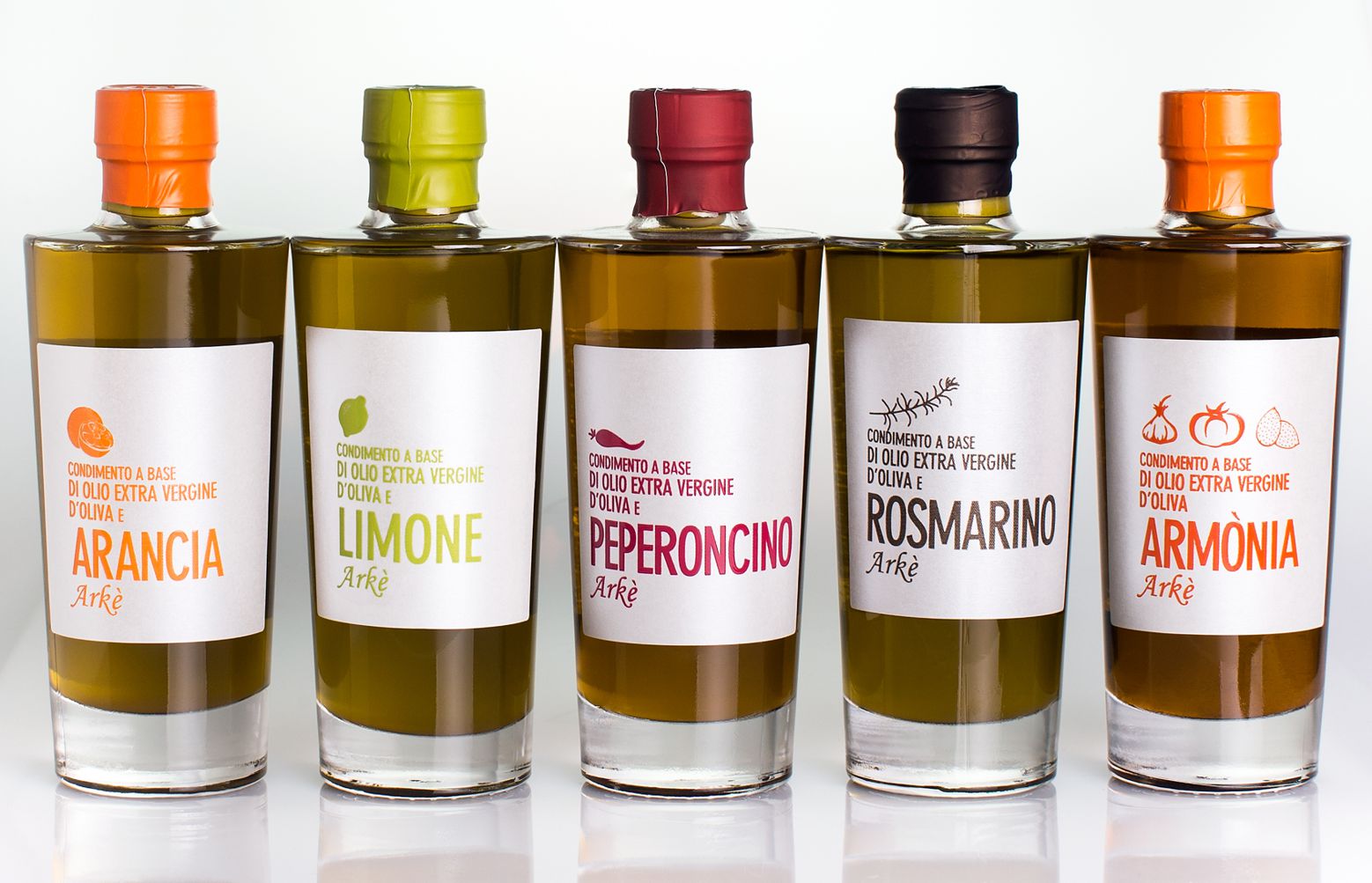 Among the experiences of Arkè there is also the meeting with the more reminiscent flavours of Sicily and its many faces. The story of an experience that ranges from citrus notes of "gardens" of lemons to those spicy of hot pepper, from flowering almond trees up to aromatic taste of our rosemary. From this idea the Arkè Flavoured Oils: - Lemon - Hot Pepper - Rosemary -Orange -Armònia (almond/tomato/garlic) All the Arkè flavoured olive oils are obtained by infusion of natural ingredients in our extra virgin olive oil . SIZE : bottle 0,1 l and gift box 5bottles x 0,1 l; bottiglia 0,20 l