Since 1980, Gigi il Salumificio has been producing speciality products from Emilia Romagna such as Ciccioli (tender and crispy), Coppa di Testa, Strutto, Pancetta, Guanciale and seasoned Lardo.
We have a cleanroom where we slice and dice all our products.
We offer packaging solutions for the food and catering industry (1 Kg or 500 g).
We are BRC,IFS, ISO 22000, EMAS, BIO certified. We are authorized to export to most foreign markets.
Reference year of turnover:
From 2.5 to 5 million Euro
PROCESSING AND PRESERVATION OF MEAT AND PRODUCTION OF MEAT BASED PRODUCTS
Processing and preservation of meat (excluding poultry)
Production of meat based products (including poultry meat)
Production of margarine and similar edible fats
Contact Information
Business Proposals
No business proposals uploaded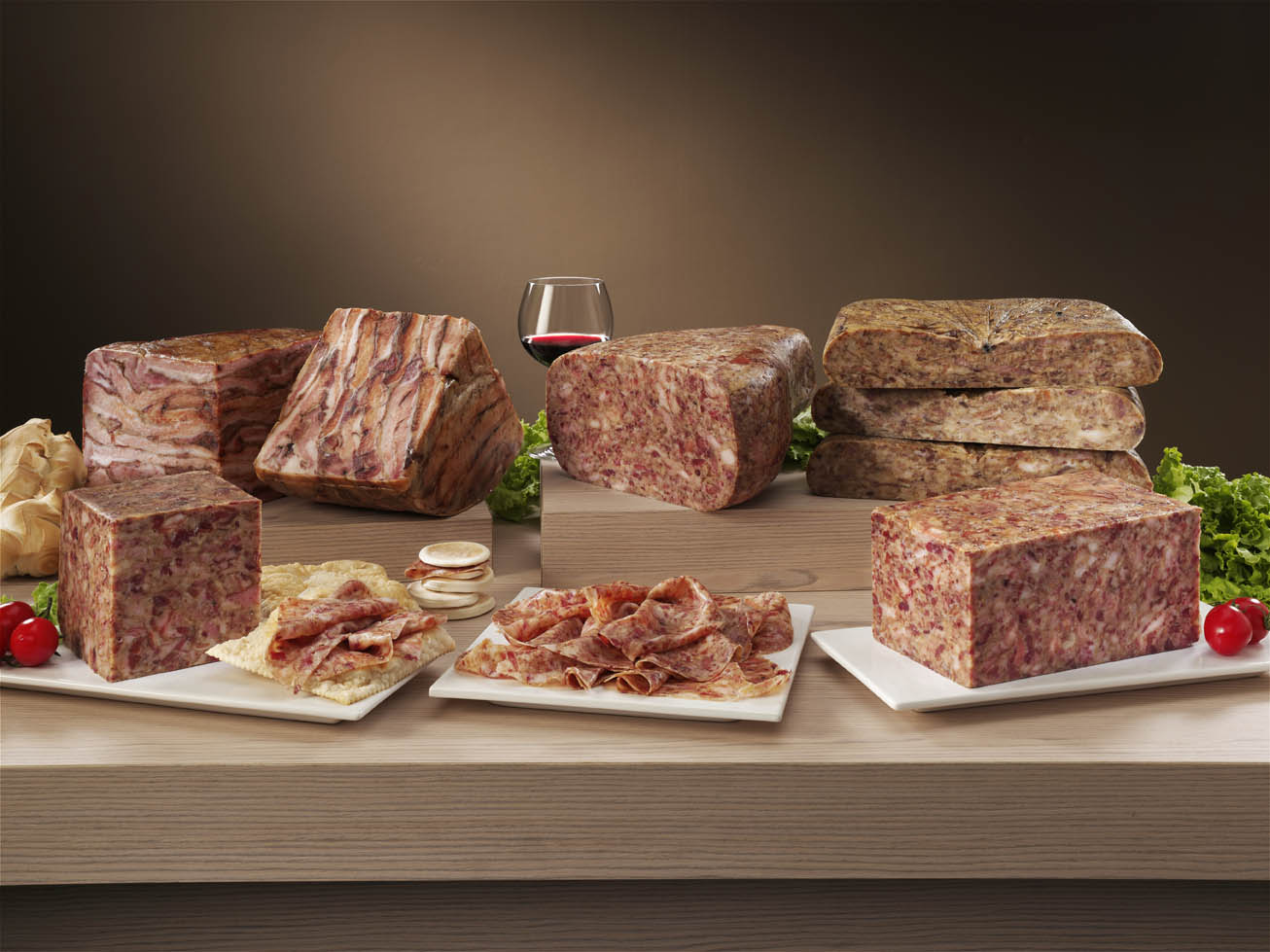 Ciccioli Tradizionali and Ciccioli Campagnoli represent a typical regional
cold meat specialty. According to tradition they were the cooked
waste parts of the pork meat, but today, the parts used are actually the trimming throat and the finest parts of the pork. Ciccioli Tradizionali after being cooked for a long time are flavoured pressed and result in their characteristic shape, the typical square slice.
Ciccioli Campagnoli are still pressed in a very homemade way, inside a sack that gives them the typical low and round shape.
Ciccioli Campagnoli are more refined also in their mixture made
of bacon and throat parts and selected spice.
They can be eaten as sliced cold cuts together with traditional local
gastronomy products such as Gnocco Fritto, Tigelle, Piadina.
They can also be diced and used to flavour polenta or other cold
courses.
Ciccioli Napoli is a typical cold cut from Campania mainly used
in Naples. Cigoli can be made of bacon or throat.
In both cases the fresh raw meat is cooked, salted and pressed
in a round shape. Cigoli are usually cut in thick slices and served
with some extra virgin olive oil and a pinch of pepper.
We recommend white full-bodied wine of the Campania area.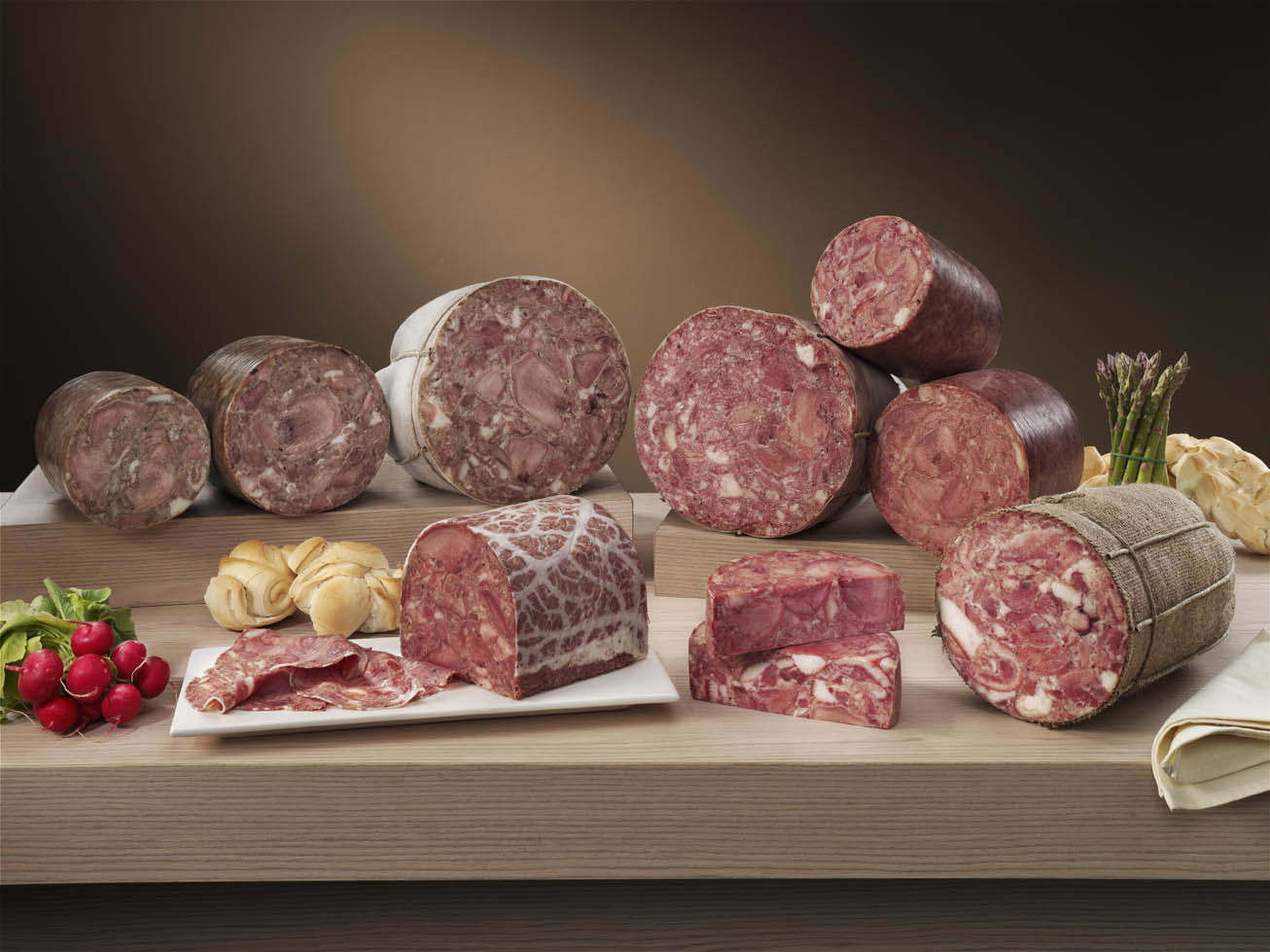 Coppa di Testa is an authentic Italian speciality. It is veryP savoury, it is made by a mixture of tongue and lean meat, from the head of the pig.
The mixture is roughly minced, cooked and then sacked, still warm, in natural gut or in a particular juta sack.
Coppa di Testa is then flavoured with pistachio, orange, lemon, garlic or vinegar, according to the local traditions.
It may be consumed in slices or dices.
Sweet taste, tender stiffness it is particularly recommended as entry dish or it is served together with bread, bruschette (toasted slice of bread dressed with olive oil, salt and garlic) or traditional products such as Tigelle,
Gnocco Fritto and Piadina.
It is also ideal to add flavour to polenta. It is excellent served with red and white full-bodied wines.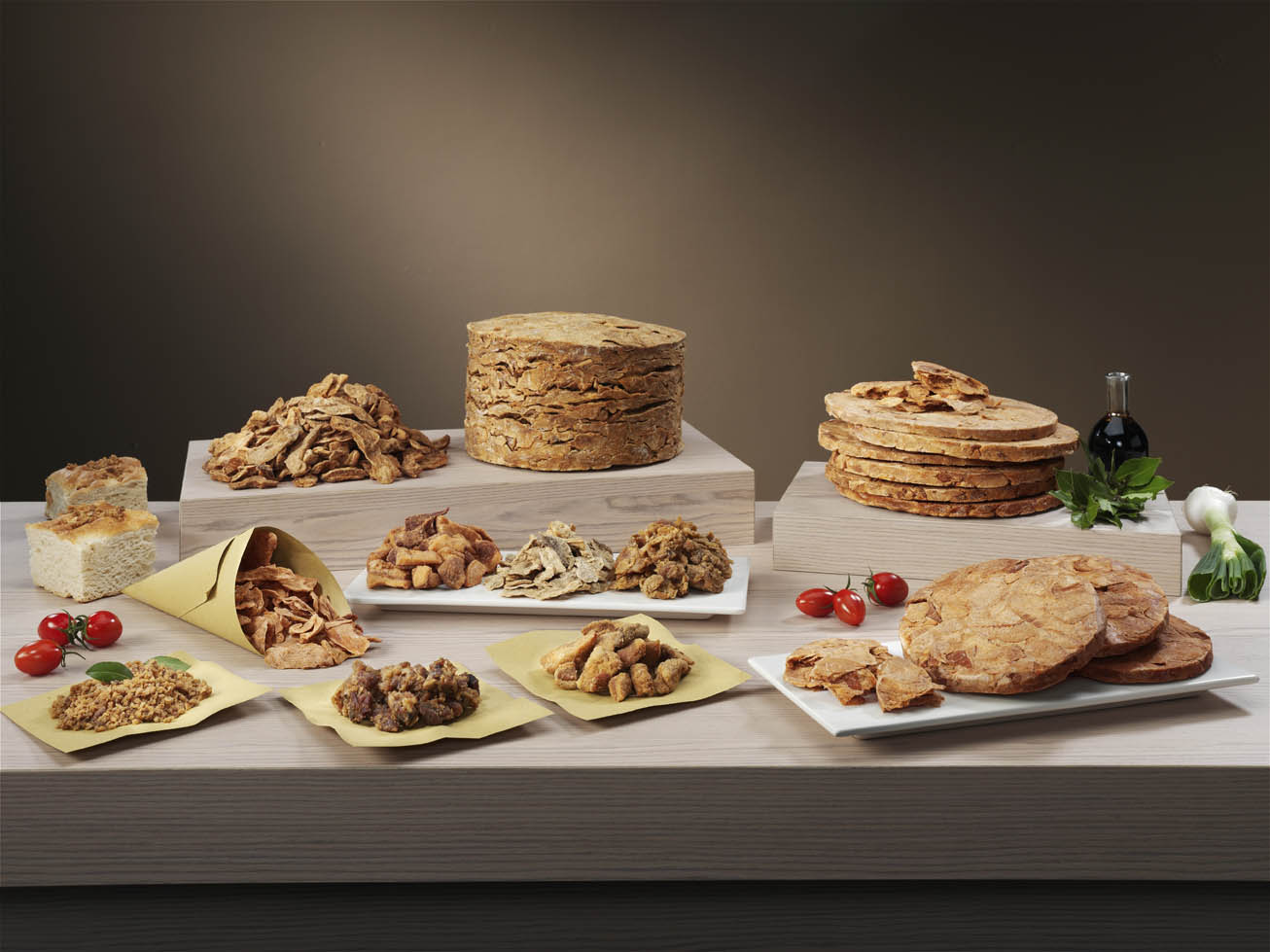 The consume of Crispy Ciccioli is spread all over Italy. The regional recipes are different depending on the part of meat used, type of curing, cut and final shape of the product.
There is a wide range of Crispy Ciccioli, different from region to region, and the company can satisfy any particular demand.
Greppole are made by cooking selected parts of pork meat. While they cook, their fat part turns into lard and the lean part becomes friable, as a crisp.
Depending on the recipe the product is pressed in a round shape (Frolli = friable) or packaged in a tub.
Ciccioli Croccanti (Crispy) are widely used in aperitifs and traditional tasty dishes. We suggest matching them with Modena traditional Vinegar. A part from beer, Lambrusco and Pignoletto are excellent wines to match with Ciccioli Croccanti.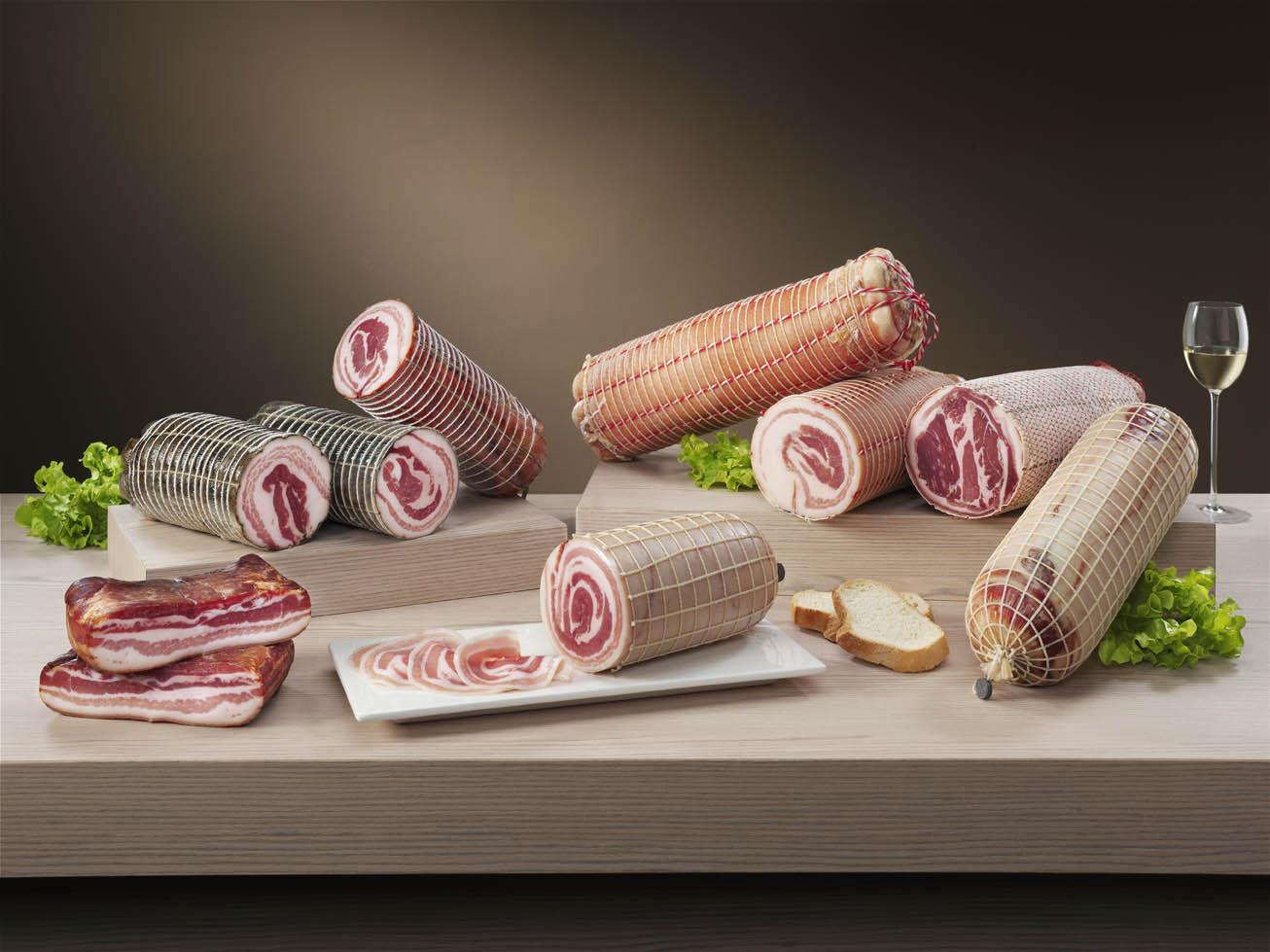 The art of making flat or rolled-up pancetta is strictly linked with that of ancient "norcini". Pancetta is the result of an accurate selection of fresh pig belly parts.
Meat is trimmed, salted, spiced and seasoned according to classic methods. The product can be with or without rind.
Curing may be different from place to place. Among the most well-known we find the rolled-up Pancetta without rind, the rolled-up black pepper flavoured Pancetta and the chilli pepper flavoured Pancetta. Flat Pancetta is
usually smoked or sweet. Excellent is also Pancetta Coppata.
Pancetta is usually sliced and served with bread.
In cooking it is usually minced or diced to flavour buns or meat sauces
LARDO ALLE ERBE & GUANCIALE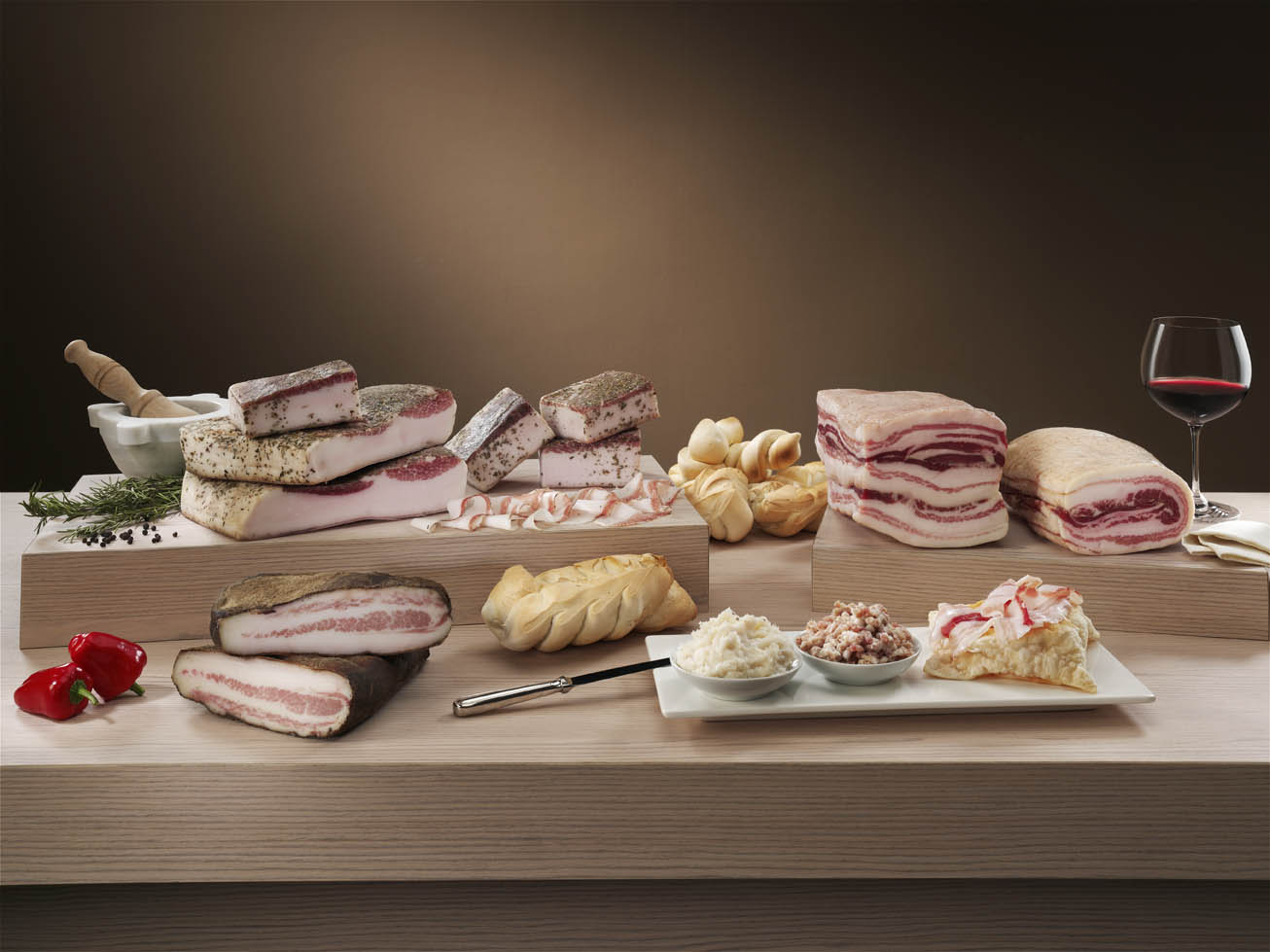 Production of seasoned Lardo alle Erbe starts from the search of the best fresh meats available on the Italian market. After being accurately processed, the meat is salted to end its process by seasoning.
Lardo alle Erbe is sweet and flavoured and it melts as in the mouth as
on a bruschetta (toasted slice of bread dressed with olie oil, salt and garlic), releasing its unmistakable taste. Guanciale Stagionato (lard from the pig's
cheek) comes from the pig's cheek meat processed, which is trimmed and shaped. The final result is a selected product, drop-shaped and covered with a slight patina of black pepper.
Both salumi are excellent in cooking, sliced or diced, they can be used to garnish roasts, pasta, trays of cheese and other types of salumi.