Architettura21 dispone di un ampio team di rinomati Architetti provenienti dalla Germania, dall'Italia e dall'Austria. Di qualsiasi tipoologia di edificio e/o idea Voi abbiate bisogno, noi scegliamo per Voi i migliori consulenti tecnici per attuare i Vostri progetti, sia nazionali che internazionali. Ci prendiamo cura di realizzare i Vostri progetti con squisita eleganza italiana, apprezzata precisione tecesca e originale stile internazionale. Con precisa consulenza professionale e curata organizzazione dall'A alla Z copriamo tutte le esigenze sia dei clienti privati che delle piccole e medie imprese, fino alle grandi multinazionali. Sviluppiamo progetti architettonici, diamo supporto tecnico per ricerche di mercato, facciamo perizie tecniche per la scelta della location e stime dei costi per la definizione del budget. Seguiamo i lavori di cantiere e controlliamo le opere realizzate nonché le fatturazioni.
Reference year of turnover:
Contact Information
Business Proposals
Vienna SAN VITO AL TAGLIAMENTO (PN)
No business proposals uploaded
Consulting and Architecture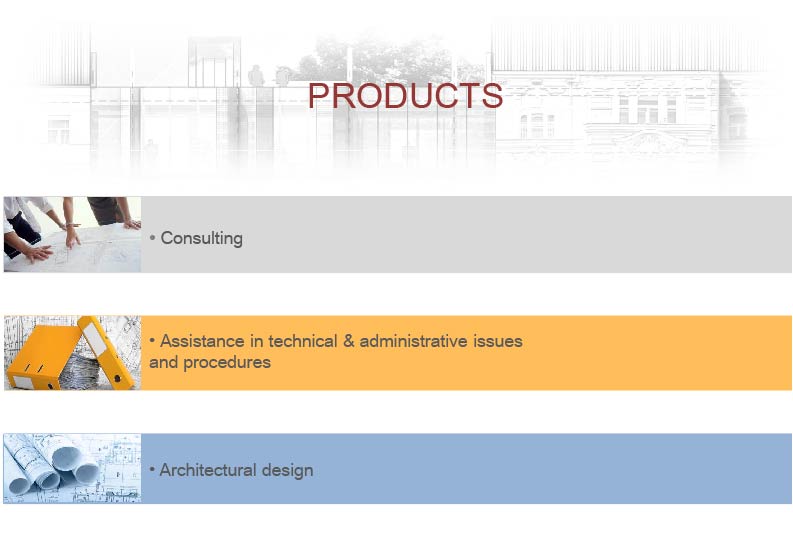 Consulting, Analisi preliminari e valutazione delle potenzialità immobiliari. Atti amministrativi e consulenze. Proposte d'intervento e soluzioni progettuali. Studi di fattibilità. Progettazione e Direzione dei Lavori.