Bermé Service Srl with registered office in Bolzano and operational headquarters in Condofuri (RC) is a family-run start-up.
The Manti family has given an important impulse of innovation to the citrus sector, creating a drink that is not a common one fruit juice, but a juice with organoleptic qualities that has no equal in the drinks already on the market. Bermé 100% pure apple and bergamot juice with no added sugar and preservatives comes from a happy one
intuition to use, what was considered material of waste, a waste, in addition polluting, in a product of great value health aspects. Thanks to the experience and cutting-edge technologies, Bermé has patented a bergamot juice extraction process that maximizes the amount of polyphenols contained per liter.
The composition of the team is, at present, made up of four units:

Guido Manti has legal representation in Bermè with the function of Commercial Director. Has backs technical commercial studies with company addresses that allowed him not only to have excellent administrative skills, but also to be an expert in work organization
and deals primarily with market introduction and sales;

Antonino Manti, public relations manager and creator of the
"bergamot plus mela ", is the inventor of the Bermè brand. He is a great connoisseur of bergamot and his property, having been born and raised right in the epicenter of its production area citrus.

Annunziata Catalano is the administrative manager with a higher level of training high school student, and is an expert on accounting and budget issues.

Piera Manti, is the personnel manager, has a high school education, is
graduating in law, and is an expert in the organization, selection and
training of personnel.
Reference year of turnover:
WHOLESALE TRADE OF FOOD PRODUCTS, DRINKS AND TOBACCO PRODUCTS
Wholesale trade of non-alcoholic beverages
Contact Information
Business Proposals
No business proposals uploaded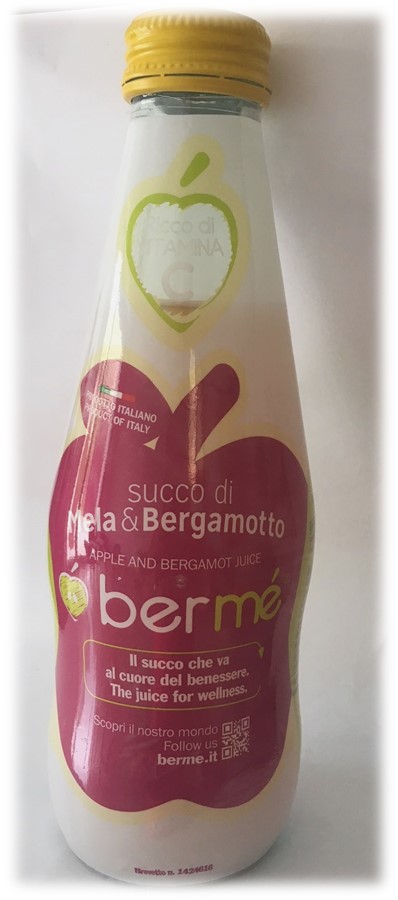 Bermé is a 100% pure juice of apple and bergamot rich in Vitamin C. This juice, unique to world, besides having a pleasant taste is a healthy product. In fact, it contains a quantity exponential of flavonoids, natural antioxidants and a significant amount of Vitamin C, in addition to a series of other Vitamins (A - D etc.) and finally, contains a component that fights fat. This makes it an excellent natural drink at any time of the day. With its fresh character, the citrus notes of bergamot and the softness of the apple, Bermé is perfect to accompany the breakfast or a snack And if drunk fresh, it is also a thirst-quenching juice that thanks to vitamins and vitamins mineral salts of the fruit regenerate from the efforts of sportsmen. The Bermé responds to the directives indicated by the European community and implemented by the Italian government. The Bermé, in fact, is made without added sugar and / or preservatives and dyes with the Peculiarities obtained through the patented extraction. For example, the classic Bergamot juice contains about 450 mg / l of Flavonoids (natural antioxidants) and about 50 mg / l of vitamin C in addition to other vitamins, the process of squeezing, which has been issued Patent, results as follows: Flavonoids 4250 mg / l, vitamin C 270 mg / l as well as other health substances not present in the juice classic. We also have significant quantities of the organic version of the product. From a research of the University Tor Vergata, in addition to counteracting cholesterol and triglycerides, it was an extremely important data was detected. After the intake of a 250 ml bottle a day for a period of 15 days the change is made total cholesterol ratio - HDL, triglycerides are lowered and does not produce any negative effect on the glycemia, (considering that the apple contains sugars), there is also an increase in the lean mass of the 16.40% and a decrease in fat mass both bicipital - 13.50% and tricipital 23.15% with a weight loss of 880 gr. in 15 days. This has been tested on healthy patients and on a normal diet, without restrictions. Bermé is packaged in 250 ml bottles and cans.