Our company is located in the Langhe, produces products based on IGP hazelnut flour. We are attentive to the territory and the genuineness of our products wich are gluten-free, preservative-free and fat-free. We are certificate like 100% Made in Italy and also like Eccellenza Artigiana.
Reference year of turnover:
PRODUCTION OF BAKED AND FLOUR PRODUCTS
Product of crispbread and biscuits; production of preserved pastry products
Contact Information
Business Proposals
Fraz. Ricca DIANO D'ALBA (CN)
No business proposals uploaded
Albarè, hazelnut biscuits.
Sustained by the natural goodness of a traditional recipe, these soft delicacies are prepared with few simple ingredients that enhance the unique flavor and intense aroma of the world's best hazelnuts, preserving their precious qualities. This little confection is bursting with fragrance and authenticity, a delicious invitation to let go and enjoy a moment of indulgence.
in line with the new covid safety regulations the Albarè can be used as small pastry as individually packaged, for this purpose we have thought of simple and transparent packaging and larger formats that give an advantage on the price and greater convenience of service.
Net weight of a pack: 180 gr.
with relevant orders you can order the Albarè in the small version of 80gr
Being packaged one by one you can request an order of 5KG,1kg or 500 gr.

Albaregina, hazelnut cake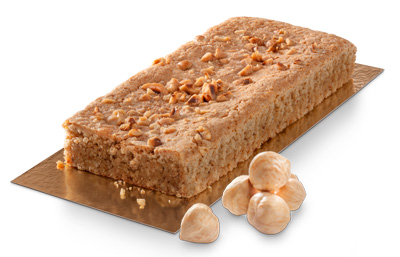 Soft and fragrant, Albaregina incorporates all the typical characteristics of this traditional Piedmontese dessert.
Just a few high quality, genuine ingredients make it a unique treat that encapsulates the unmistakeable aroma and flavour of the Nocciola Piemonte PGI, the undisputed star of the recipe.
Albaregina conjures up the warmth of the homes of days gone by in a tempting invitation to sweeten your evenings, taking a trip back in time.
A product for everyone, because it is yeast-free, milk-free and flourless.
net weight: 220 g
Golosè, hazelnut cake in a slice
Golosé is our hazelnut cake in a practical single-portion format. A genuine, mouth-watering snack to take with you everywhere for a sweet break at any time of day.
Made using only healthy ingredients that highlight the hazelnut's qualities and are packed with energy and sweetness.
net weight: 45 g
can be supplied in bulk or in the display of 20 pieces
salted hazelnut with tumeric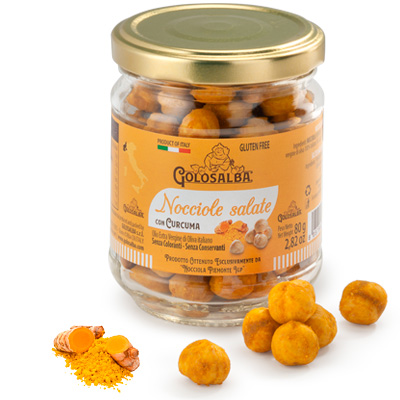 The unmistakeable taste of turmeric encounters the sweetness of the Nocciola Piemonte P.G.I. hazelnut combined with salt to create a blend of inimitable flavours.
Turmeric is known for being the healthy spice due to its numerous antioxidant and nutritional properties.
Net weight: 80 gr
The hazelnuts can also be supplied in vacuum packages 100 gr to follow, with this order makes more functional the product to accompany the aperitifs or where the packaging has irrelevance.
Meliga biscuits. ( corn biscuits.)
Crumbly and tasty biscuits, they respect the flavour and delicacy typical of Meliga Biscuits.
They are made with fine corn flour and other very few ingredients according to the recipe of the past, to pass down the same genuineness as the old Meliga biscuits of the Piedmont tradition.
Every taste evokes the memory of simple and genuine tastes like those of the country cousine of the past.
Net weight: 180gr
It is possible to order the normal corn pastes or chocolate even individually packaged in pairs.
Net weight: 22 gr
Net weight chocolate biscuits: 24 gr