Il gruppo Panifici Palesano è un'azienda che opera nel settore della produzione dei prodotti lievitati da forno dolci e salati dal 1991 ed è situata a Bari, in Puglia.
Il progetto aziendale è stato sviluppato dal fondatore Pasquale Marsico, un uomo appassionato alla farina e all'ars panis sin da bambino. Nel 1991 Pasquale mette su il primo panificio, a Bari e con il passare degli anni i panifici diventano 6, tra cui un grande polo produttivo a Modugno, il centro nevralgico di tutte le attività: produttiva, logistica, amministrativa, ancora in fase di ampliamento. L'azienda oggi sviluppa un'ampia gamma di prodotti: dal pane e i suoi derivati(focaccia, taralli, basi pizza ecc..), alla linea sottovuoto e congelata di tutte le tipologie di prodotto; è presente inoltre un laboratorio pasticceria per la produzione di pasticceria secca e fresca. Gli ingredienti utilizzati sostengono l'economia locale in quanto derivano da aziende pugliesi e italiane, a marcare l'identità dei prodotti. Pur utilizzando celle a ferma lievitazione e abbattitori di ultima generazione le ricette ricalcano gli antichi metodi di produzione pugliesi e questo differenzia l'azienda dai competitors: l'innovazione al servizio della tradizione.
Il prodotto di punta dell'azienda è la focaccia barese, un prodotto tipico della tradizione barese, la cui produzione segue una ricetta artigianale in termini di processo produttivo e ingredienti: lievitazione naturale di 48h con farina "0", acqua e sale. Il prodotto viene venduto sottovuoto fresco e/o congelato e ha una naturale durata di 30 gg (per il fresco), un anno (per il congelato) senza l'utilizzo di gas e/o conservanti. Tutto questo grazie all'utilizzo di materie prime di elevata qualità e ad un processo produttivo che tutela igiene e naturali tempi di maturazione degli impasti.

Panifici Palesano team is a company from Bari, Apulia (south of Italy), which produces bakery products from 1991. The business project is an idea of the founder , Mr. Pasquale Marsico, a man fond of flour and ars panis, since he was a baby. In 1991 he opened his first bakery in Bari but now the bakeries are six and he also built a big area in Modugno (BARI) which is the nerve center of all the activities of the company and which is still in expansion: main production, logistic, administration, business are managed in this building.
Today the company has a large assortment of goods: bread and derivates (focaccia, taralli, basi pizza, panzerotti ecc..) in fresh and frozen declension but also sweet bakery products, directly produced from the company (fresh and dry pastry).
The ingredients employed are from Apulia or Italy in order to support local economy but also in order to highlight the traditional features of the production. In fact, while using proving cabinets and blast chillers of next-gen, the recipes match perfectly the one of our ancestors and this is the main difference between Palesano and our competitors: the innovation can preserve tradition.
The most important product of the company is FOCACCIA BARESE, an Apulian typical product made of flour, water and salt and seasoned with extra virgin olive oil, fresh tomatoes and oregano. Our company follows the original recipe not only in ingredients but also in each step of the process: the dough has a leavening time of 48 h and natural yeast is used. Focaccia can be pack under vacuum and sold fresh and/or frozen; its natural shelf life is 30 days for the fresh product and 1 year for the frozen one. No gas in the pack atmosphere or preservatives are added and it is due to the high quality of the raw materials used but also to a kind of process which preserves hygiene and yeasts/bacteria natural time of fermentation (leavening).
between 250.000 and 500.000 Euro
Reference year of turnover:
PRODUCTION OF BAKED AND FLOUR PRODUCTS
Production of fresh bread products
Contact Information
Business Proposals
No business proposals uploaded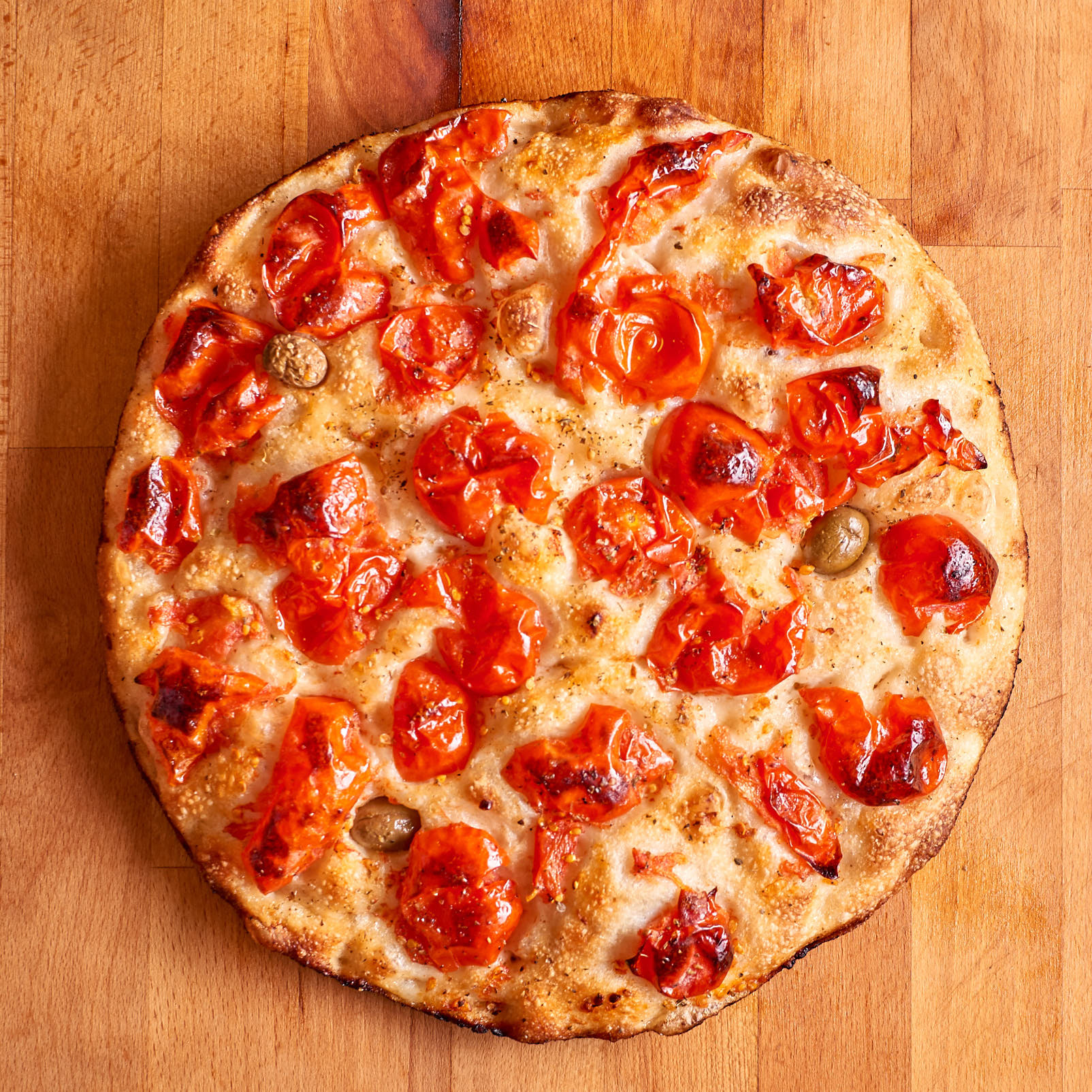 LA FOCACCIA E' UN PRODOTTO TIPICO BARESE APPARTENENTE ALLA "CULTURA POVERA", NATO COME MERCE DI SCAMBIO TRA LE MASSAIE E I FORNAI DI UN TEMPO; E' UN PRODOTTO LIEVITATO DA FORNO OTTENUTO DALLA MISCELAZIONE DI FARINA E SEMOLA E SUCCESSIVA LIEVITAZIONE PER 24/48 ORE CON UTILIZZO DI LIEVITO NATURALE.
L'IMPASTO OTTENUTO VIENE STESO CON LE MANI IN TEGLIE TONDE E CONDITO CON POMODORO FRESCO, OLIO EXTRAVERGINE D'OLIVA, SALE, OLIVE BARESANE, ORIGANO E SUCCESSIVAMENTE COTTO IN FORNO PER 20 MINUTI.
TUTTI GLI INGREDIENTI E LA RICETTA RISPETTANO LA TRADIZIONE BARESE.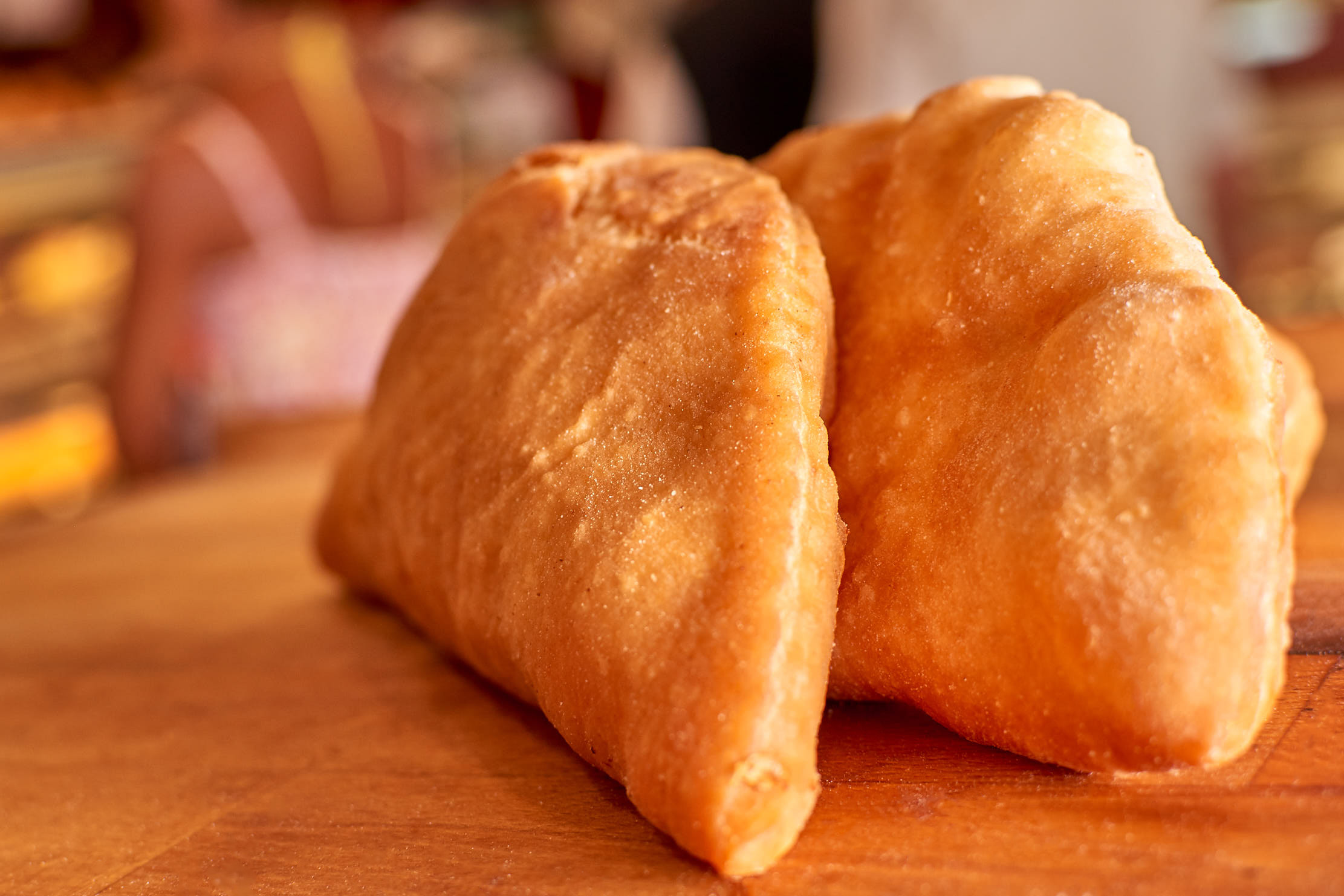 PRODOTTO LIEVITATO DA FORNO: OTTENUTO DALLA MISCELAZIONE DI FARINA E SEMOLA E SUCCESSIVA LIEVITAZIONE PER 24/48 ORE CON UTILIZZO DI LIEVITO NATURALE.
L'IMPASTO OTTENUTO VIENE CONDITO CON SALSA DI POMODORO, MOZZARELLA, SALE, PEPE E SUCCESSIVAMENTE FRITTO.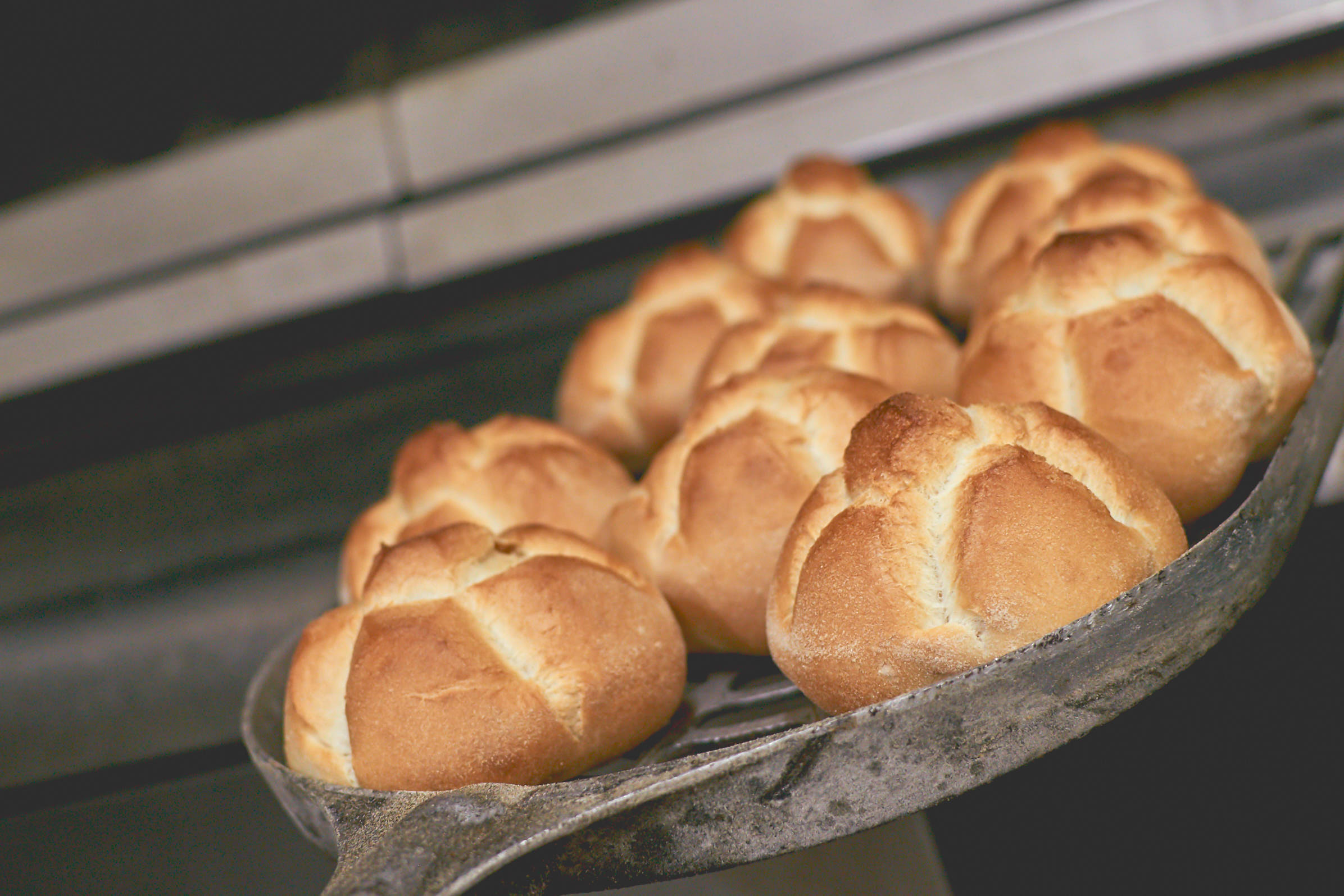 PRODOTTO LIEVITATO DA FORNO: OTTENUTI DALLA MISCELAZIONE DI FARINA E SEMOLA E SUCCESSIVA LIEVITAZIONE PER 24/48 ORE CON UTILIZZO DI LIEVITO NATURALE.
L'IMPASTO OTTENUTO VIENE FORMATO E COTTO IN FORNO.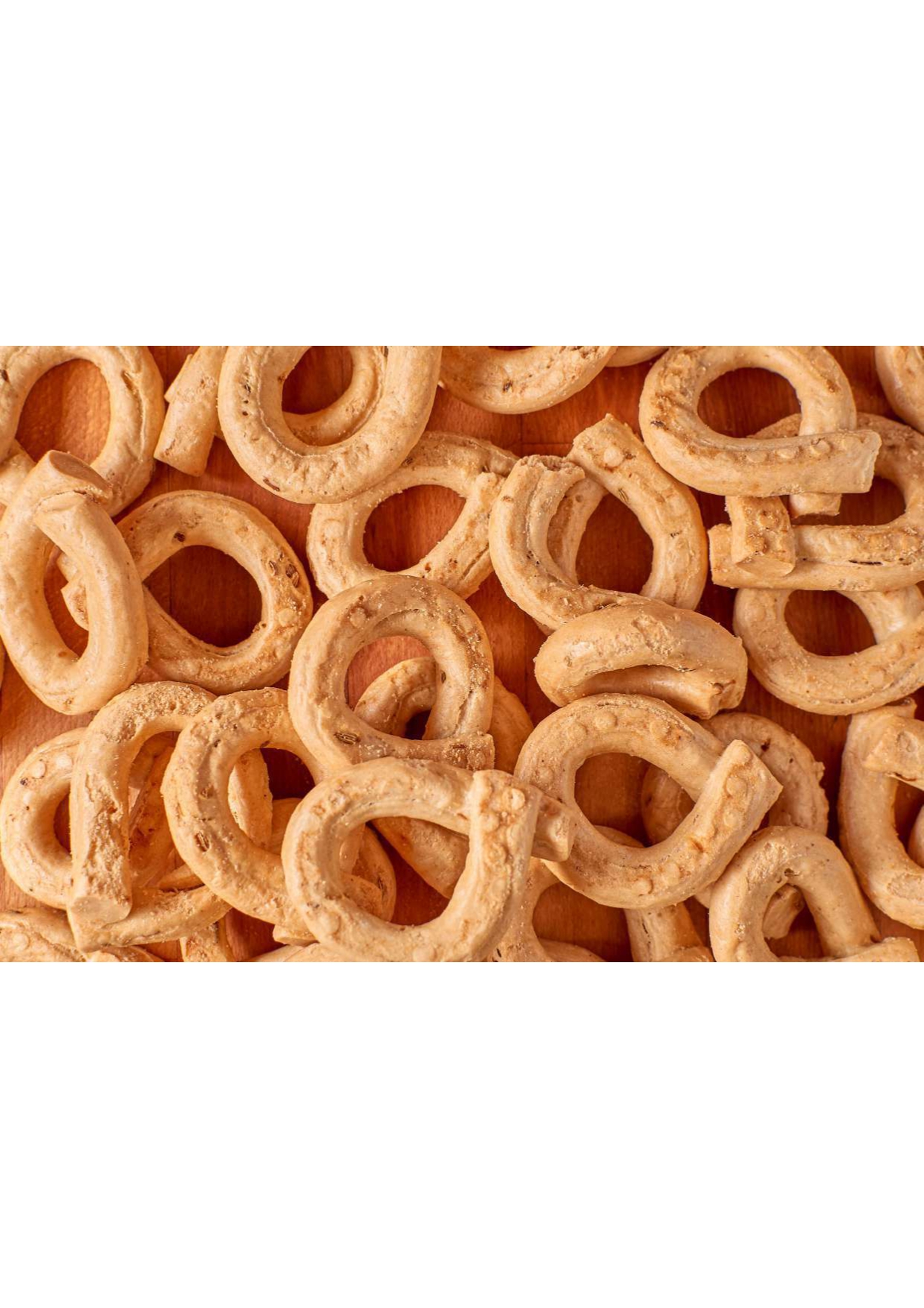 PRODOTTO OTTENUTO DALLA MISCELAZIONE DI DIVERSE FARINE E SUCCESSIVA COTTURA IN FORNO.
IL TARALLO E' UN PRODOTTO TIPICO PUGLIESE UTILIZZATO COME SNACK