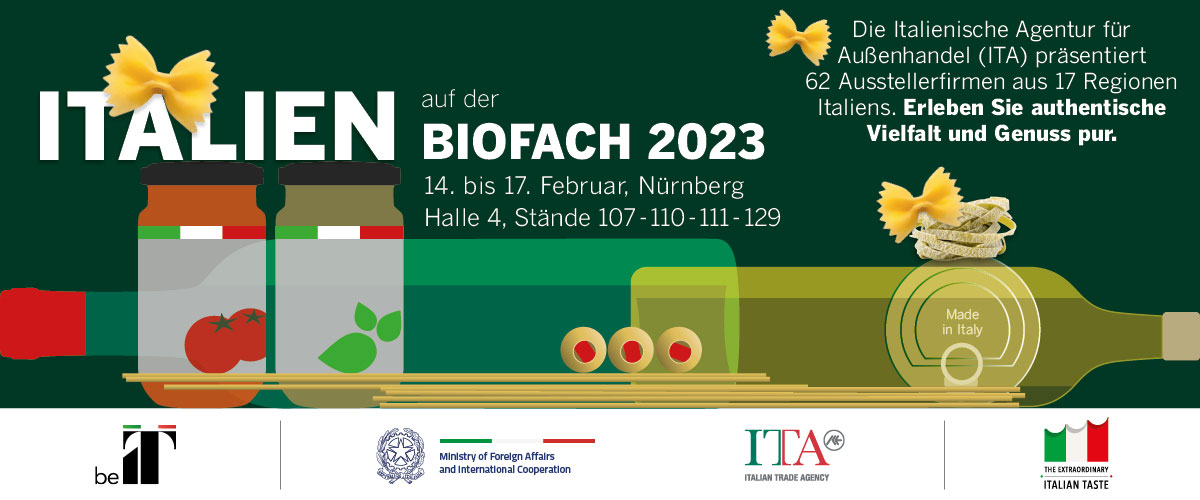 Regionale Vielfalt und authentischer Genuss: Auf dem Gemeinschaftsstand der Italian Trade Agency (ITA) zeigen 62 Unternehmen aus fast ganz Italien, was sie an kulinarischen Köstlichkeiten aus Bio-Produktion zu bieten haben. 
Als staatliche Agentur für Außenhandel haben wir, die Italian Trade Agency (ITA),  die Aufgabe, die Wirtschafts- und Handelsbeziehungen zwischen Italien und Deutschland zu fördern und die italienischen Herstellerinnen und Hersteller bei der Vermarktung u. a. von Genussprodukten "Made in Italy" zu unterstützen.
Dies geschieht über Beteiligungen an internationalen Messen, wie in Kürze bei der diesjährigen BIOFACH in Nürnberg. Auf unserem Gemeinschaftsstand werden 62 Produktionsbetriebe zeigen, was sie an kulinarischen Köstlichkeiten aus biologischem Anbau zu bieten haben.
Ihr Portfolio umfasst erlesene Olivenöle und Essigspezialitäten, frische und getrocknete Pasta, Backwaren, süße und salzige Snacks, Saucen und Pesto, Brotaufstriche, Kaffee, Limonaden, Säfte, Weine, Trüffel, verarbeitetes Obst und Gemüse und vieles mehr – vom Manufaktur-Erzeugnis bis hin zu neuen, originellen Bio-Zutaten wie z.B. Trüffelflocken oder Feigenkaktus-Extrakte in Gel- und Pulverform. Nicht wenige der gezeigten Produkte tragen eines der beiden EU-Gütesiegel "geschützte Ursprungsbezeichnung" oder "geschützte geografische Angabe".
Die beteiligten Firmen kommen aus 17 der 20 italienischen Regionen. Dazu gehören Abruzzen, Apulien, Basilikata, Emilia-Romagna, Friaul-Venezia-Giulia, Kalabrien, Kampanien, Latium, Lombardei, Marken, Molise, Piemont, Sardinien, Sizilien, Toskana, Umbrien und Venetien. Ihr Spektrum reicht vom etablierten Traditionsunternehmen bis hin zum Newcomer auf internationalem Parkett.
Bioprodukte aus Italien lassen keine Wünsche offen. Zu einer kulinarischen Entdeckungsreise laden wir Sie herzlich ein. Erleben Sie authentische Vielfalt und Genuss pur.  
Wir freuen uns auf Ihre Resonanz und sind bei all Ihren Anliegen unter der Telefonnummer 030 / 884403-00 oder per E-Mail an food.berlin@ice.it gern für Sie da. Wir freuen uns auf Ihren Besuch!
Den Katalog mit dem Profil und dem Portfolio der 62 italienischen Aussteller anwesend auf der BIOFACH 2023 können Sie hier herunterladen.
Italien auf der BIOFACH 2023, 14. bis 17. Februar 2023, Messe Nürnberg,
Halle 4, Stände 107/110/111/129.
Italien ist top, wenn es um Produkte aus biologischem Anbau geht.
Italien zählt zu den weltweit führenden Herstellern von Bioprodukten. Der Absatz im heimischen Markt wie auch der Export haben in den letzten Jahren stetig zugelegt. Mit einem Exportvolumen im Wert von geschätzten 3,37 Milliarden Euro im Jahr 2022 (+ 16 Prozent im Vergleich zu 2021) belegt Italien aktuell Platz 1 im Ranking der europäischen Exportländer und Platz 2 im weltweiten Vergleich.
Kontinuierliches Wachstum trotz wirtschaftlicher Herausforderungen
Seit 2012 hat sich das Exportvolumen mit einem Zuwachs von 181 Prozent nahezu verdreifacht. Dabei nimmt auch die Zahl der zertifizierten Produktionsbetriebe kontinuierlich zu. Für das Jahr 2021 wurde ein weiterer Anstieg der Biobetriebe in Italien um 5,4 Prozent auf 86.144 Betriebe gemeldet, Beleg für die große Dynamik des Sektors – trotz der herausfordernden globalen Wirtschaftslage.
 
Ausbau nachhaltiger Nutzflächen: Italien auf der Zielgeraden
Die ökologische Anbaufläche auf dem Stiefel betrug 2021 rund 2,2 Millionen Hektar. Damit liegt Italien im europäischen Vergleich hinter Spanien und Frankreich, aber vor Deutschland und Österreich. Laut Sinab (Nationales Informationssystem für ökologischen Landbau) hat sich die Fläche seit 2010 fast verdoppelt. Der Anteil der ökologischen Anbauflächen beträgt aktuell 17,4 Prozent (nach 16,6 Prozent im Jahr 2020). Wenn dieser Trend weiterhin anhält, wird Italien im Jahr 2030 einen Anteil von 25 Prozent ökologischer Anbaufläche erreicht haben, was den Zielen des Europäischen "Green Deal" entspricht.
Die Aussteller auf dem italienischen Gemeinschaftsstand, Halle 4, Stände 107/110/111/129:
Öle & Essig-Spezialitäten
ACETAIA PRAMARZONI MORENA FARM, ACETUM SPA, ARKÈ OLIO DI SICILIA, AZIENDA AGRICOLA DOMENICO SCERVINO – BIOXFARM, AZIENDA AGRICOLA GIUSEPPE SORTINO SRLS, FATTORIA PETRINI, FRANTOIO D'ORAZIO, MICELI & SENSAT AZIENDA AGRICOLA BIOLOGICA, OLEARIA SIBARITIDE SRL – BROGNA-MASTRI OLEARI DAL 1909, OLEIFICIO LU TRAPPITU SOC. AGR. SRL, TERRAVOSTRA NATURA DOCET
Pasta, Reis, Backwaren, süße & salzige Snacks
AENNE BIO SRL, AZIENDA AGRICOLA BIOLU, BACHET SRL, CASTELLO DI SALASCO, CERRETO ORGANIC SRL, FALCO SRL, GLUTEN FREE FOODS SRL, GR.A.M.M. SRL – GRUPPO MILO, IOBOSCOVIVO SRL, LIFE SNACK SRL, PANGEA SRL, PANIFICIO ZORZI SRL, PASTA NATURA SRL, PASTIFICIO FABIANELLI SPA, PASTIFICIO FRATELLI DE LUCA SRL, PASTIFICIO MARULO, RAFF SRL, SANTACANDIDA ITALIA SRL, TEDESCO SRL, TERRE E TRADIZIONI SRL, ZANICHELLI & GOVI SRL
Weine, Säfte, Konzentrate
AGRICOLA SAN TEODORO, AZIENDA VINICOLA ANNA SPINATO SAS, B&G SRL – LIMMI, BOSIO FAMILY ESTATES SRL, CITROGLOBE SRL, INCANTALUPI SRLS, LE VIGNE DI SAMMARCO SRL, MENICUCCI VINI SRL, MISTER BIO WINE SRL
Verarbeitetes Obst & Gemüse
AGROLOGICA OP SOC. AGR. CONS, AZ. AGR. POLVERARI ROSETTA –NEROBIO TARTUFI, CAMPO D'ORO SRL, FIORDELISI SRL, HUB INTERNATIONAL SRL – GUSTO SANO, OLIVE PETRUZZELLI SRL, PASQUARIELLO GIOVANNI AZ. AGR., PISTACCHIO SPA, RINCI SRL, RISPOLI LUIGI & C SRL, SOCIETA AGRICOLA PISCIOTTA SRLS
Saucen, Pesto, Brotaufstriche
APICOLTURA F. LEONARDI DI FILIPPO LEONARDI– SOLMIELATO, FATTORIE UMBRE SRL, FRES SRL – RADICI ROSSE
INTEX SRL – CONVIVIA, NOUVELLE TERRE SRL – BUONONATURALE
Sonstiges
CACAO CRUDO SRL, MYVITALY SRL, POLICOM SRL
Power Food
SAN PIO X SOC. AGR. S. DAL 1708
*************************
Regional variety and authentic enjoyment: at the joint booth of the Italian Trade Agency (ITA), 62 companies and producers from almost all parts of Italy will present the organically produced culinary delicacies they have to offer.
As the State Agency for Foreign Trade, we, the Italian Trade Agency (ITA), have the task to promote the economic and trade relations between Italy and Germany, and to support the Italian producers and manufacturers in their marketing of gourmet products "Made in Italy", and in other areas.
This is facilitated by participating in international trade shows like this year's BIOFACH in Nuremberg. At our joint booth, 62 producers will present the culinary delicacies from organic farming that they offer.
Their portfolio comprises exquisite olive oils and vinegar specialities, fresh and dried pasta, bakery products, sweet and salty snacks, sauces and pestos, spreads, coffee, lemonades, juices, wines, truffles, pickled or canned fruit and vegetables and much more – from exclusively manufactured products to new, original ingredients,
e.g. truffle flakes or prickly pear extracts in the form of a gel or powder. Quite a few of the presented products bear one of the two EU seals of approval "protected designation of origin" or "protected geographical indication".
The participating companies are from 17 of the 20 Italian regions: Abruzzo, Apulia, Basilicata, Emilia-Romagna, Friuli-Venezia Giulia, Calabria, Campania, Lazio, Lombardy, Marche, Molise, Piedmont, Sardinia, Sicily, Tuscany, Umbria and Veneto.  Their spectrum ranges from the well-established traditional manufacturer to the newcomer on the international scene.
Organic products from Italy will meet every expectation and desire. We cordially invite you to a journey of culinary discovery. Experience authentic variety and pure enjoyment!
We are looking forward to your response and, for all requests that you may have, we will gladly be at your disposal at this telephone number: +49 (0)30 / 884403-00 or by E-mail to food.berlin@ice.it. We are looking forward to your visit!
You can download the catalog with the profile and portfolio of the 62 Italian exhibitors at BIOFACH 2023 here.
Italy at BIOFACH 2023, 14 to 17 February 2023, Messe Nürnberg,
Hall 4, Booths 107/110/111/129
Facts and figures on the Organic Farming Sector in Italy
Italy is

leading the field when it comes to organically grown produce
Italy counts among the leading producers of organic products worldwide. Domestic sales as well as exports have continuously grown during the past years. With an export volume estimated at 3.37 billion euros in 2022 (+ 16% in comparison with 2021), Italy is currently holding first place in the ranking of European exporting nations and second place in a worldwide comparison.
Continuous growth despite global crises
With a growth of 181% since 2012, Italian export volume has almost tripledover ten years. The number of certified producers is also rising continuously. For the year 2021 another increase of 5.4% to 86,144 companies has been reported.
Expansion of sustainable usable agricultural area: Italy on the right track
The organically farmed area in Italy stood at 2.2 million hectares in 2021. Compared to the other countries of the European Union, Italy thus comes behind Spain and France and in front of Germany and Austria in this regard. According to Sinab (National System of Information for Organic Farming) this area has almost doubled since 2010. The share of the organically farmed areas currently stands at 17.4% (16.6% in 2020). If this trend continues, a share of 25% will be reached by the year 2030, which corresponds to the goals of the European "Green Deal".
The exhibitors at the Italian joint booth, Hall 4, Booths 107/110/111/129:
Oils & Vinegar Specialties
ACETAIA PRAMARZONI MORENA FARM, ACETUM SPA, ARKÈ OLIO DI SICILIA, AZIENDA AGRICOLA DOMENICO SCERVINO – BIOXFARM, AZIENDA AGRICOLA GIUSEPPE SORTINO SRLS, FATTORIA PETRINI, FRANTOIO D'ORAZIO, MICELI & SENSAT AZIENDA AGRICOLA BIOLOGICA, OLEARIA SIBARITIDE SRL – BROGNA-MASTRI OLEARI DAL 1909, OLEIFICIO LU TRAPPITU SOC. AGR. SRL, TERRAVOSTRA NATURA DOCET
Pasta, rice, bakery products, sweet & savory snacks
AENNE BIO SRL, AZIENDA AGRICOLA BIOLU, BACHET SRL, CASTELLO DI SALASCO, CERRETO ORGANIC SRL, FALCO SRL, GLUTEN FREE FOODS SRL, GR.A.M.M. SRL – GRUPPO MILO, IOBOSCOVIVO SRL, LIFE SNACK SRL, PANGEA SRL, PANIFICIO ZORZI SRL, PASTA NATURA SRL, PASTIFICIO FABIANELLI SPA, PASTIFICIO FRATELLI DE LUCA SRL, PASTIFICIO MARULO, RAFF SRL, SANTACANDIDA ITALIA SRL, TEDESCO SRL, TERRE E TRADIZIONI SRL, ZANICHELLI & GOVI SRL
Wines, juices, concentrates
AGRICOLA SAN TEODORO, AZIENDA VINICOLA ANNA SPINATO SAS, B&G SRL – LIMMI, BOSIO FAMILY ESTATES SRL, CITROGLOBE SRL, INCANTALUPI SRLS, LE VIGNE DI SAMMARCO SRL, MENICUCCI VINI SRL, MISTER BIO WINE SRL
Processed fruit & vegetables
AGROLOGICA OP SOC. AGR. CONS, AZ. AGR. POLVERARI ROSETTA –NEROBIO TARTUFI, CAMPO D'ORO SRL, FIORDELISI SRL, HUB INTERNATIONAL SRL – GUSTO SANO, OLIVE PETRUZZELLI SRL, PASQUARIELLO GIOVANNI AZ. AGR., PISTACCHIO SPA, RINCI SRL, RISPOLI LUIGI & C SRL, SOCIETA AGRICOLA PISCIOTTA SRLS
Sauces, pesto, spreads
APICOLTURA F. LEONARDI DI FILIPPO LEONARDI– SOLMIELATO, FATTORIE UMBRE SRL, FRES SRL – RADICI ROSSE
INTEX SRL – CONVIVIA, NOUVELLE TERRE SRL – BUONONATURALE
Other
CACAO CRUDO SRL, MYVITALY SRL, POLICOM SRL
Power Food
SAN PIO X SOC. AGR. S. DAL 1708