Since 1984 Tecnoagri has conceived and manufactured agricultural, agri-food and industrial equipment.
The success gained by the company during these years comes from the great ability and willingness to keep on innovation in order to fully satisfy our customer.
The current production focuses on the following fields:
digging up with the following products: backhoe arms for digging up machines, backhoes attached to the tractor, attached excavators, mini-excavators buckets, hydraulic ramdrills, quick couplers for buckets. Tecnoagri backhoes are designed to excavate, load, dig and clean ditches. They fit low, medium and high power tractors through a 3 point linkage, with digging depth from 1,5 to 3,6 m.
moving: forklifts attached to the tractor, hydraulic buckets for products displacement, metal and stainless steel containers with tilting system, bins tipper, box tipper, tippers for containers and bins, to be fitted to forklifts, bales loaders attached to the tractor, grabs and forks for hay and straw bales handling.
soil cultivation: the company offers a wide range of cultivators as well as in- and out- tree cultivators with disks or weeder blade. The hydraulic or electro-hydraulic machines fit 3 point linkage tractors.
green maintenance and shredder with a wide range of multi-purpose shredders, which are suitable for cutting grass, shredding brambles, shrubs, branches resulting from pruning, straw, maize stocks. A complete series of hydraulic reach mowers and a complete line of hydraulic branch cutter bars.

The ideas of quality, versatility and safety concerning Tecnoagri products are the basis of our company philosophy, which is supported by an efficient and competent team as well as by the selection of certified and first quality raw materials.
Tecnoagri is particularly active, dynamic and attentive to innovations.

TECNOAGRI is always occupied to offer customers high quality products as well as competitive prices which run customers' favour. So that, the Company has created the mark "Only Firts Quality".
By affixing this "Only First Quality" stamp TECNOAGRI certifies that the products have been manufactured using top-quality raw materials and made by highly professional and skilled workers.
In this way products stand out due to their reliability, ease of use and long service life.
Nothing less than the highest quality products can be expected from this mix of excellent qualities.
Fully conscious of this, TECNOAGRI has combined technology and expertise and craft skills to obtain top-of-the-range products that translate the passion, talent, craft mastery and industrial efficiency into a tangible proof of efficiency and competitiveness.
True expression of original MADE IN ITALY.
between 0.5 and 2.5 million Euro
Reference year of turnover:
From 750.000 to 2.5 million Euro
MANUFACTURING OF MACHINERY AND EQUIPMENT NEC
MANUFACTURING OF MACHINERY FOR AGRICULTURE AND FORESTRY
Manufacturing of farm tractors
Manufacturing of other machinery for agriculture, forestry and animal husbandry
Manufacturing of machinery for mines, quarries and building sites
MRS BINTIPPER MADE IN TECNOAGRI
MRS BINTIPPER MADE IN TECNOAGRI
BINSTIPEER TECNOAGRI The MRS Side Tipper is built with a specific grips and double locking system which allows the overturning of containers, bins or boxes of different heights, and the grip of different bins in the handling stage, preventing the overtuned content from coming into contact with the mechanical and hydraulic components of the machine. Furthermore, a specific hydraulic system allows the locking and the overturning with a single lever. The MRS Side Tipper is used throughout the ac
Contact Information
Business Proposals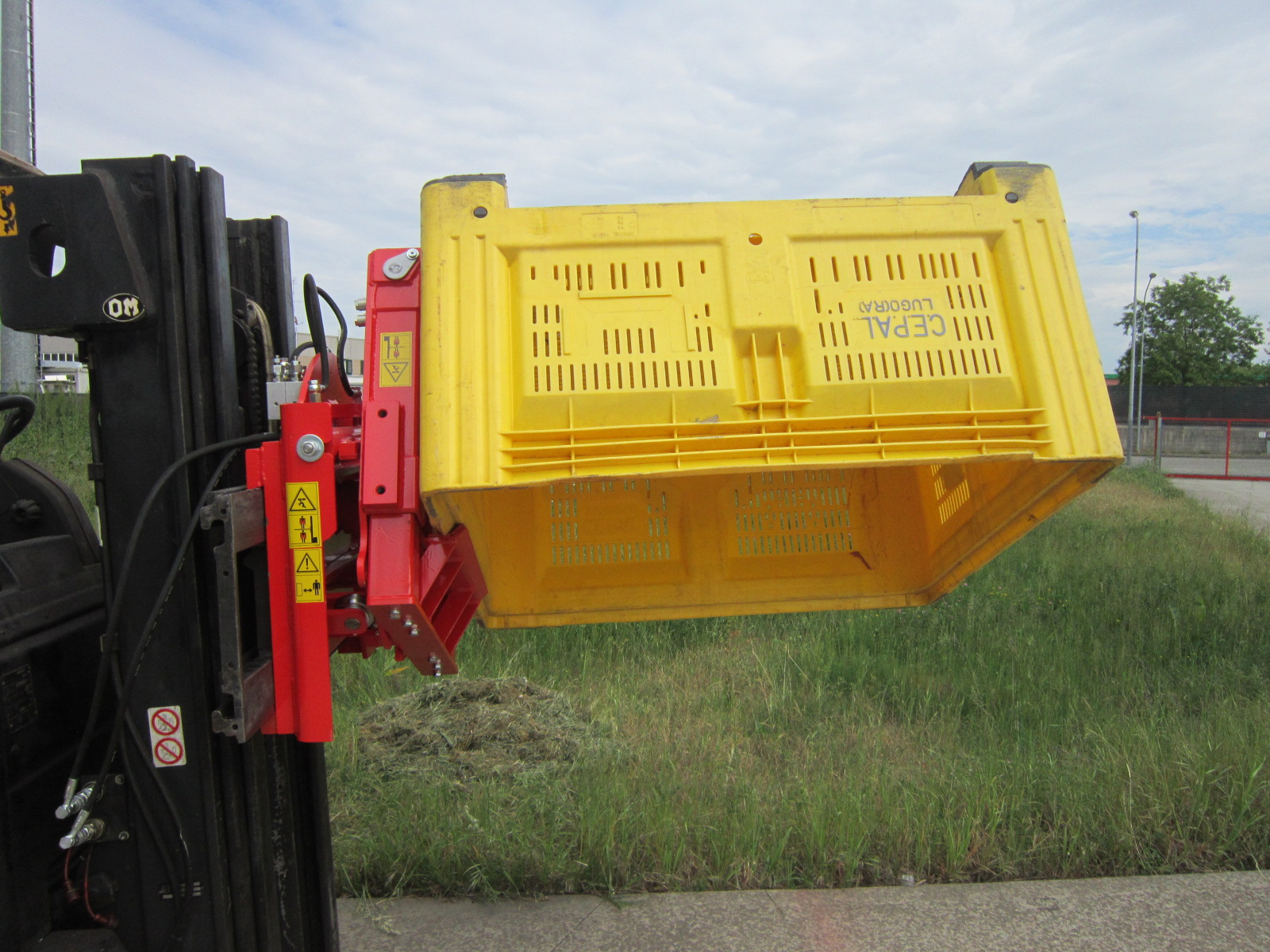 Tecnoagri Hydraulic Side-Tippers are ideal for the overturning and handling of Bins, boxes and containers. They can be attached to forklifts, forklifts for tractor. Tecnoagri Hydraulic Side-Tippers are available in the following versions: Mechanical Arm, Hydraulic Arm (and Oversized Hydraulic Arm), with Binsholder. Along with these models, Tecnoagri has realized and patented the new side-tipper MRS, particulary suitable for foodstuffs because prevents the overturned products from coming into contact with parts of the machine in the overturning stage.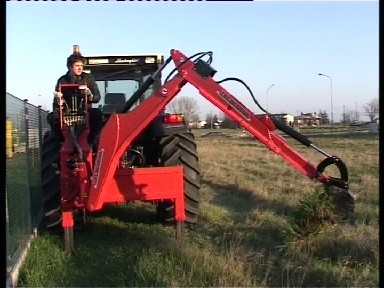 Tecnoagri backhoes are designed to excavate, load earth resulting from excavation works, dig ditches.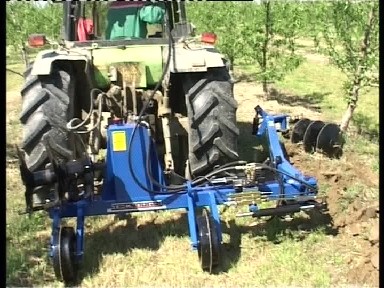 Tecnoagri created versatile and solid models, which fit any cultivation. Besides machines can be attached to the front, to the back or sideways any tractors and they can be equipped, according to cultivations, with several easy to use tools: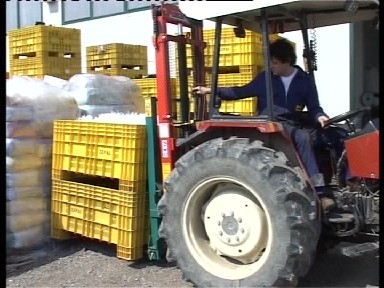 Tecnoagri forklifts are divided into 4 models:- ECO- SUPER- TRIPLEX- QUADRUPLEXto meet any handling requirement. With a lift capacity from 700 Kg to 2500 Kg it is possible to reach lift heights from 1500 mm to 6000 mm.
The Skimmer model trimming bars are available in different models and are suitable for shearing branches of different sizes: from 5 to 10 cm. The equipment can be applied to Hydraulic Arm Decavers, to Orchard Pruners, to Backhoes.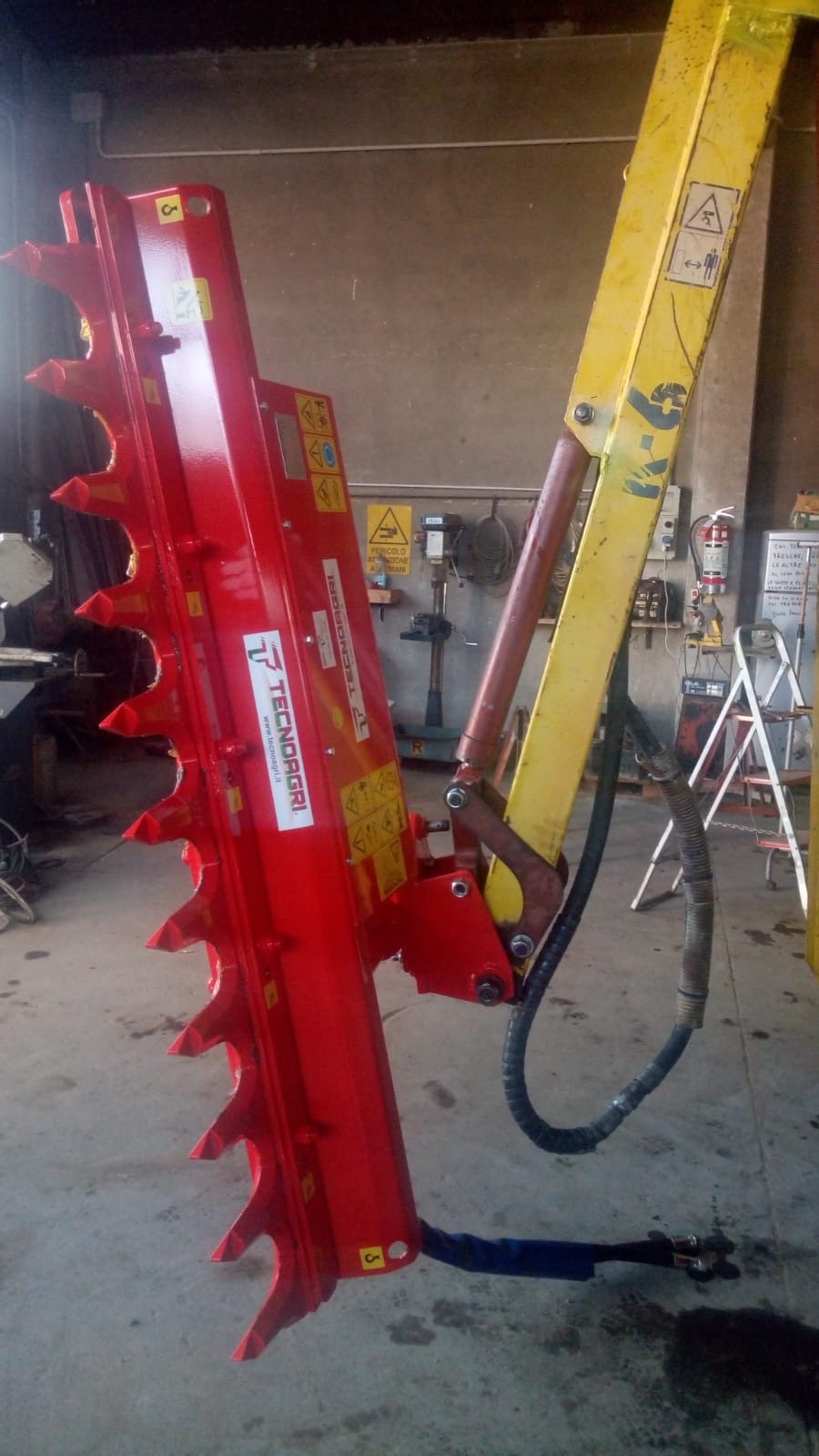 SKIMMER series branc cutter bars are designed and manufactured for the maintenance of vertical vegetation, bushes, hedges, trees, orchard. The bar is strong, specific for pruning branches, hedges and bushes with a diameter up to 5 cm (version 50) and 10 cm (version 100) avoiding to damage the plant thanks to a clean cut without tearing. The feeding required is 60 lt./min., allowing a fast work with 200 beats per minute in SKIMMER models 50-150 and 50-180 and 50-210 and 86 in SKIMMER models 100-158, 100-188, 100-218. The branch-cutter bar can be applied to any machine class, making the equipment effective on any brushcutter or excavator arm from 1.5 to 16.0 tons. The boom is easy to handle and can also be used effectively in areas with dense vegetation. The swivel joint allows the inclination of the boom to be adjusted according to the user's needs.