TM Italia, a company with more than 20 years of experience in the realization of bespoke kitchen furniture. In the course of the years we have developed a flexible production model thanks to which we work with architects and interior designers on daily basis for projects in each part of the world, distinguished by the quality of craftsmanship and high level of personalization and exclusivity.
In our model of tailor kitchen manufacturing we have succeeded in combining research, technological innovation, production standards of an efficient industrial system and attention to detail typical of craftsmanship. Since 2008 we have been partners of universities and research institutes in order to find innovative solutions in the spheres of home automation, environmental impact, space optimization, inclusivity and design for all. Our strength is to provide architects with all our expertise, problem solving, development and engineering skills, a choice from a standard range of over 400 finishes and processing techniques, the integration of innovative solutions from our research programmes, turnkey manufacturing of all furnishings, compliance of all materials with certifications for public places, shipping and international coverage of the TM Italia brand.
Further information, technical sheets, finishes and other useful material is at your complete disposal in our reserved area www.download.tmitalia.com.
between 2.5 and 5 million Euro
Reference year of turnover:
From 750.000 to 2.5 million Euro
Manufacturing of kitchen furniture
Contact Information
Business Proposals
ZONA INDUSTRIALE CAMPOLUNGO
No business proposals uploaded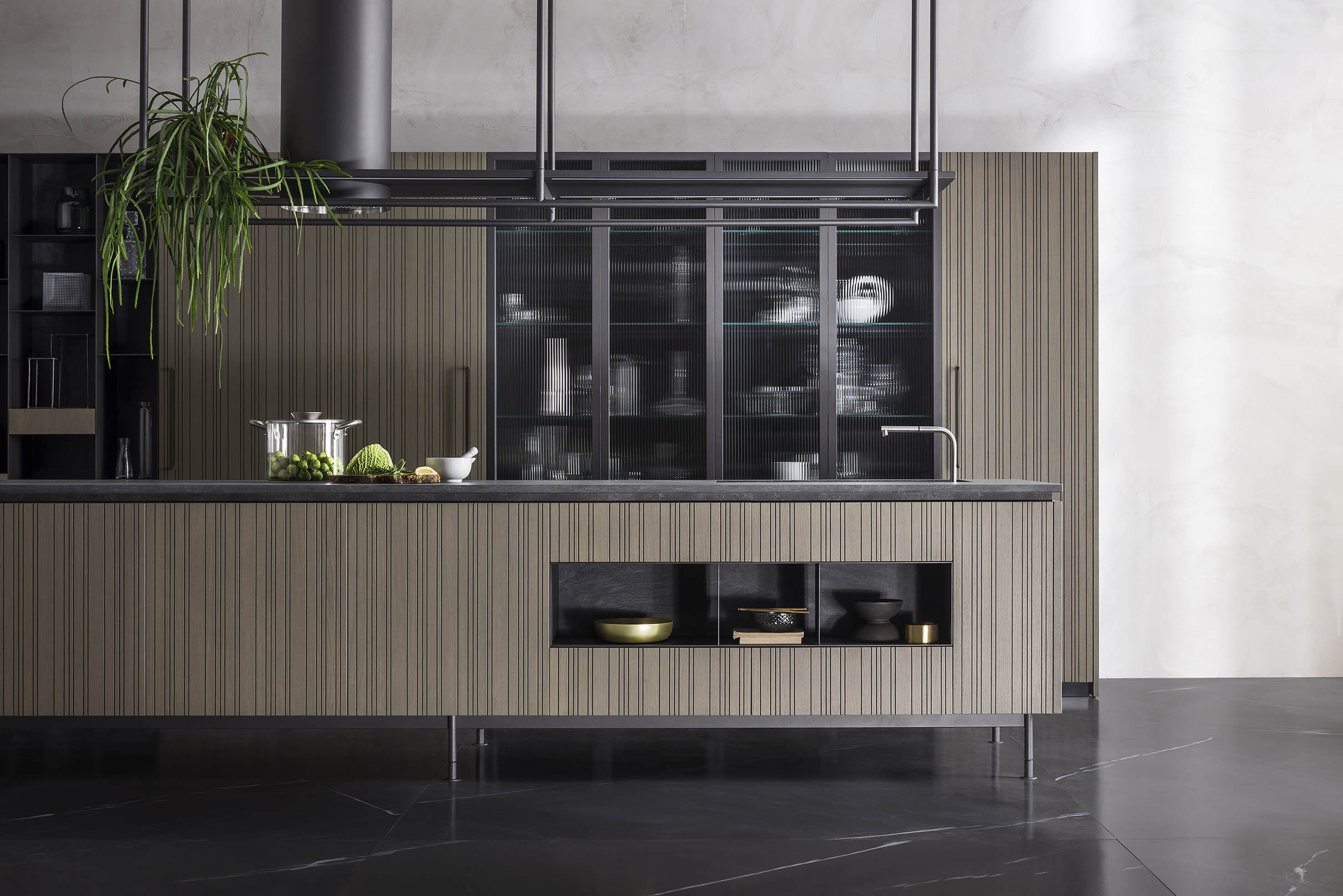 Rua boasts formal grace and elements of great character, which represented by the suspended work island and the open columns. The three-dimensional processing of the doors creates a precious striped design which together with the Belgian crystal of the glass cabinets, confirm the tribute to the romantic atmospheres of the artisan laboratories. Composition of island and columns. The large central island, suspended by means of a steel base, is set up with baskets, drawers, storage compartments and open compartments. The Ardoise Noir stoneware top features an assembled sink and an invisible induction hob installed below the surface. The columns are equipped with retractable doors, open compartments, glass cabinets. The doors of the Rua model are characterized by a refined three-dimensional decoration of asymmetrical incisions three millimeters thick. On the bases all the fronts are equipped with a metal handle inserted in the sides, while the columns feature steel handles inserted in the decorative cuts, allowing to preserve the aesthetic rigor of the door.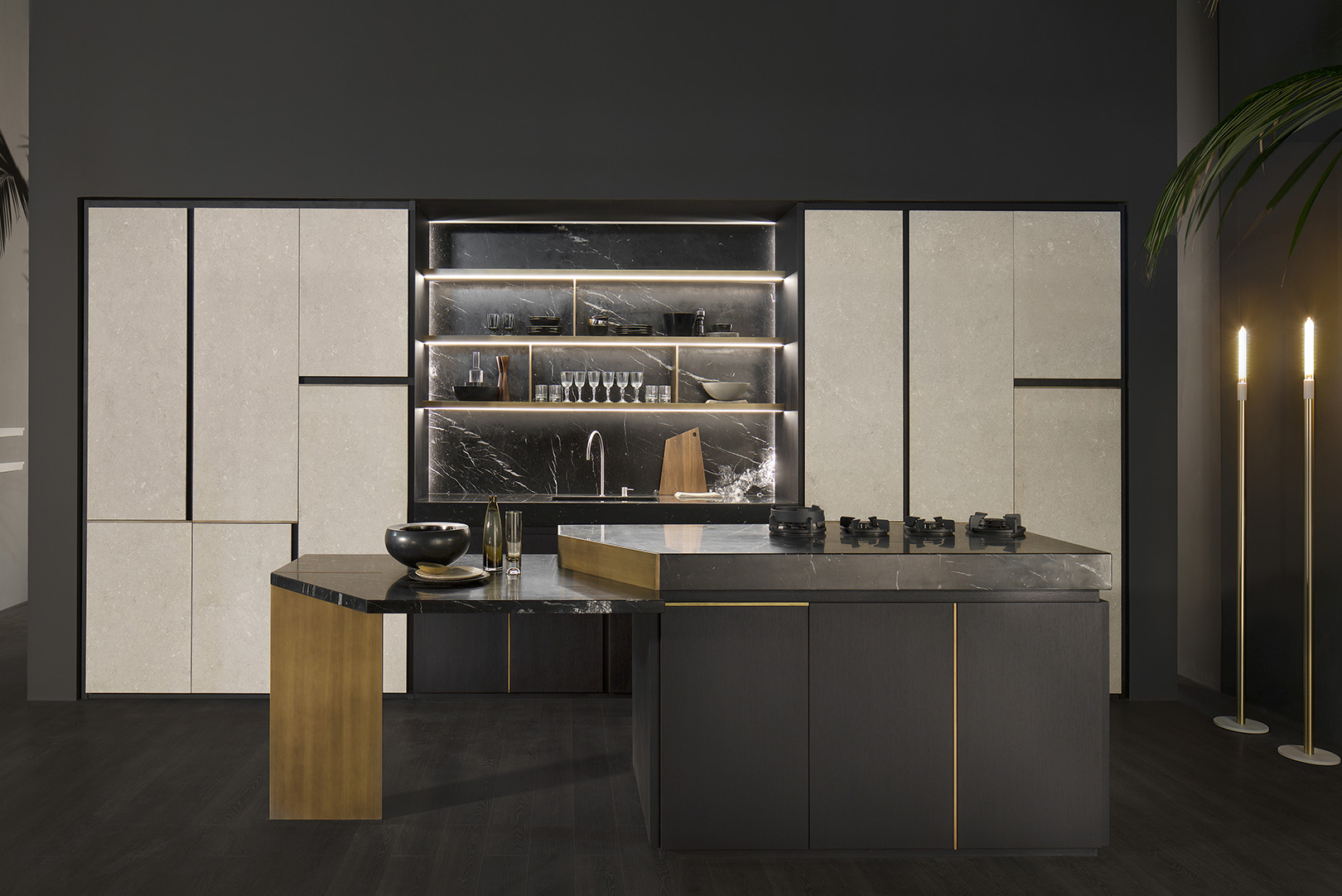 The home automation kinematisms become a refined compositional dynamism, creating a cadence of surfaces that take on a different configuration in each single project. A stylish example of TM Italia's tailoring expertise, accompanied by sophisticated pairings of materials: Nero Marquinia stone for the work area and the island top, Ceppo di Grè and rovere materico bruno for the doors and front elements, mounted on a frame boasting an ottone antico finish.
Kitchen and living space based on concepts T45 and D90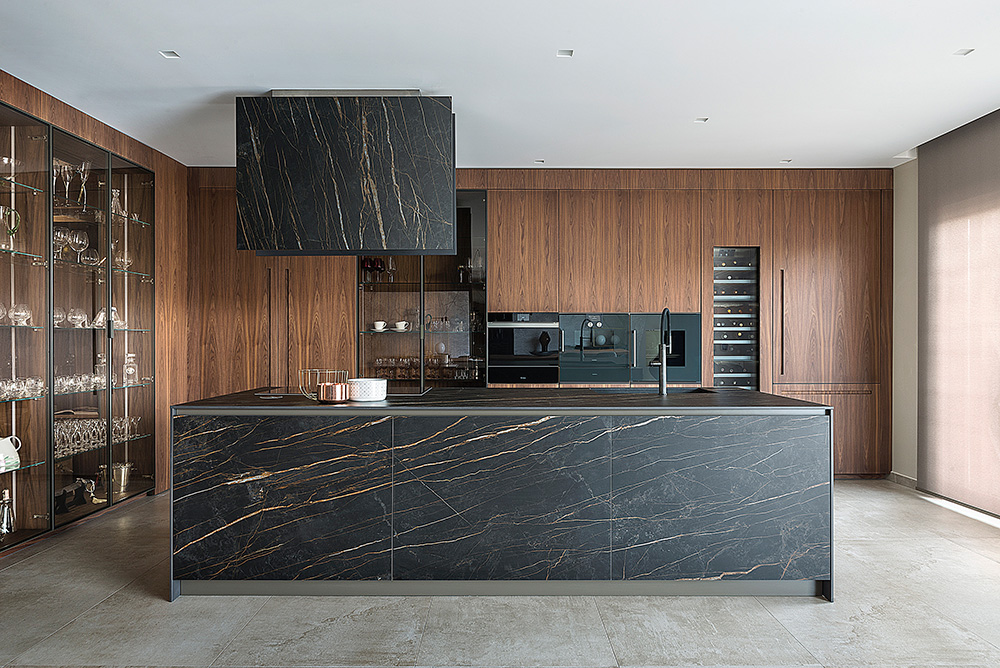 TM Italia shows all its craft savoir faire in this kitchen with island and living for a private client in Naples. The project includes turnkey construction of the entire architectural space, where the large open space is divided into functional areas – dining and living – by an impressive composition with a T layout that includes the kitchen with island, the living room furniture, and the equipped wall.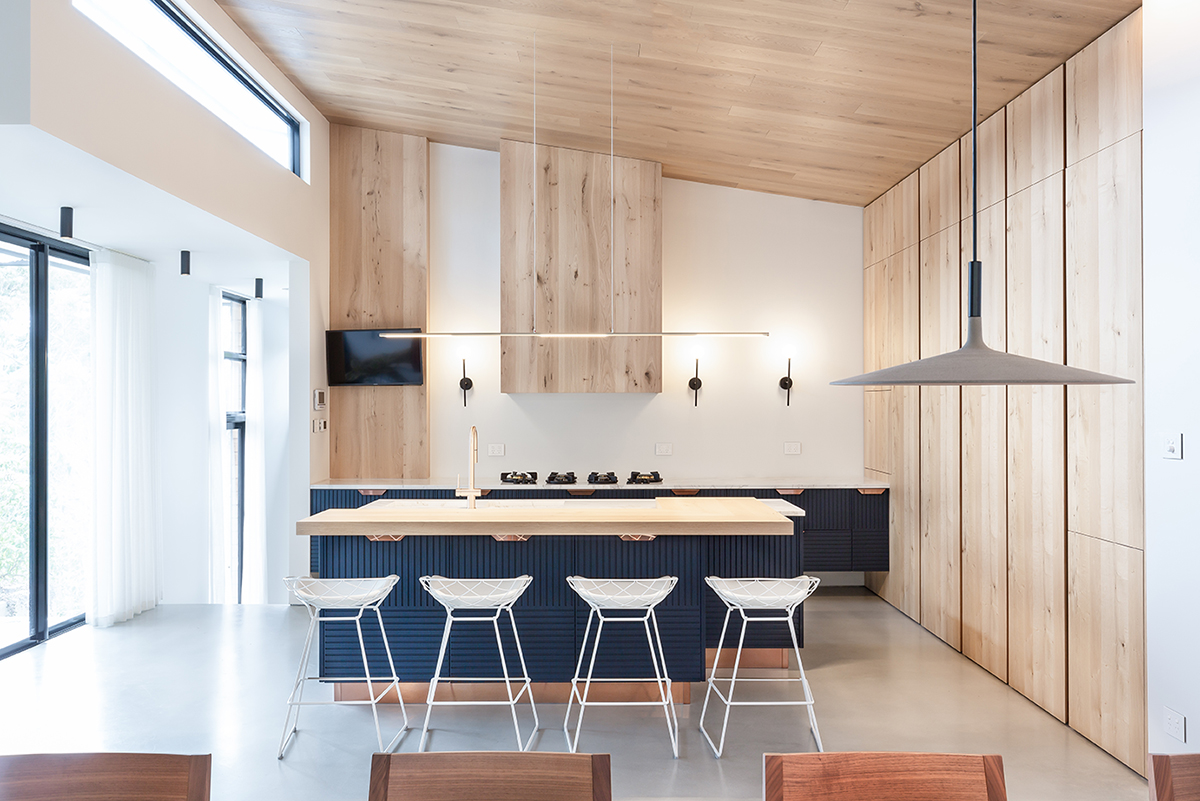 We placed a special project In Lane Cove, a district in Sydney's Lower North Shore. Inside an old 30s style cottage in a quiet village surrounded by nature, TM Italia has placed a kitchen with island with blue lacquered bases, stone tops and oak columns. The restoring and extension project by the architects Patrizia Trento and Michele de Vido was developed on various stages: the dwelling's closure contrasts indeed with the openness of the new building, whose full-height-windows allow a direct contact with the surrounding nature. An angular island composition and durmast columns were placed inside the main living space, with an amazing view on the park.
Premium materials kitchen based on T30 and D90 concepts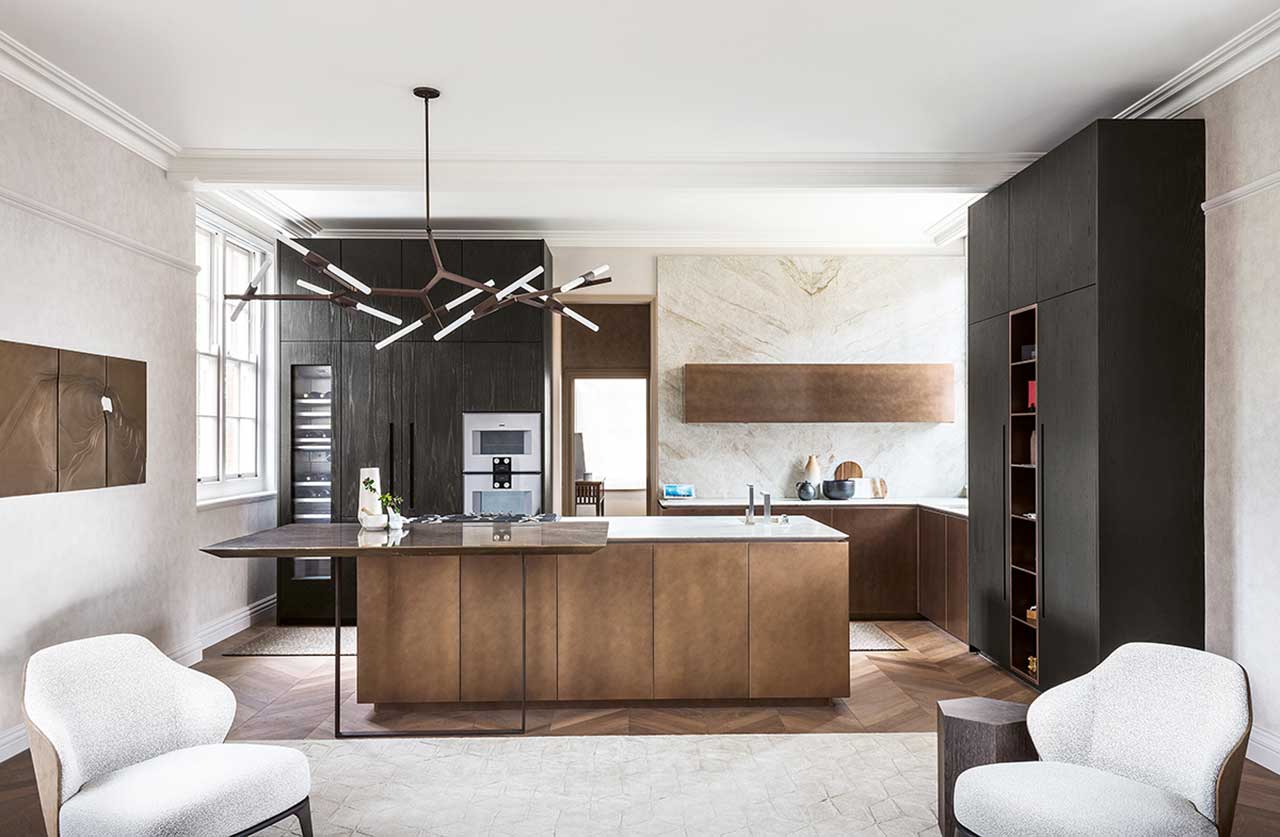 A kitchen with island and columns where strong and higly tactile materials like wood and stone, are enriched by the elegance of copper. Copper kitchen in London, from the transformation of a historic university complex, a refined and well-finished living space was born. A unique blend of elegance, functionality and quality, with precious, warm and welcoming materials; sober and sophisticated lines, carried out with great care, embellish the whole project. The open-plan kitchen, that leans out on the living room, develops on an angular layout with central island. A sophisticated combination of stone, wood and changing metallic special lacquers characterize the kitchen project: copper doors on T30 concept, worktop in natural stone, materic dark oak for the tall cabinets with inside handles, made on D90 concept.