Modenese Interiors, we design and manufacture luxury Italian designer furniture for top class residential villas and elegant residences. Established in 1818, Modenese Family has been crafting and designing bespoke furniture ranges over the last two centuries. Our exclusive collection reproduces all the style of classics furniture from Empire Royal style King Luis XIV to the classic Venetian Baroque and Roccoco furniture. We also offer comprehensive interior design service for residential, commercial, and governmental buildings. Every piece in our inventory is handcrafted by a group of highly skilled artisans using techniques that have passed down through the generations. We do provide worldwide shipping for our extensive range of traditional Italian furniture.
between 5 and 15 million Euro
Reference year of turnover:
From 5 to 15 million Euro
Manufacturing of furniture for home furnishing
IL SALONE DEL MOBILE - MILANO DESIGN WEEK 2019 Refined taste, exclusive and classic design, craftsmanship, bespoke furniture 100% made in Italy. Enjoy the finest interior decoration and the art of bespoke classic furniture. Best classic empire and baroque furniture, elegant and precious solid wood furntiure with gold details, marble top and mother of pearl insert. Best high quality handcrafted by our artisans with tradition and experience
Italian upholstery living room sofas set in baroque and classic style, carved solid wood with gold leaf details and marble coffee table for exclusive and unique atmpshere. Decorate your home project with custom and tasteful furniture and fit out by Modenese Luxury Interiors
classic interiors show in SALONE DEL MOBILE - MILANO 2018 Handpainted luxury pianos with custom design and gold details, mother of pearl inserts. Classic furniture and custom fit out for exclusive, majestic and opulent villas and palaces interior projects. Our interior design team will select and propose you the best option for your royal project as per your special taste. Elegant walk-in-closets for her and for him with special custom design and solid wood structure for high timeless products
Modenese Gastone Luxury Interiors at Il Salone del Mobile 2017 in Milan. Refined taste, exclusive and classic design, craftsmanship, bespoke furniture 100% made in Italy. Decorative automatic centre table with wood inlays and gold details for special and majestic interiors. Marble top for custom table in classic empire style with the best italian quality for unique spaces and timeless home decoration
Contact Information
Business Proposals
MODENESE GASTONE interiors SRL
No business proposals uploaded
Baroque classic living room made in Italy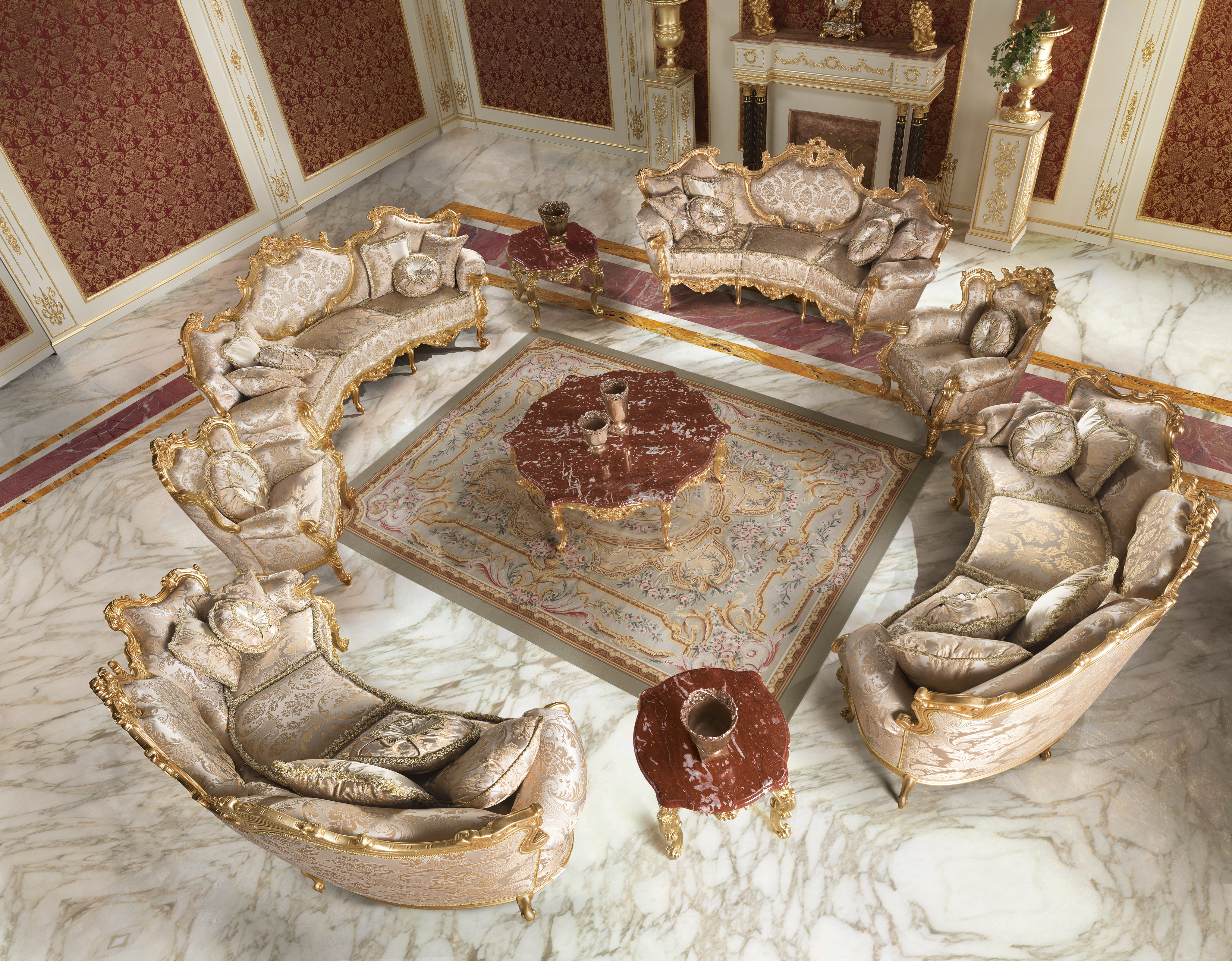 Feel like a royal with the best high end made in Italy for luxury and classic ideas. Our baroque sofas and armchairs, matching with marble coffee table can be customized for dimensions, style, fabrics for the best result for your royal interior design project. We design and decorate villas, palaces, hotels, offices, private jet and yachts with our artisanal production for timeless home decoration.
Classic luxury Office custom made - fit out and furniture production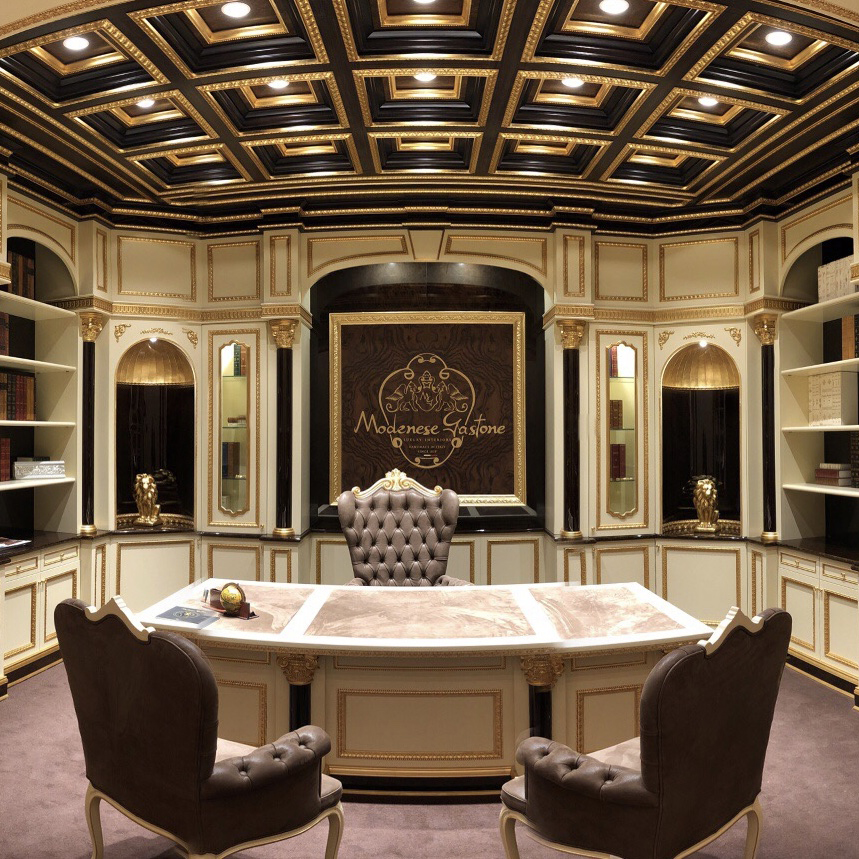 Decorate your private office or CEO office with the best high quality made in Italy by Modenese Luxury Interiors. We produce luxury classic furniture and custom fit out for the most luxury and majestic office. Including embassies, Presidents bureau worldwide. Custom boiserie and libraries, elegant and royal furniture with customer logos and desk with leather top, gold deatails and precious materials.
Empire classic luxury bedroom - italian high end products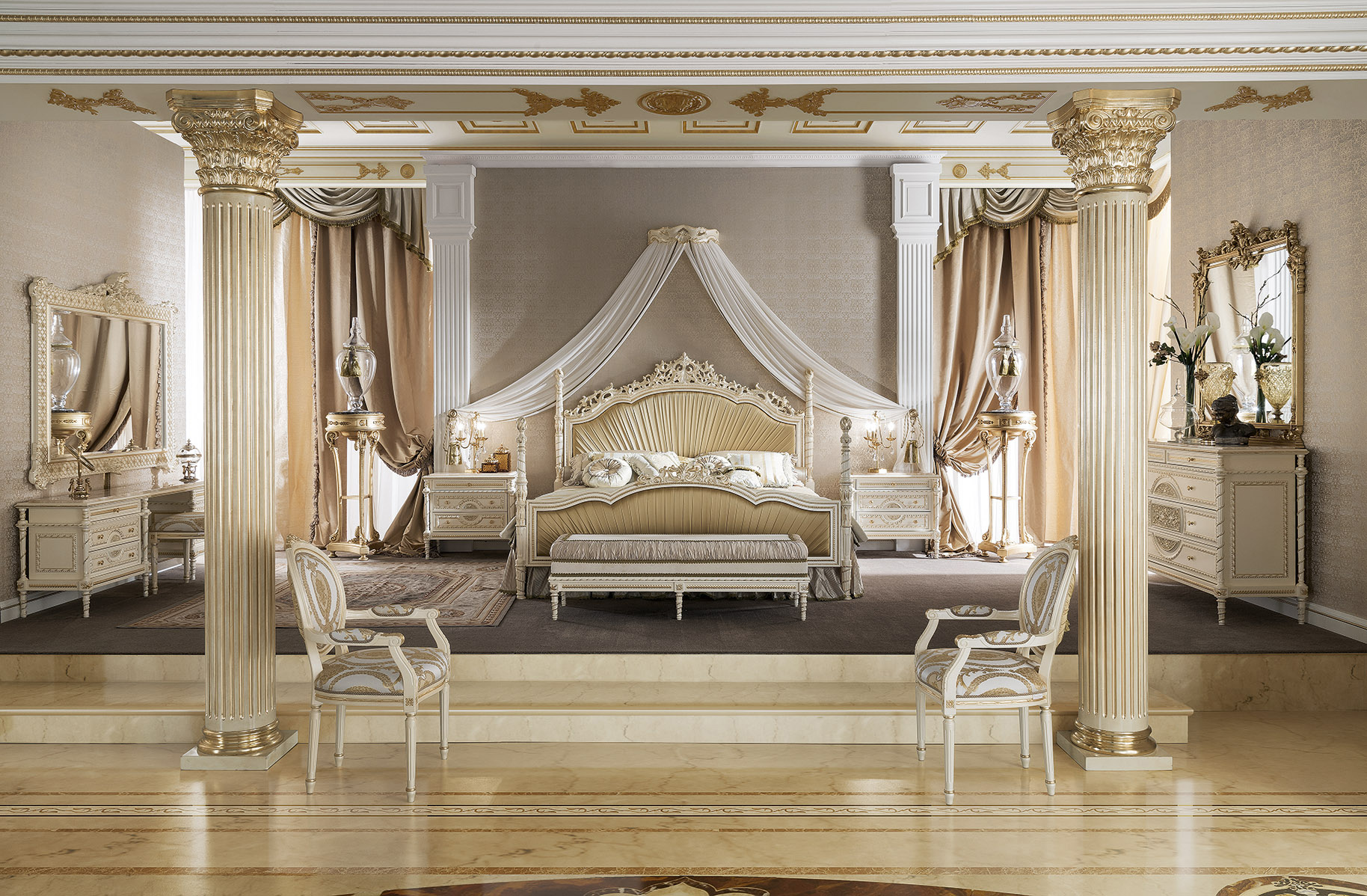 Empire classic bedroom furniture by Modenese Luxury Interiors for unique and exclusive private suites. Master suite with italian best high quality. Custom furniture and fit out realization, starting from the selection and the design to custom handmaded production, our interior design will understand your taste and follow you for a special residential project
Custom classic walk-in-closet by Modenese Interiors - luxury handmaded fix furniture production made in Italy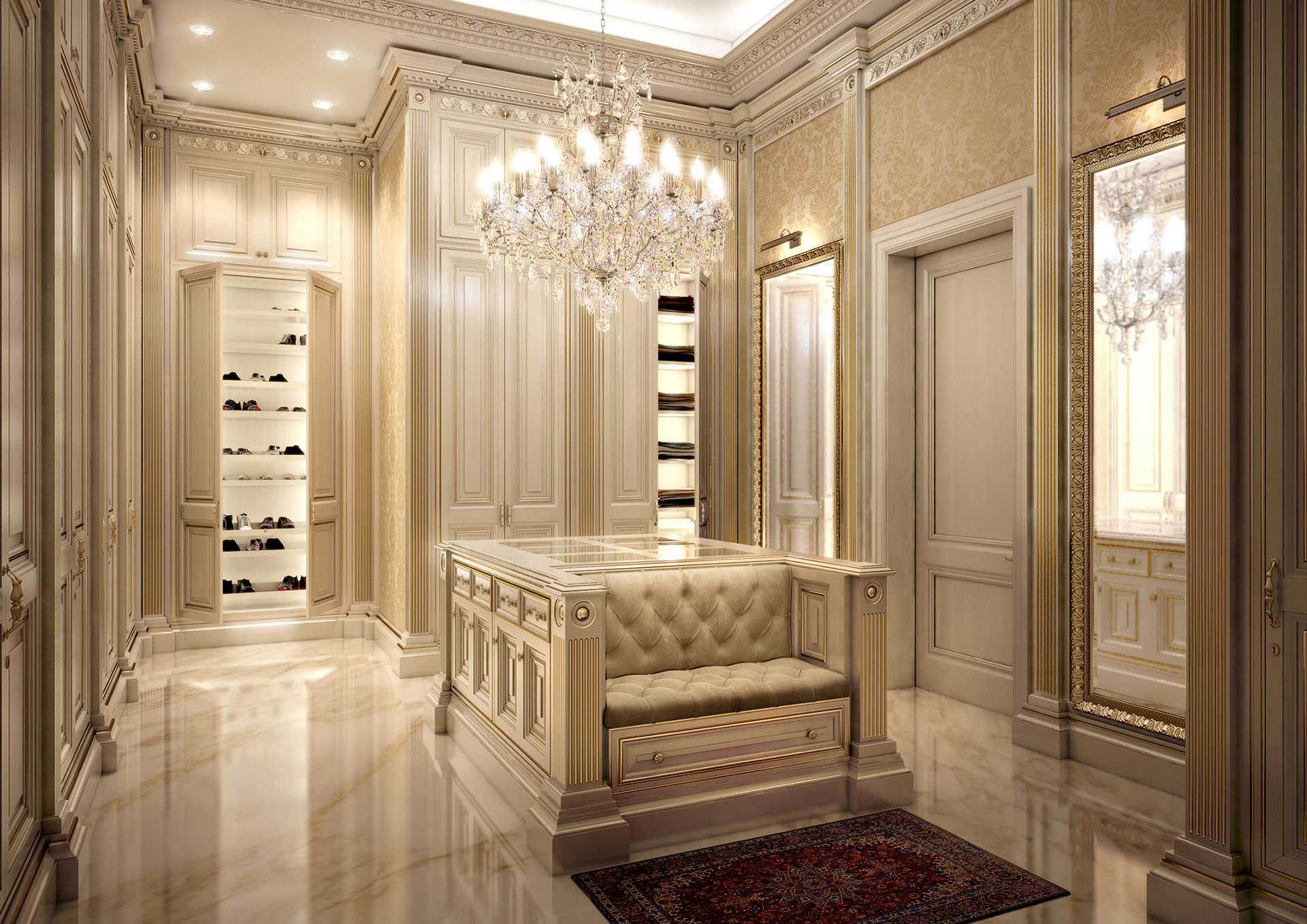 Decorate your private room with special and elegants details: a classic and exclusive walk-in-closet by Modenese Luxury Interiros. Starting from the design, we custom all your dressing project in dimensions, style, details to give you an unique project with rich and precious details as gold, mother of pearl or marble insert, with a solid wood structure. Our artisanal production will give you a luxury product, timeless and elegant home decoration for your royal residential project
Gran piano for exclusive and special residential project - classic handmaded decoration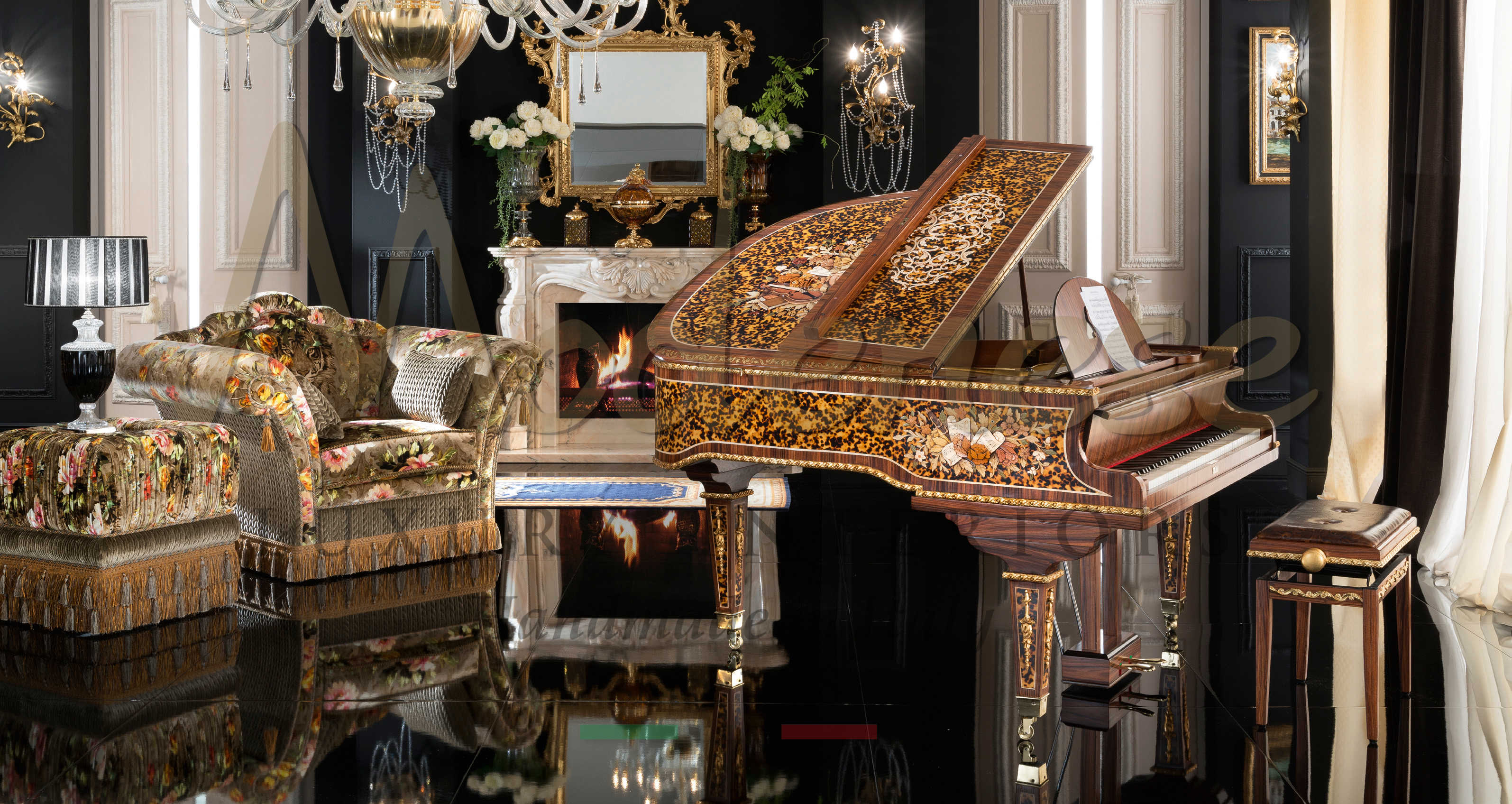 Enrich and make unique your residential project with exclusive and custom grand piano. Tradition mixed with luxury and elegance, our pianos are custom made and designed by our interior design team for elegant residential projects such as villas and palaces hall or special room. Precious materials such as mother of pearl, gold details, handpainting.