La NAVAL TECNO SUD si rivolge ad Aziende in cerca di un partner affidabile che, unitamente ad elevati standard qualitativi, garantisca il pieno rispetto delle consegne e sappia rappresentare realmente una certezza nel panorama delle sub-forniture.
L'Azienda ha acquisito una lunga esperienza produttiva nel ramo della costruzione di carpenterie metalliche, meccaniche e strutturali in genere ed inserita egregiamente nei più prestigiosi Cantieri Navali Europei e in numerosi Cantieri Navali in Florida, la propria struttura tecnica ed operativa è costantemente cresciuta in termini di professionalità tesa al soddisfacimento delle aspettative dei clienti.----------------




NAVAL TECNO SUD addresses companies looking for a reliable partner who, together with high quality standards, guarantees full compliance with deliveries and can truly represent a certainty in the sub-supply scenario. The Company has acquired a long productive experience in the branch of metal structural work, mechanical and structural in general and admirably inserted in the most prestigious European Shipyards and in numerous Shipyards in Florida, its technical and operational structure has constantly grown in terms of professionalism aimed at satisfying customer expectations.
between 0.5 and 2.5 million USD
Reference year of turnover:
From 750.000 to 2.5 million Euro
REPRODUCTION OF RECORDED MEDIA
MANUFACTURING OF MACHINERY AND EQUIPMENT NEC
MANUFACTURING OF MOTOR VEHICLES, TRAILERS AND SEMI-TRAILERS
MANUFACTURING OF OTHER TRANSPORT VEHICLES
OTHER MANUFACTURING INDUSTRIES
CAVALLETTI VERTICALI E TACCHI REGOLABILI - VERTICAL STANDS AND ADJUSTABLE HEELS
CARRELLO PER BARCHE TRAINATO ANFIBIO CON PISTONI IDRAULICI - handling trailer for gripping and releasing, Amphibious with hydraulic lifting pistons
Contact Information
Business Proposals
NAVALTECNOSUD BOAT STAND SRL
No business proposals uploaded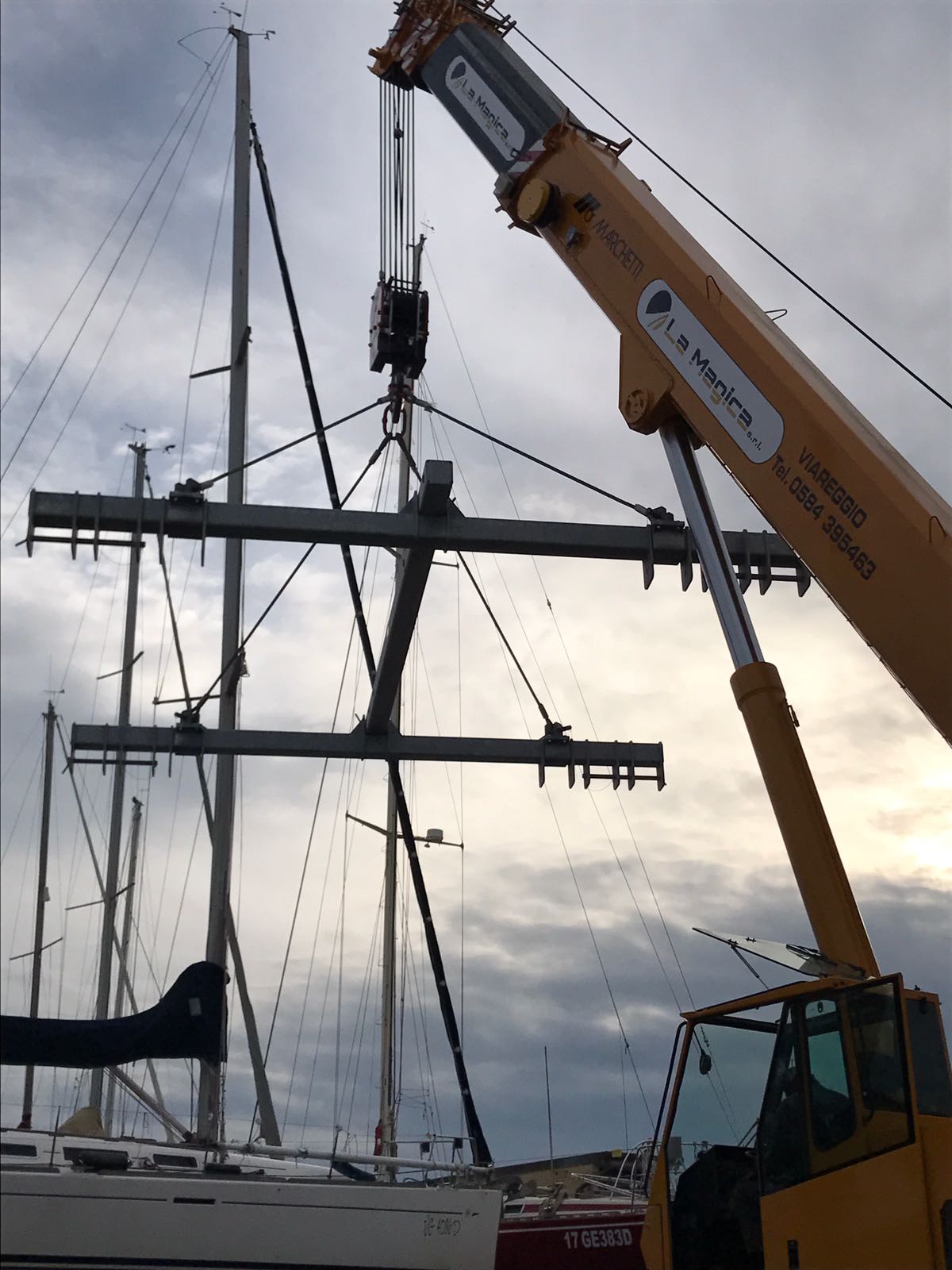 Bilancino ad " H " Larghezza mm. 6000 Lunghezza mm. 6000 con possibilità di rientro sull'Asse centrale a mm.5000 e n.2 possibilità di aggancio fasce sugli assi laterali Ton.30.---------"H" bar spreader bean width Width mm. 6000 Length mm. 6000 with possibility of re-entry on the Central Axis to mm.5000 and n.2 possibility of coupling bands on the side axes Ton.30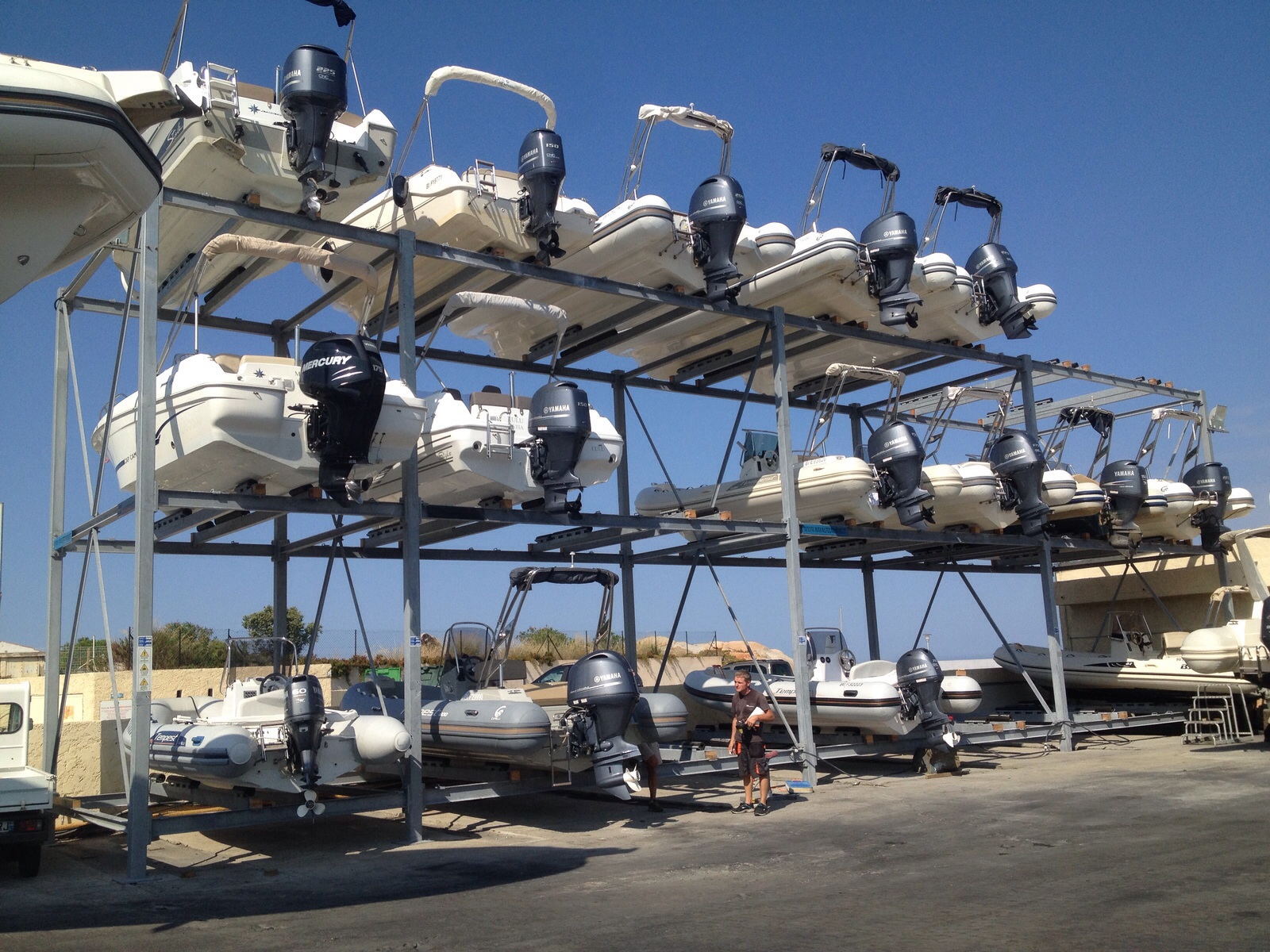 Il modulo standard prevede una luce di mt. 6 una profondità di mt.4 ed un'altezza di mt.3 a piano dove possono essere alloggiate due barche di mt. 2,90 o tre da mt. 2. La caratteristica innovativa è data dall'appoggio delle barche, che a differenza di quelli attualmente in commercio che prevedono l'appoggio su due barre di legno orizzontali, la nostra struttura prevede due barre di acciaio, con l'applicazione di parabordi ad altissima resistenza che "abbracciano" la carena in sicurezza.-----------The standard module provides a light of mt. 6 a depth of 4 mt. and a height of 3 mt. on the floor where two boats of mt. 2.90 or three from mt. 2. The innovative feature is given by the support of the boats, which unlike those currently on the market that provide support on two horizontal wooden bars, our structure provides two steel bars, with the application of fenders at very high resistance that "hug" the hull in safety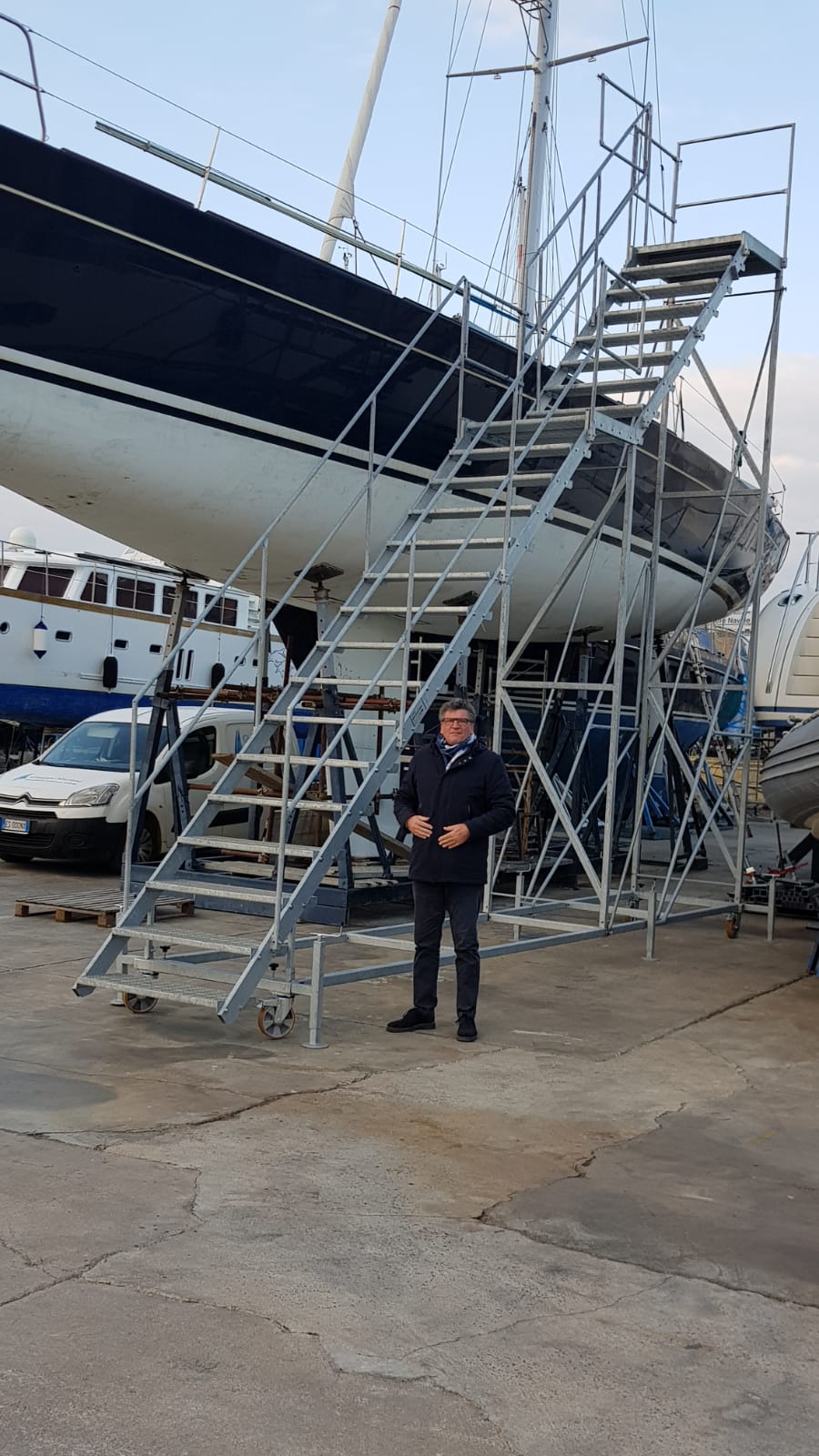 Scala Mobile di Sicurezza Stabilizzata - mm.2200x800 - 2 BALLATOI - 4 portine - 4 Ruote pivotanti - Stabilizzatori orizzontali - Portata Kg.250.-------------------------------Safety Mobile ladder stabilized - mm.2200x800 - 2 Platforms - 4 Doors - 4 swivel wheels with brake - Horizontal stabilizers - capacity Kg.250