NSI is an Italian company that since 2008 designs and manufactures technologically advanced dental implants. These particular dental implant systems are covered by functional patents and designs exclusive to NSI
All the products offered are complete with prosthetic accessories and special package offers making the sale for the distributor easier
Particular attention is paid to the functionality of the products; such as dental implants, minimally invasive and ideal for immediate loading to guarantee the smile in 48 hours
NSI offers an international team of doctors, and a vast program of practical theoretical courses, by webinar, conferences, practice on artificial bone or directly on the patient.
A very important feature that NSI offers is the traceability and warranty of the product, directly with the own smart phone by scanning a QR CODE of the label that leads to the automatic copying of the warranty certificate.
This system has also been created by NSI
Implantable products and NSI instruments are guaranteed Made in Italy, CE and ISO certified and with other certifications for many other countries.
NSI makes itself available to obtain any approvals or certifications for placing its medical devices or help the dealer to obtain it.
between 0.5 and 2.5 million Euro
Reference year of turnover:
From 250.000 to 750.000 Euro
MANUFACTURING OF TOOLS AND MEDICAL AND DENTAL SUPPLIES
Manufacturing of medical-surgical and veterinary material
Manufacturing of devices and tools for dentistry and medical devices (including detached parts and accessories)
Manufacturing of dentures (including repair)
Manufacturing of orthopaedic prostheses, other prostheses and aids (including repair)
Wholesale trade of medical and orthopaedic items
Contact Information
Business Proposals
VIA VITTORIO EMANUELE II,1
Business Proposals
Date of release
Abstract
Sectors
23/04/2020
Offer: Search for distributors
Cosmetics, jewelry, sporting goods, optical products, hobby articles
Vehicles, mechanical, electric and electronics industry
Biotechnologies
E-commerce
PRIVATE LABEL

Dental Implant two stage Mod. LIGHT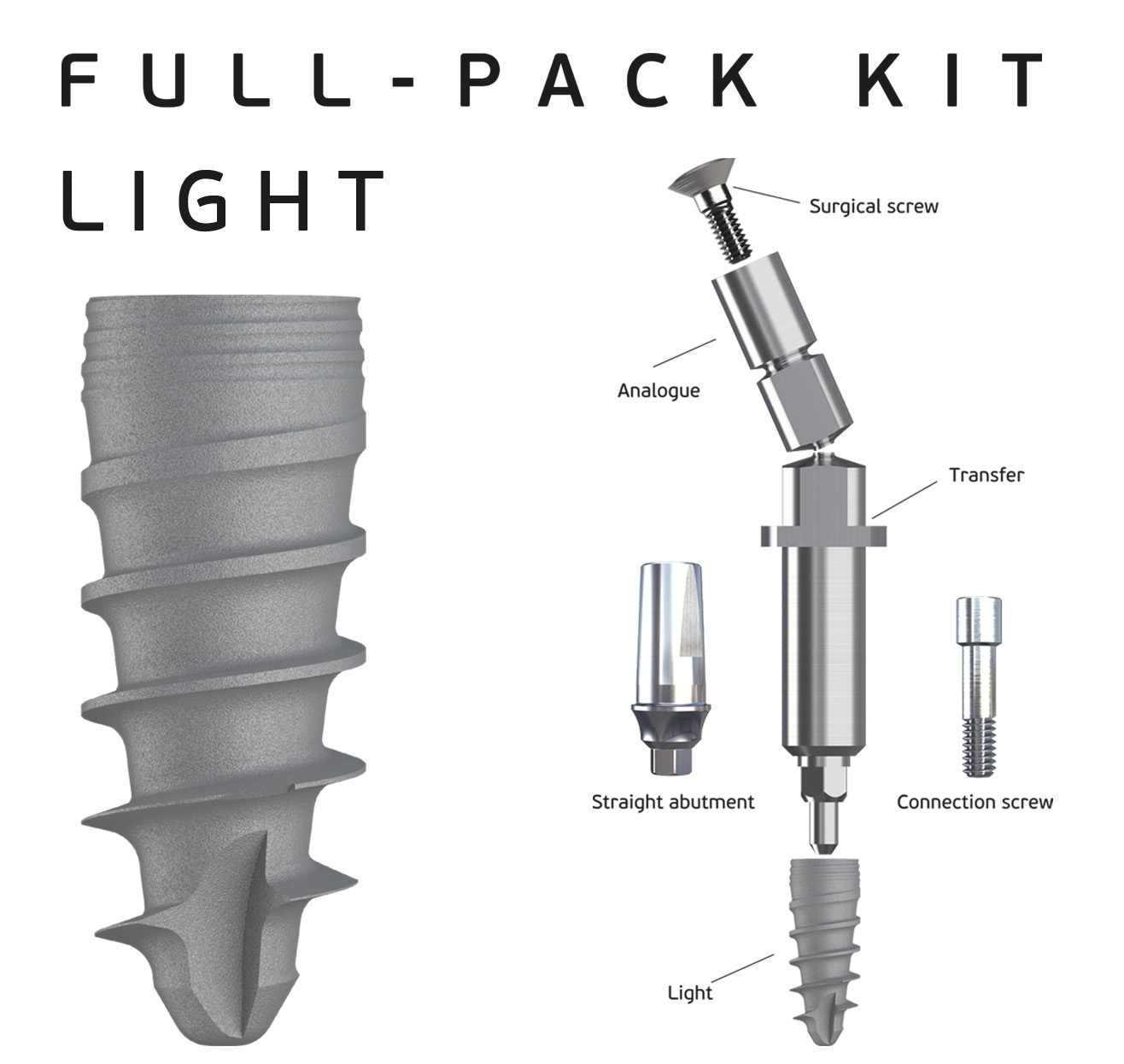 LIGHT, a new product by NSI, characterized by its gradual spiral shape and enlarged spacing. Perfect for immediate loading. This implant is inserted quickly, meaning bone overheating is avoided. Form, design, respect for bone physiology
One Piece implant_MaxifixCompressive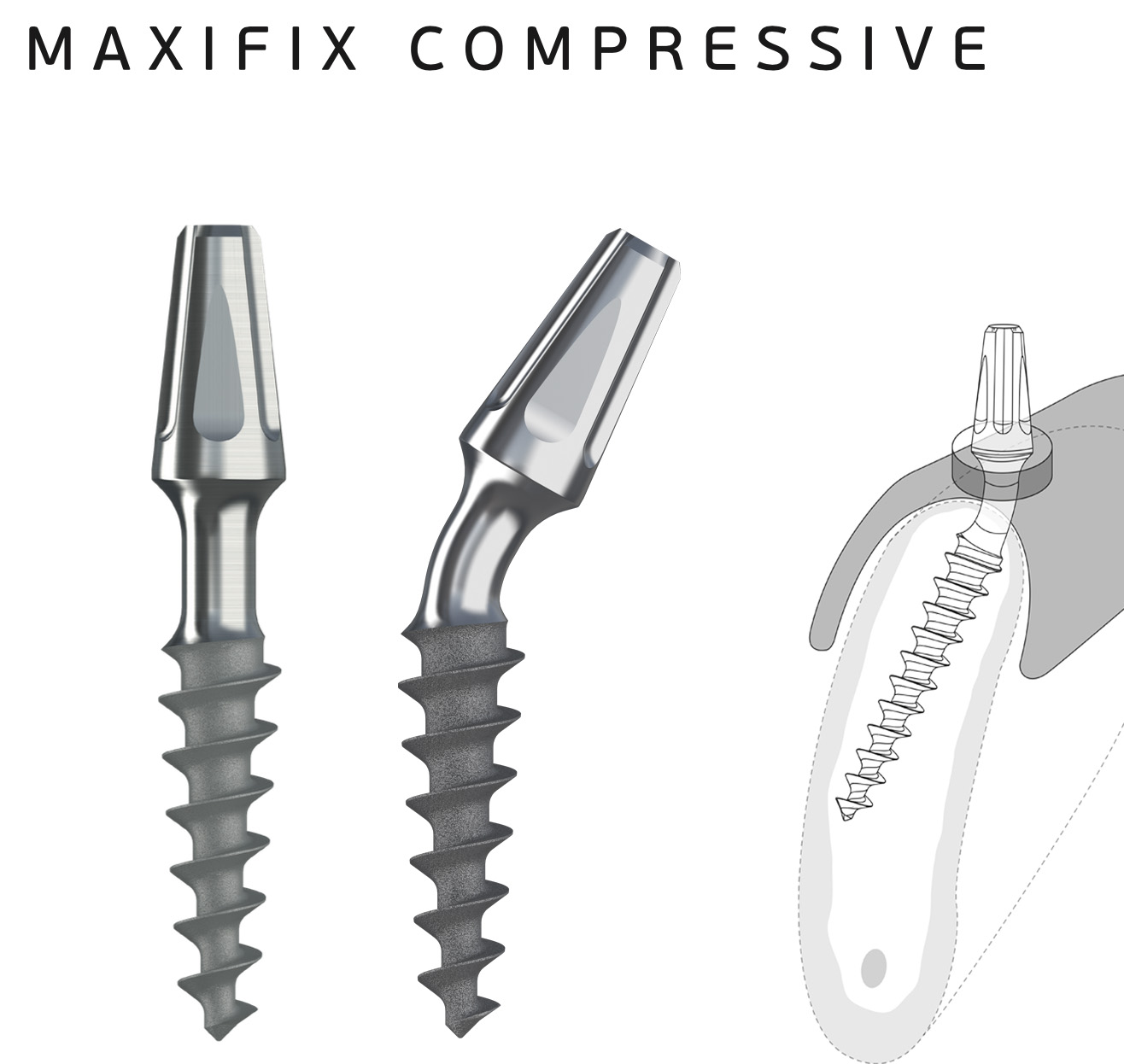 MAXIFIX COMPRESSIVE is recommended for areas with very low bone density. Maxifix Compressive has been specifically designed and researched to avoid fenestration. The implant has a ground surface which can be bent up to 30°, a gradually expanding spiral and a groove which allows blood to drain with a new self-functioning, self-blocking tip.
One piece implant ball attack Maxifix Compressive P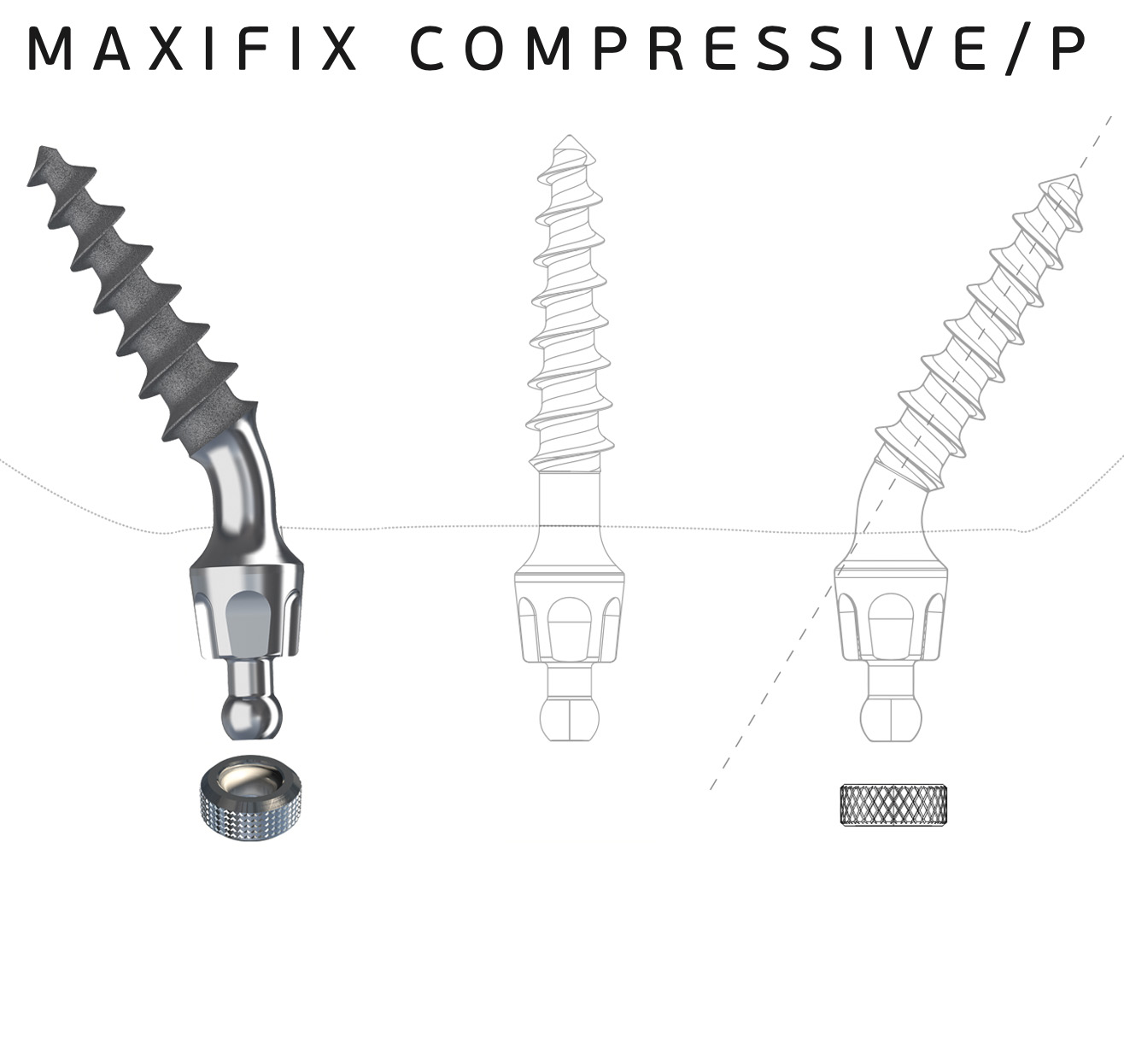 MAXIFIX COMPRESSIVE P is an easy-to-use-stage implant, with a self-tapping spiral, made of Ti °4 titanium, which is perfectly biocompatible. Ideal for cases of dental agenesis and removable denture stabilization.
BASAL implant on piece Ti° 4 easy to bending machined surface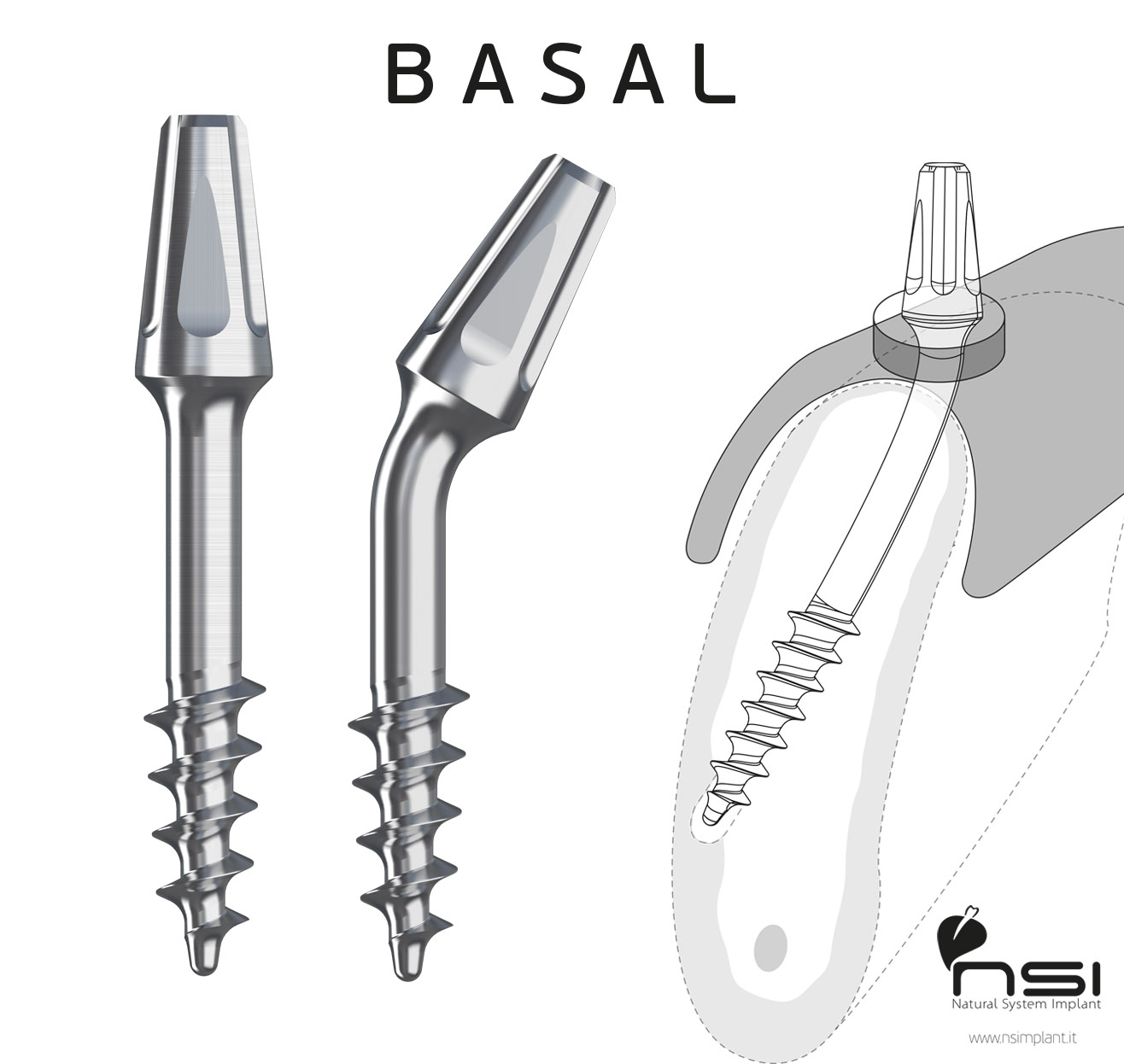 Back to the future Our BASAL IMPLANTS are placed and threaded into the cortical layer with their rounded tip and gradual spiral shape. Their machined surface, anatomical collar and spiral profile have been researched in order to create the ideal amount of contact without compression, meaning maximum stability is guaranteed.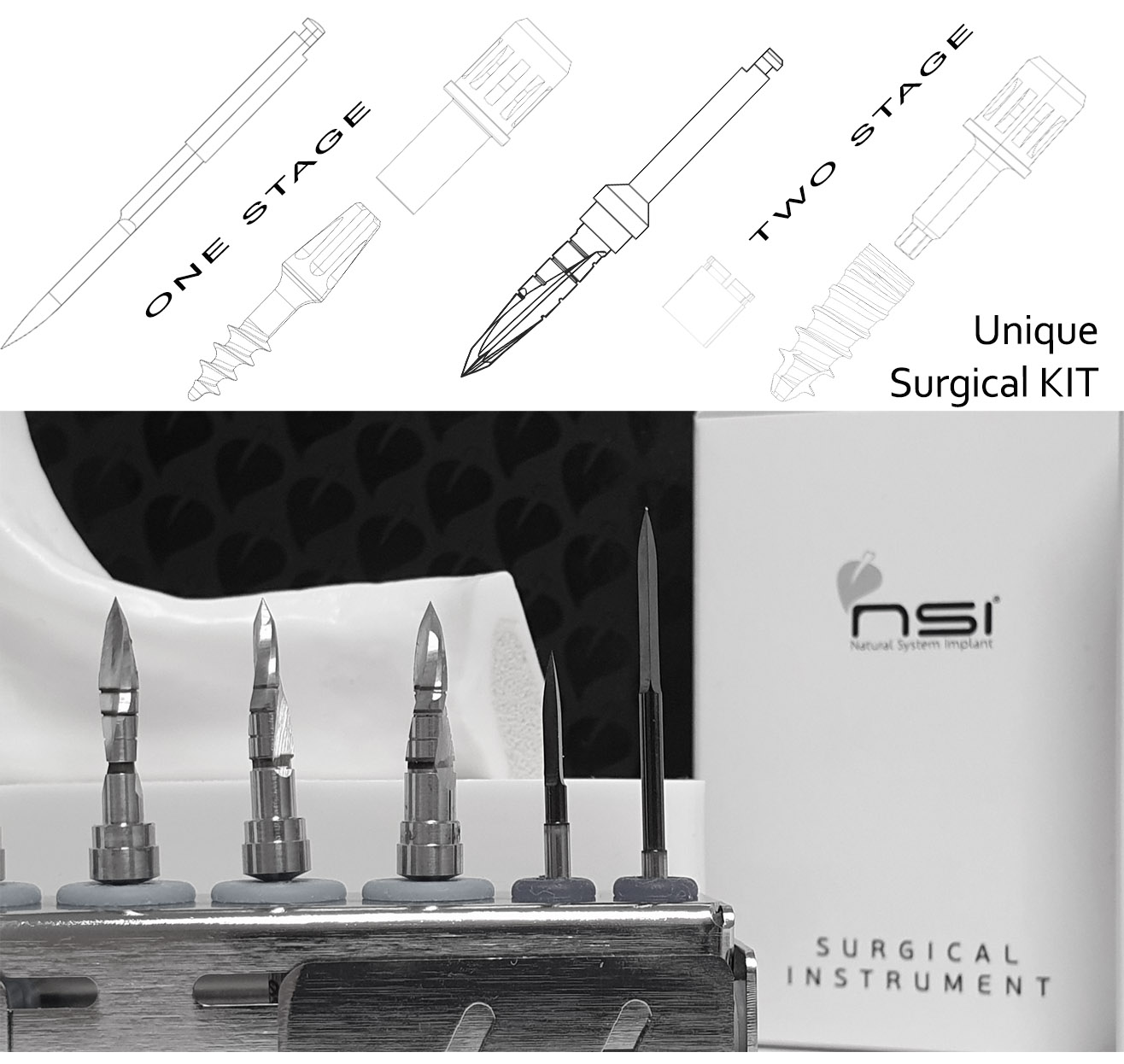 Simplify the job for a wonderful smile NSI instruments are compatible with all the products in the NSI catalogue to simplify surgical procedures and are made in surgical steel Aisi 630, 174 PH, as per CE standards.