DEV4U is a Consulting Firm working in the field of Information Technology and Communication.

Our scope of work includes all major areas of the ITC, from the development of web and mobile applications, down to social media strategies and web marketing.

We don't believe in Information Technology as a Goal, but as a Tool to deliver efficient and sustainable answers to our clients.
between 250.000 USD and 500.000 Euro
Reference year of turnover:
From 250.000 to 750.000 Euro
PRODUCTION OF SOFTWARE, IT CONSULTANCY AND RELATED ACTIVITIES
Production of software non related to releases
Consultancy in the information technology sector
Other service activities related to information technology
Other service activities related to information technology nec
OTHER INFORMATION SERVICES AND OTHER IT SERVICES
DATA PROCESSING, HOSTING AND RELATED ACTIVITIES; WEB PORTALS
Data processing, hosting and related activities
OTHER IT SERVICE ACTIVITIES
SIGEPAO project (Pesticides web system)
DUNKERQUE project (Monitoring and Evaluation System)
MESECOPS project (Monitoring and Evalution System)
MISCA project (Management & Information System for Climate Action)
RESULTS AND INDICATORS (web application for the management of the results chain diagram)
Contact Information
Business Proposals
No business proposals uploaded
M&E SYSTEMS - Monitoring and Evaluation Systems for international projects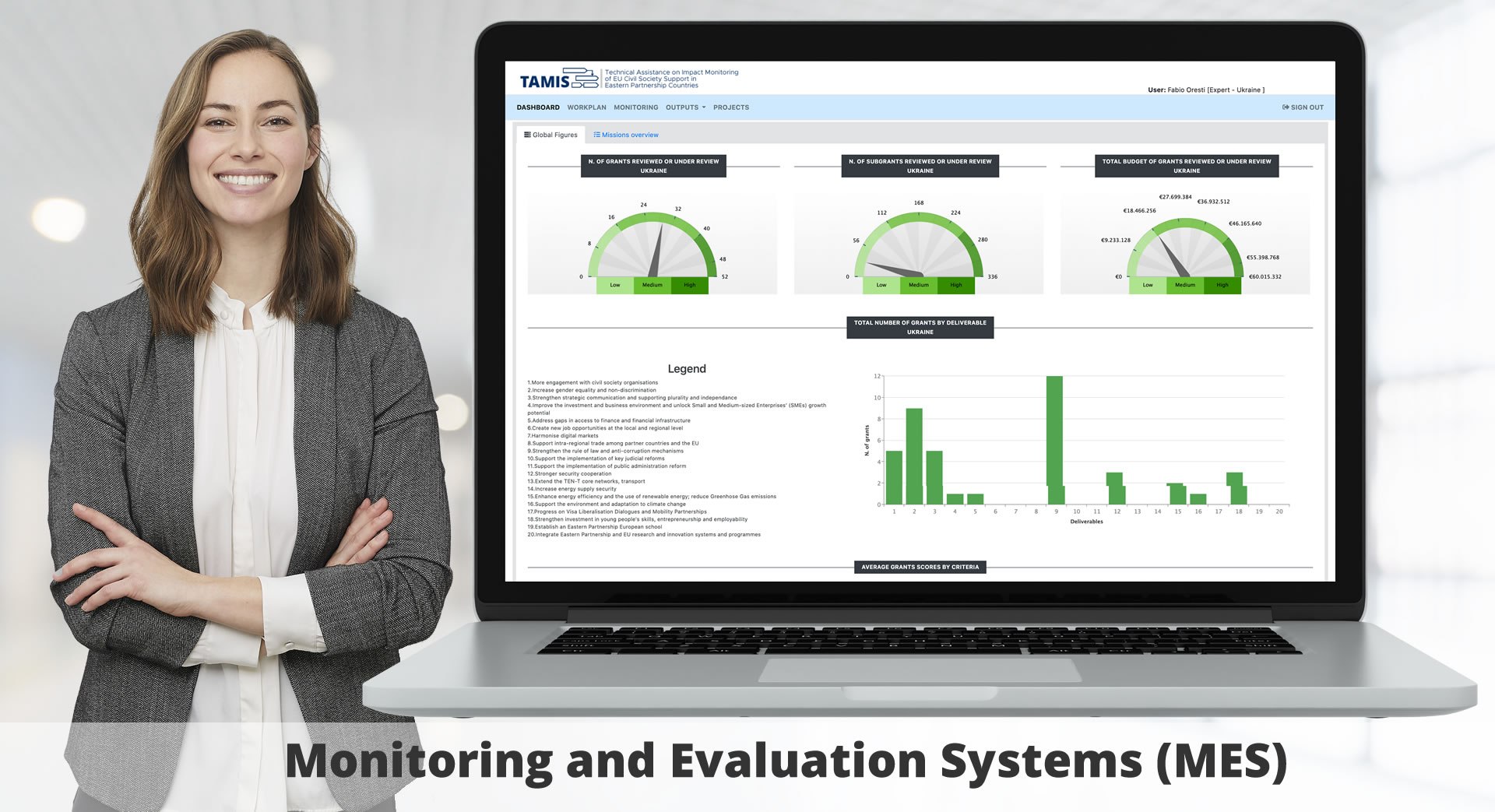 DEV4U designs and develops web systems (called "M&E Systems"), which support the Monitoring and Assessment of international cooperation projects. These web systems adhere to widespread methodological frameworks (such as, for example, the "LFA – Logical Framework Approach", "PCM – Project Cycle Management" or the more recent "Theory of Change").

International cooperation projects are financed by programmes/projects run by major entities (the European Union, International Development Agency, NGOs, etc.).

Our "M&E Systems" help keep the programmes and projects entered under control, starting out from the Logical Framework and the Feasibility Studies, defining the general objectives, specific objectives, resources, activities, results and effects, as well as the schedule, cost estimate and financial and economic analyses.

The "M&E Systems" include sections and modules dedicated to reports, activities, indicators and results.

DEV4U has consolidated solid experience in this type of web system, and may be a valid partner for agencies, entities and enterprises operating in the field of International Cooperation.

M&E SYSTEM is a complete, integrated web solution resulting from our lengthy experience in the management and information of system development projects.
MIS - Management Information Systems for public and private partners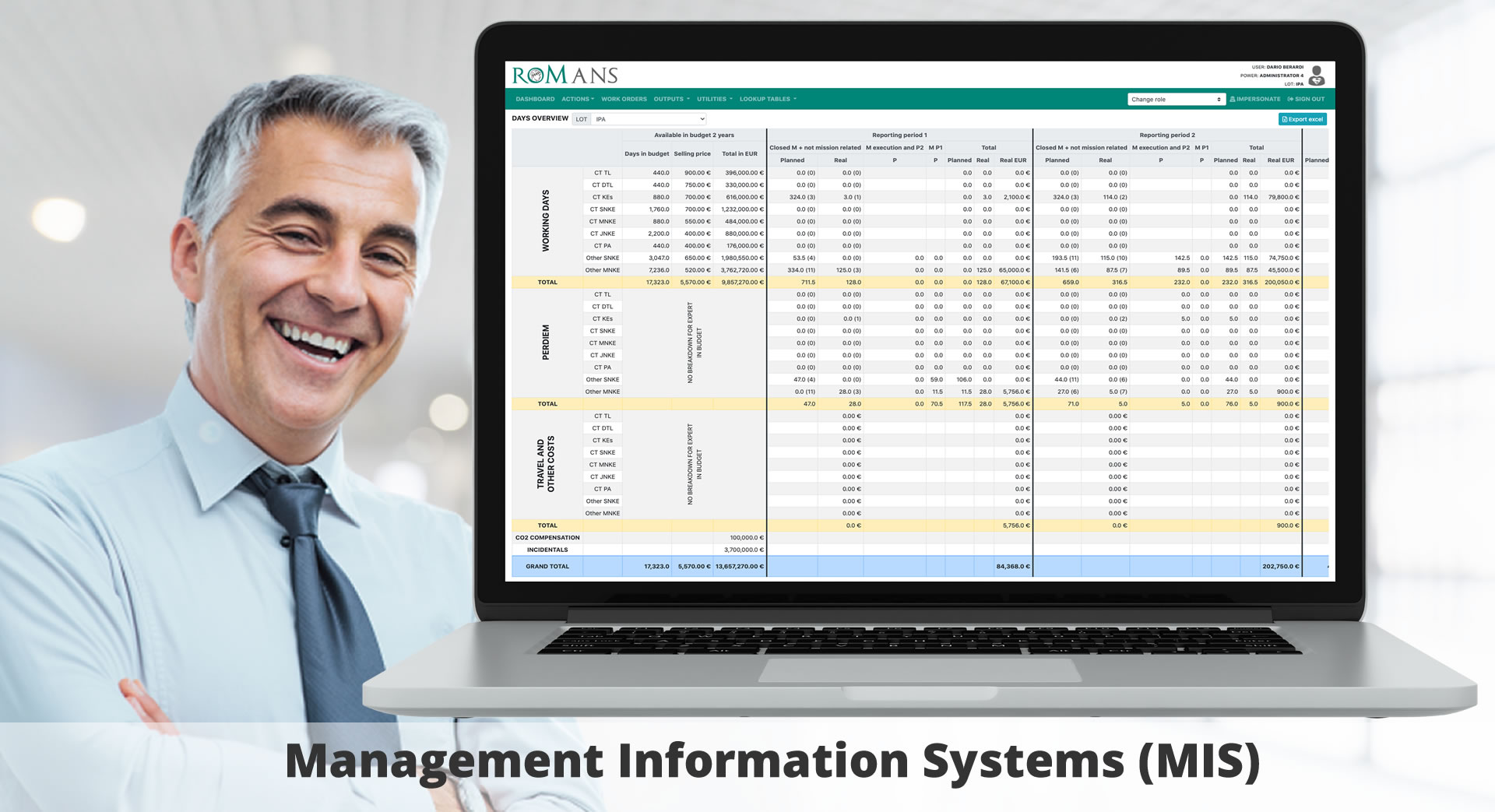 DEV4U is specialised in the design and development of Management Information Systems (MIS) for both private companies and public entities and the PA.

The term MIS (Management Information System) therefore indicates a computer system that supports the corporate management, providing the tools by which to efficiently manage the control, organisation and planning of the functional areas and to carry out analyses and prepare summary reports.

The input information for the MIS essentially comes from the processing of data on corporate transactions. The output information comprises different types of reports: periodic and scheduled reports, reports on specific requests, key business indicators, reports on exceptions and anomalies.

The aim is to help managers with decision-making processes and processes for the control and assessment of business, providing them with all information necessary.
EXPERT CV WEB - Collection, storage and dynamic management of expert curricula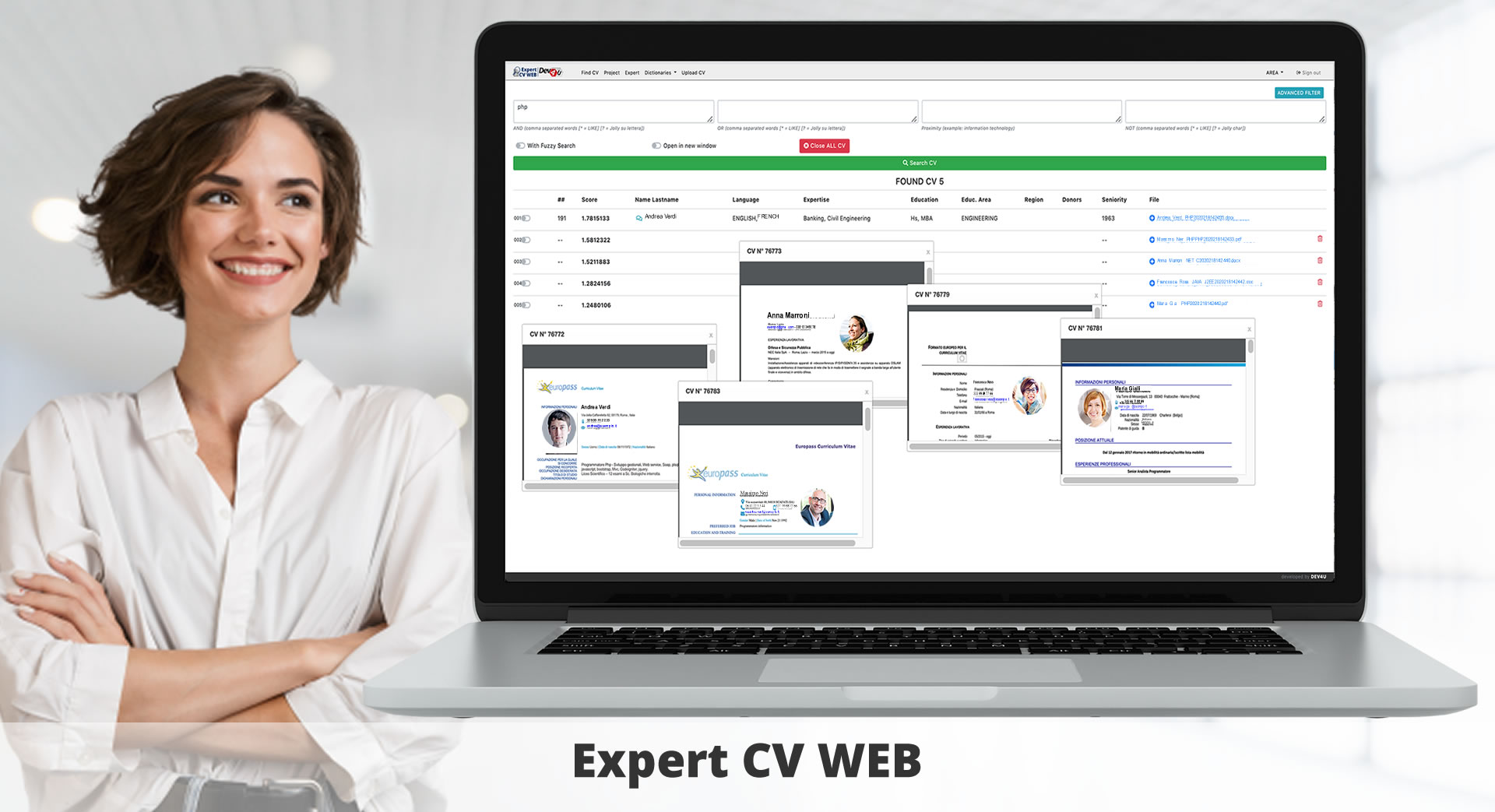 Companies are made up of people. And finding the right people is what makes the difference!

When choosing staff and experts, obtaining the information you need from the database of CVs is essential.

There are two aspects to be assessed to choose recruiting software:

- ENTRY: How do I enter information into my database? Is the process quick and easy?
- THE SEARCH: Will I find all the information I need? Is my database effective?

Expert CV WEB simplifies the whole process of data entry and search:

- No ON-LINE FORM to be filled in;
- No DATA ENTRY by dedicated staff;
- No LOSS OF INFORMATION thanks to a search engine similar to Google.


Our solution allows you to find your ideal expert or applicant in just 3 moves:

1) THE CV IS UPLOADED QUICKLY AND EASILY:
- by the applicant;
- by a recruiter;
- in any format and language.

2) THE SYSTEM READS THE CV:
- extracts the info from the document;
- keeps a copy of the original file.

3) THE CV CAN BE SEARCHED FOR.