Italy keeps improving its position in the Foreign Direct Investment Confidence Index 2022 ranking produced by the Kearney Agency. 
In 2022, Italy ranked 7th among the 25 most attractive economies, so it increased its level of attractiveness by one position compared to the previous year.
Foreign Direct Investment Confidence Index 2022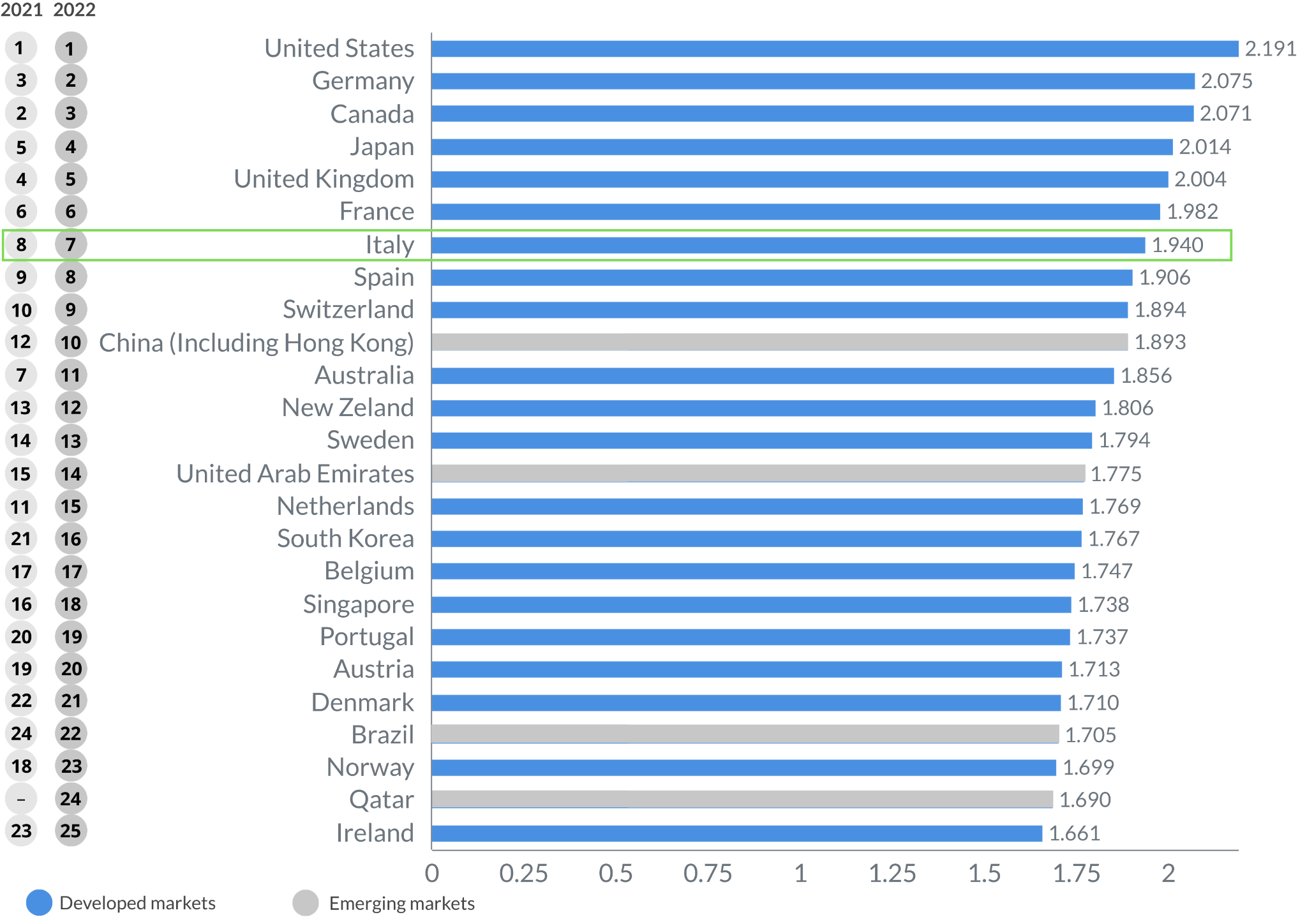 Italy continues to increase its level of attractiveness by growing in the ranking year after year since 2016:
16th in 2016 → 10th in 2018 → 8th in 2021  → 7th in 2022

 
A resilient economy
The Italian economy achieved an impressive recovery from the pandemic shock, returning close to the pre-COVID level of output by late 2021.
In 2021, most of the previous year's exceptional contraction in GDP was reabsorbed, thanks to the improvement in the healthcare situation and to the gradual easing of restrictions, following the progress in the vaccination campaigns. 
Like its EU partners, Italy is now facing new economic challenges as the war in Ukraine and COVID-related disruptions to global supply chains have pushed up energy prices and intensified shortages of key products. 
However, Italy has shown signs of resilience and Italian GDP is expected to increase in 2022 by + 3.9%. 
| | |
| --- | --- |
| | In 2021, FDI inflows to Italy turned again positive at $16 bn and the positive trend is confirmed with inflows at $26.84 bn in 2022.    |
Inward FDI flows to Italy 2019-2022 ($bn)

A thriving business environment
According to FDI Intelligence from the Financial Times, the number of greenfield inbound projects announced increased at 236 versus 169 in 2020. 
In 2022, the favorable trend continued with 241 projects announced for:
| | |
| --- | --- |
| | 19.3 billion of a capital investment |
| | |
| --- | --- |
| | 27,020 jobs created |
According to FDI Intelligence, between January 2003 and November 2022, Italy welcomed 3,571 FDI projects, a 1% share of global FDI, for a total capital investment of USD 161.91 billion and 339,217 jobs created. 
Most of these projects (87.7%) are new investments. 
The industry analysis of the same data shows Italy as an attractive destination for investment in:
renewable energy (138 projects for around 29 billion USD)

consumer products (232 projects for 20 billion USD)

transportation and warehousing (230 projects for 17 billion USD)

communications (191 projects for 13 billion USD)

real estate (131 projects for 7.7 billion USD)

textiles (510 projects for 7 billion USD)

software and IT services (393 projects for 3.4 billion USD).