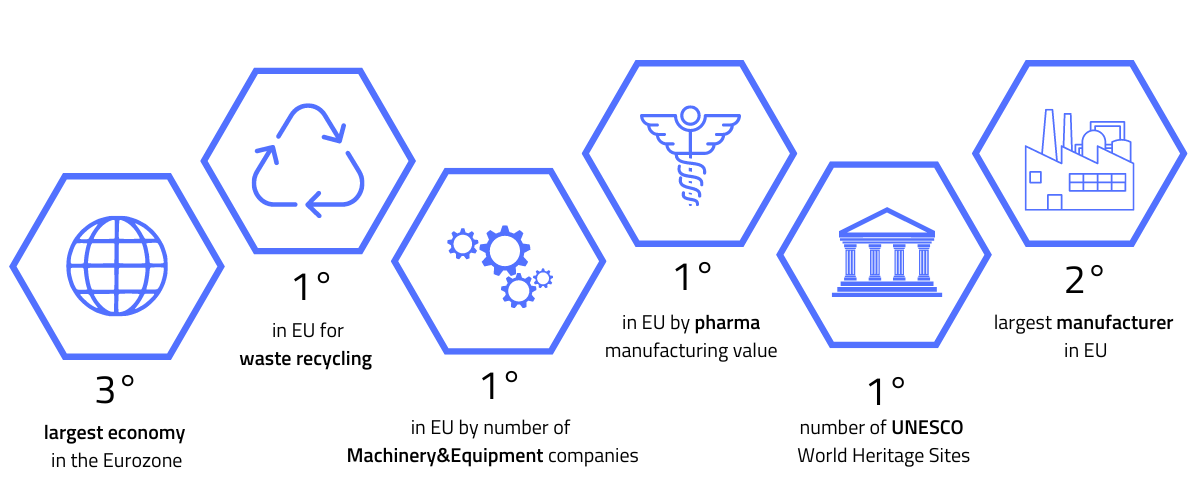 Italy is industrious
Italy is a land of extraordinary beauty, taste, and talent, but it is also one of the world's top economies. With a GDP of over € 1.8 trillion and a population of some 60 mln, Italy is the 3rd largest economy in the Eurozone and the world's 8th.
Italy is the 8th largest exporter in the world, selling goods and services for around € 516 bn (32% of GDP) with a share of 2.71% of worldwide market. In 2021 Italy maintained an export trade balance of € 44.2 bn. 
Italy is the 2nd largest manufacturer in Europe and the 5th top manufacturer in the world. 
The Italian Machinery & Equipment is at the heart of key Italian manufacturing sectors providing cutting-edge and state of art technology. Italy hosts more than 18,000 enterprises in this sector, ranking 1st among European countries by number of companies. The Italian industry also ranks 2nd in Europe by added value (€ 33 bln), workforce and export value.
Italy is the 6th motor vehicles producer in Europe with 732,377 units produced (2021).
Italy is innovative
Italy is the1st economy in the EU by pharma CDMO manufacturing value and ranks 2nd in the European Union by number of pharma companies, hosting leading multinational enterprises.
Italy is one of the world leaders in Robotics. According to the latest World Robotics Report, Italy is 2nd in Europe and 6th worldwide by annual installation of industrial robots – about 14,100 units.
Italy ranks 2nd in Europe by number of enterprises in the microelectronics industry, hosting a dynamic pool of key leading companies.
Italy hosts in Bologna at the Technopole, Cineca's supercomputer Leonardo, the 4th most powerful supercomputer in the world according to Top500. The supercomputer, part of the EuroHPC Joint Undertaking, will be soon available to researchers and industry as a tool to foster innovation. 
Italy is green
Italy is Europe's 3rd largest producer of renewables, generating more than 10% of the continent's renewable energy. Over a third of the electricity produced in Italy comes from green sources: hydroelectric power has always dominated, followed by solar photovoltaic, bioenergy, wind power, and geothermal.
Italy is a leading country in the circular economy, ranking 1st among the Top 5 EU economies in terms of waste recycling rate – both urban and special - with 83.2% (2020), above the EU27 average (39.2%) and large countries such as Germany (44%), France (54.5%) and Spain (60.5%).  
Italy ranks 2nd in the EU27 for circular material use rate with 18.4% compared to an average of 11.7% for EU27 countries.
In 2022, Italy ranks 5th in the G20 group for Environmental Performance Index.
Italy is ingenious
Italy's excellent education system contributes in a relevant way to the country's culture and society, with 25 Italian universities ranking in the world's top 500, of which 8 in the top 300.  
Italian universities have over 16,000 collaboration and partnership agreements with international universities, whereby over 500 new collaborations have been established each year since 2020.
Start-ups and innovators can rely on a growing number of innovation aggregators: 173 Incubators & Accelerators, 33 Technology Parks, 40 Crowdfunding Platforms, 28 Communities, 23 Empowerment Programs and 13 Specialised Media.
Italy is beautiful
Italy ranks 1st for number of UNESCO World Heritage Sites with the floating city of Venice, Pisa's Tower and the Trulli of Alberobello among 58 locations and monuments on the prestigious list. The industry dedicated to their architectural restoration and preservation is of critical cultural and economic importance.
Culture is at the core of Italy's identity and its history lives on through its unique heritage sites and natural wonders which attract around 60 million international tourists every year making Italy the 5th tourist destination in World.