Aceto Balsamico del Duca represents the experience of five generations and produces Balsamic Vinegar of Modena since 1891.
Aceto Balsamico del Duca is synonymous with quality and elegance, and it represents Modena and its territory in the world at the major trade fairs.
Our company represents a historical reality that is constantly renewed; it is witnessed by the quality certifications that the firm has been committed to maintaining and the development of new products designed to meet the demands of its consumers.
Remaining faithful to the tradition and opening itself to new qualitative challenges, the company proposes always a Balsamic Vinegar of Modena, "Al vertice del sapore".
between 2.5 and 5 million Euro
Reference year of turnover:
From 2.5 to 5 million Euro
Production of seasoning and spices
Contact Information
Business Proposals
ACETO BALSAMICO DEL DUCA DI ADRIANO GROSOLI S.R.L.
SAN VITO SPILAMBERTO (MO)
No business proposals uploaded
Balsamic Vinegar of Modena - Only from Modena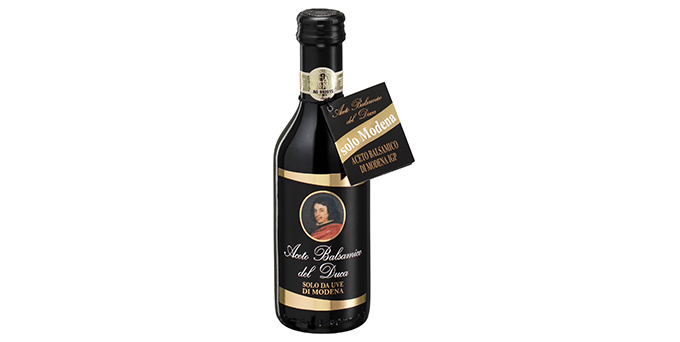 Short supply chain product, obtained from Trebbiano, different kinds of Lambrusco, and Ancellotta grapes, grown exclusively in the province of Modena. It contributes to reducing CO2 emissions in the atmosphere. Typical fruity, unique flavour and charm. Intended for use raw, on boiled meat and vegetables.
Organic Balsamic Vinegar of Modena - Green Cap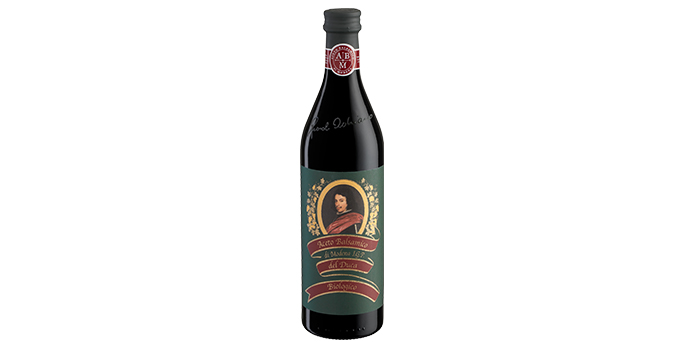 This Balsamic Vinegar of Modena, produced with certified organic grapes, is the right product for those who prefer eating natural food and taking an active interest in their own health and in the environment. It does not contain any added colourings and preservatives. Its taste is sweet and sour with an intense note of wood where it is matured. It is full-bodied in taste, and it is, therefore, ideal for grilled or fresh vegetables.
Balsamic Vinegar of Modena "since 1891"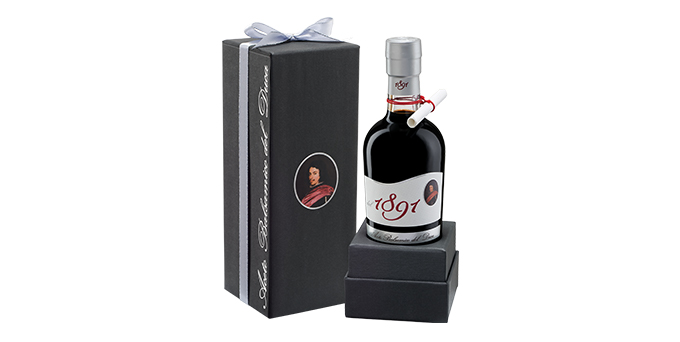 The disclosing of an ancient family recipe, hidden among old memories and dusty papers of an attic, launched the new line of Balsamic Vinegar of Modena 'dal 1891'. This product recalls the tastes and perfume of the past. 'dal 1891' is the result of a meticulous selection of grapes, a particular cooking of the must, and the maturation in precious oak barrels. It is a dense and velvety product, its delicate bouquet and the full-bodied structure are balanced harmoniously. The sweet flavor of cooked must combines perfectly with the pleasant woody aftertaste offering a real emotion to the palate. Balsamic Vinegar of Modena 'dal 1891' is ideal to exalt the taste of cooked vegetables, salads, risotto and salty cakes, or to enrich fish and meat dishes. It is recommended for use raw; it enhances the taste of each dish. It is proposed in a fine 250ml bottle with a parchment that describes the history of the product. A modern design for an ancient taste of a family recipe that combines novelties and tradition. Perfect as a gift and to enjoy a small daily luxury.
Traditional Balsamic Vinegar of Modena - Extra old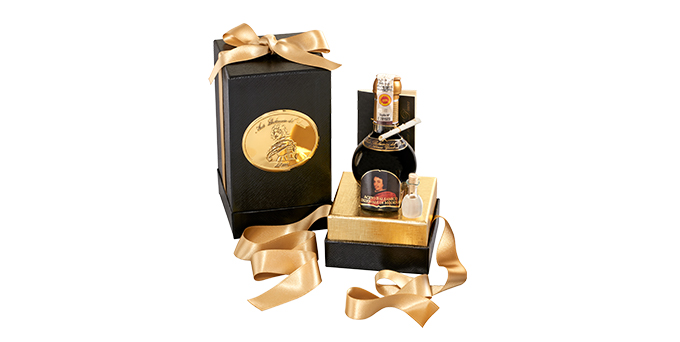 Traditional Balsamic Vinegar of Modena Extra old, aged for more than 25 years, proposed in a luxury packaging. A fine case with 24 carats gold leaf label, with a booklet that describes the history, the production method, and the use of the product, supplied with a cork and glass dripless pour spout. Elegance and exclusivity for the excellence of the gastronomic tradition of Modena.