Produttori di macchine per Lavanderie tessili, Lavanderia del bianco e per Tintorie. Specializzati nel settore DENIM, con sistemi innovativi e tecnologicamente avanzati in grado di garantire processi eco-sostenibili nel finissaggio.
Manufacturers of machines for textile laundries, industrial laundry and for dyeing. Specialized in the DENIM field, with innovative and technologically advanced systems and able to guarantee eco-sustainable processes in finishing.
Fabricants de machines pour blanchisseries textiles, blanchisserie industrielle et pour la teinture. Spécialisé dans le domaine du DENIM, avec des systèmes innovants et technologiquement avancés et capable de garantir des processus éco-durables dans la finition.
Fabricantes de maquinaria para lavanderías textiles, lavandería industrial y teñido. Especializado en el campo de DENIM, con sistemas innovadores y tecnológicamente avanzados y capaces de garantizar procesos eco-sostenibles en el acabado.
between 5 and 15 million Euro
Reference year of turnover:
Manufacturing of other mechanical material and other machinery for general use nec
Manufacturing of equipment and machines for laundry and ironing services (including parts and accessories)
Contact Information
Business Proposals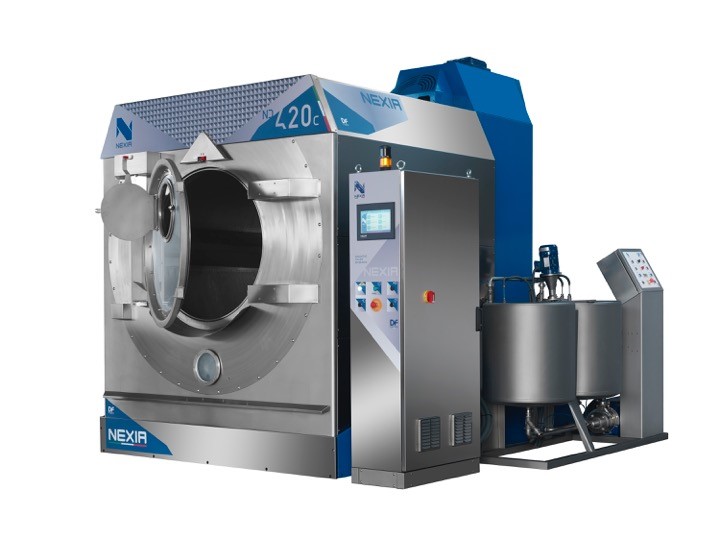 Questo sistema attrezzato nella nostra lavatrice, permette di ottenere diversi effetti moda in denim:
Ozono per lo sbiancamento
Effetto nuvola oppure omogeneità
Lavaggio stone-wash senza pietra pomice
Tutto SOSTENIBILE.
This system equipped on our production washing machine, allows to get different fashion effects on denim:
Ozone for bleaching
Nebulization for cloudy or homogenity
Stonewash, without stone
All SUSTAINABLE.
Este sistema equipado en nuestra lavadora de producción, permite obtener diferentes efectos de moda en el denim:
Ozono para blanquear
Nebulización por cloudy effectes o homogeneidad
Lavado stone wash, sin piedra
Todo SOSTENIBLE.
Ce système est équipé dans notre machine à laver, pour obtenir différents effets de mode en denim:
Ozone pour le blanchiment
Effet nuage ou homogénéité
Lavage stone-wash, sans pierre sans ponce
Tout ECOLOGIQUE