Simple objects, modern for your elegant and refined home.

What most characterizes us, is that our workers have been carpenters masters for several generations. Together, in addition to carrying out all the business phases, we participate directly in production. This 'cause' joy in creating things done with love and. . with their own hands.
From the meeting with the two young engineers working on CNC machines, an excellent design collaboration was born with production purposes. A self-production activity has developed with a great design and above all productive quality. We use 3D modeling software that is translated into machine language for 5-axis CNC workbenches. We are able to produce anything at really very competitive costs. We use only the best italian materials. Ezio Colombrino
Reference year of turnover:
Manufacturing of furniture for offices and shops
Manufacturing of chairs and armchairs for offices and shops
Manufacturing of other metal furniture for offices and shops
Manufacturing of other non-metal furniture for offices and shops
Manufacturing of kitchen furniture
Manufacturing of furniture for home furnishing
Manufacturing of chairs and seats (excluding those for aircraft, motor vehicles, ships, trains, offices and shops)
Manufacturing of armchairs and sofas
Manufacturing of furniture parts and accessories
Manufacturing of other furniture (including those for external furnishing)
OTHER MANUFACTURING INDUSTRIES
SPECIALIST DESIGN ACTIVITIES
Fashion design and industrial design activities
Graphic designer activities
Other graphic designer activities
Technical designer activities
Practical umbrella stand of DuPont ™ Corian® suitable in particular to contain numerous umbrellas and even those small folding - Stylish and functional - "Raining flowers": a tribute to women! Umbrella stands designed to accommodate a large amount of umbrellas of different sizes and to collect neatly all possible water dripping from umbrellas avoid wetting the floor in any way. The 'unique' poetic license 'is the name' Raining flowers' because, in our beloved material world, is always the hope that we can get some flowers, somewhere. . . from heaven,perhaps from your person that has gone away. design Ezio Colombrino 2012
Reception Italian handmadeand CNC in Corian - Ezio Colombrino architect craftsman – founder "Lune Design", Neapolitan, 1959. He graduated in architecture at the Politecnico di Milano in Industrial Design. Toggles Manuals artistic experimentation to strict design and production phases. Optimistic and lucky, try to gracefully accommodate the pieces of their lives. Curriculum Ezio Colombrino works with his own company Arco furniture in the furniture industry and building renovation for over 25 years. Certified by DuPont ™ Corian® and is part of the Quality Network Industrial Partner with license N° 1195
Contact Information
Business Proposals
No business proposals uploaded
Shelf TV - Lacquered white matt wood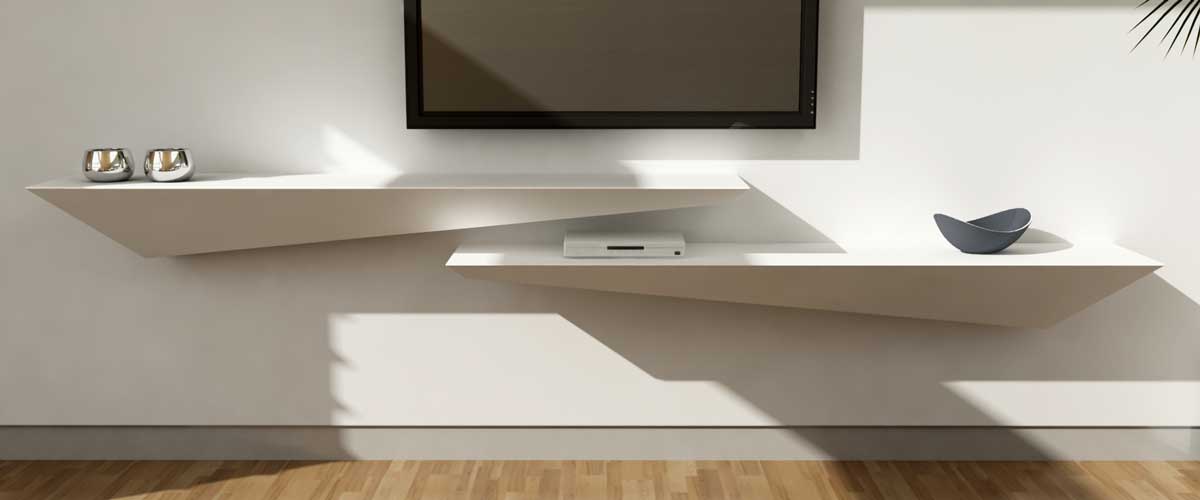 Your guests will be impressed seeing such an exclusive item !!. Shelves suitable to furnish also large walls. They are made in various finishes. Designed to be used individually or in combination: as input console, with a mirror, a painting, TV ... as a plan for local snacks ... so have many possible applications. Here's just a few items you can give the space a simple, elegant and exclusive. The box-shaped and tapered hides an extremely simple and immediate mounting system.
Bedside table Corian walnut wood suspended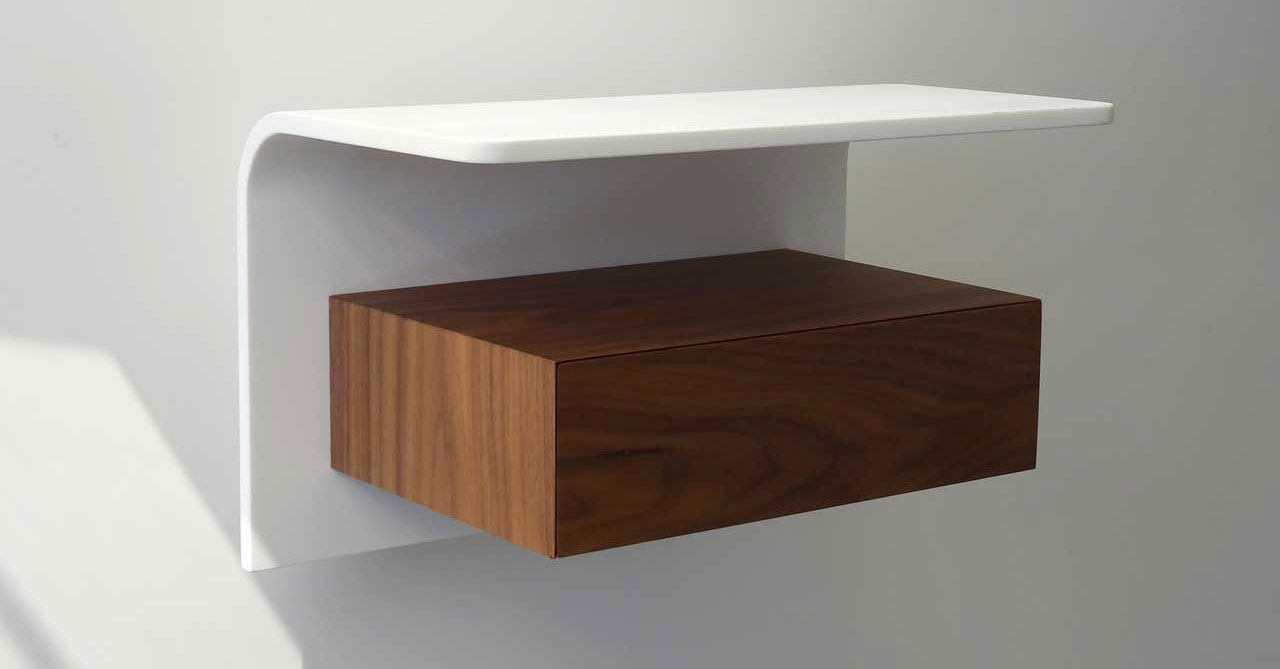 Essential and clean shape. It fits perfectly next to all the modern bed headboards. It takes up minimal space. The wall suspension allows you to clean the floor easily allowing better hygiene. Design Ezio Colombrino. The curved surface uses the typical thermo-molding properties of DuPont ™ Corian © with a matte finish. In one element elegance and practicality. Possibility to install Wireless (inductive) recharging for mobile phones. It will be enough to place the mobile phone on the bedside table to recharge the mobile phone without the need for a wire; only on request.