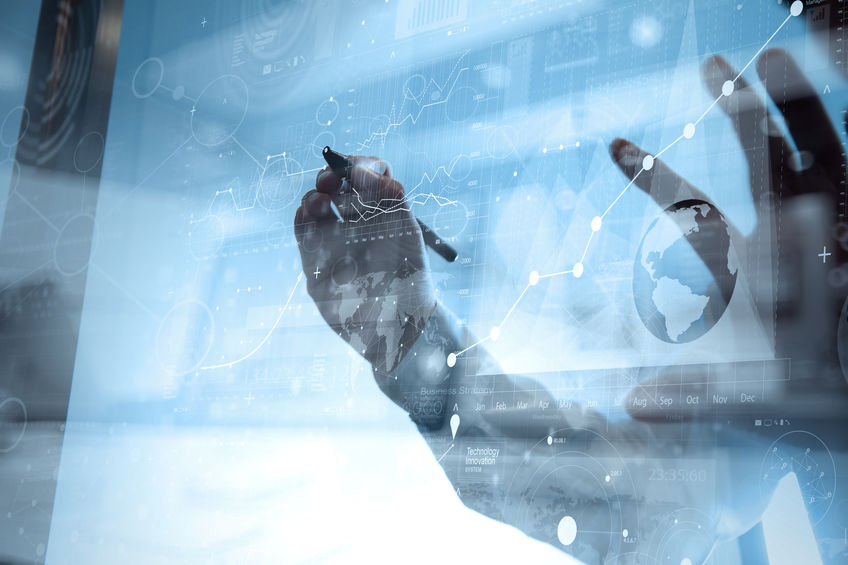 The ICT sector is playing an increasingly strategic role in Italy, as it now provides fundamental contributions to all other sectors of the economy. Investments in ICT have increased in all sectors of the economy, from services to manufacturing, with a major increase in the public sector as well. Italy is registering remarkable growth rates for most segments of the ICT market (75 bln in 2021), with impressive forecasts for strategic enabling domains, especially Cloud, Blockchain, Cybersecurity, Big Data, and AI.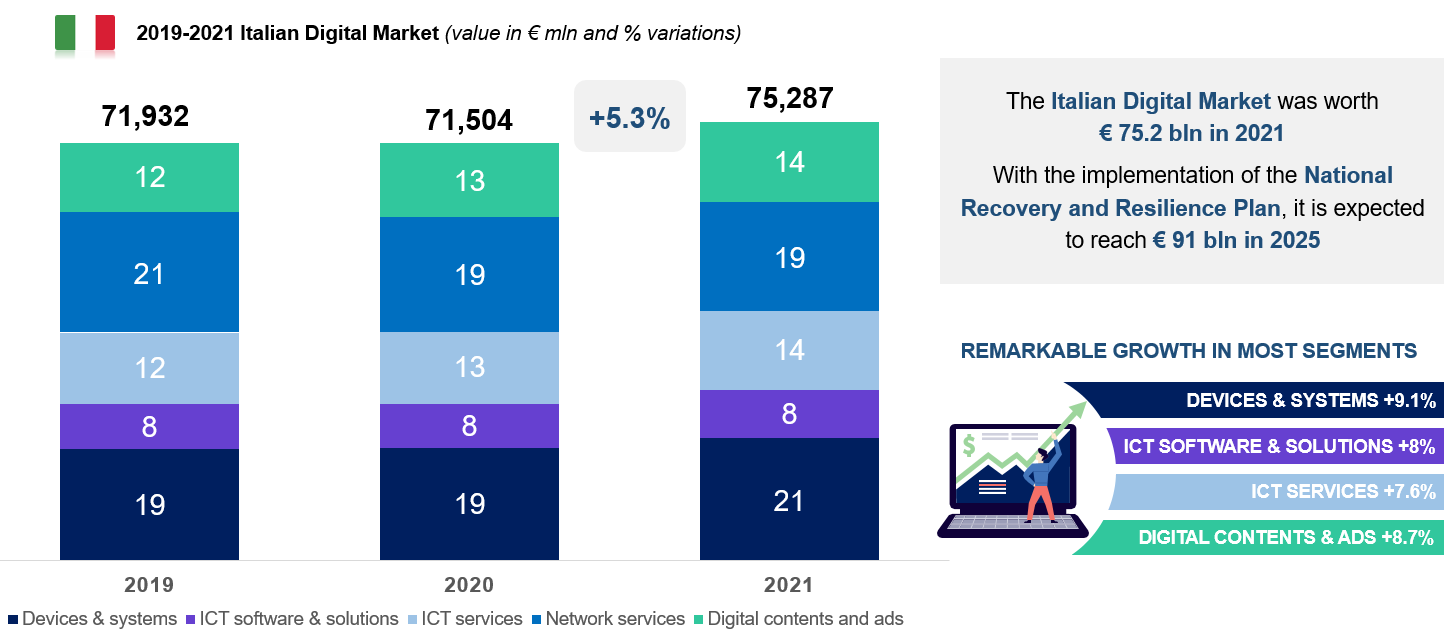 Technology hubs also play a key role in the sector. They attract innovative businesses, promote technology transfers, and contribute to the development of new enterprises. There are noteworthy tech hubs located in 9 Italian regions: Lombardy, Liguria, Piedmont, Veneto, Friuli Venezia Giulia, Emilia Romagna, Lazio, Abruzzo and Sicily.
Among the transforming and enabling technological domains, the major development
forecasts in Italy concern the Cloud market (worth € 4.2 BLN in 2021), due to its transversal role in digitization projects, and those technologies aimed at protecting, organizing, and analyzing data, namely Blockchain, Cybersecurity, Big Data, and AI.
This growth trend in the Cloud Market is expected to further consolidate thanks to massive investments planned for the digital transition by the National Recovery and Resilience Plan (27% of the total resources of the Plan are allocated to the digital transition).
Italy ranks among the leading European countries for the use of Cloud computing services by enterprises. 
The National Recovery and Resilience Plan will finance the creation of national R&D centers specialized in several enabling technologies, among which Advanced Simulation, Quantum Computing and Big Data Analytics.  
Italy can count on both an extraordinary high-level talent pool (109K recent graduates in ICT-related disciplines and 430K skilled employees in the industry) and R&D Partners working in  some of the most renowned academic institutions in the world. Public research centers and innovation hubs, alongside ICT innovative startups, represent a valuable pool of potential partners. 
Italy has 56 universities with ICT related degree programs. In 2022, eight public universities were included in the top 250 of the 2022 QS World University ranking for the highly competitive «Engineering & Technology» domain.
Italy is home to several high-level ICT research and innovation centers, each having a specialization in a specific ICT domain. The main centers are the following: 
National Research Council (CNR);

Competence Centers;

Innovation Hubs (Science Parks and tech districts; Incubators and Accelerators);

CINECA computer center branches (Naples, Chieti, Rome, Bologna, Milan)
CNR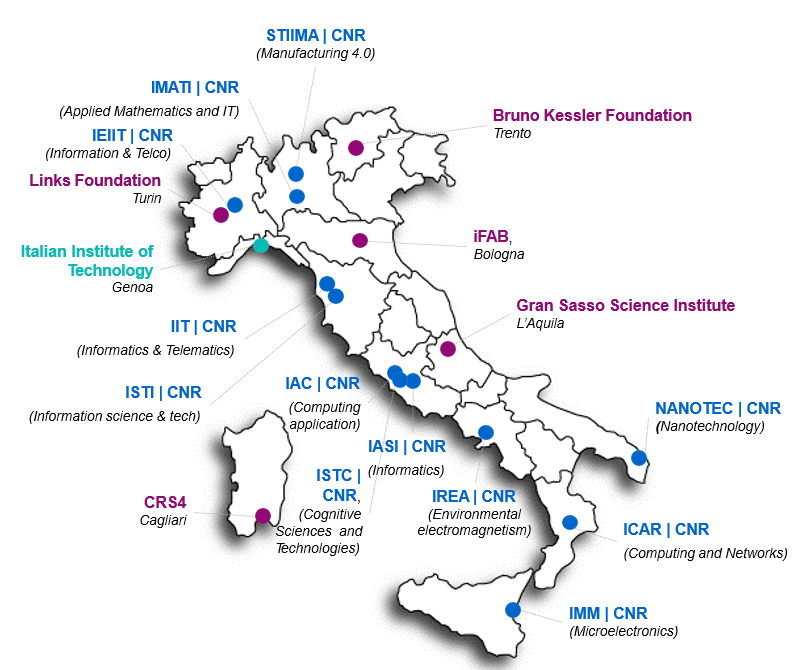 The National Research Council (CNR) - The National Research Council (Cnr) is the largest public research institution in Italy, the only one under the Research Ministry performing multidisciplinary activities. The CNR Department of Engineering, ICT and Technology for Energy and Transport (DIITET) performs scientific activities in priority areas for country innovation with applications in many sectors: from energy to transport, from industrial engineering and ICT to constructions, from biomedical sector to areas such as aero-space, cultural heritage, security, the environment, agriculture and shipbuilding.
COMPETENCE CENTERS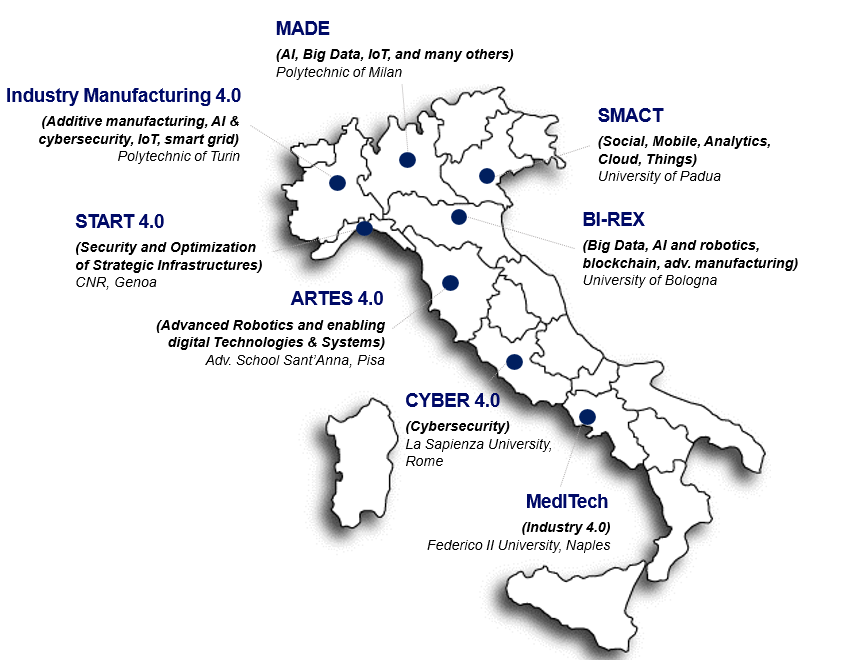 Competence Centers represent specialized hubs, which support companies in the adoption of advanced technologies. Indeed, Competence Centers provide companies with many services, e.g., training, testing, technology scouting, and project funding.
INNOVATION HUBS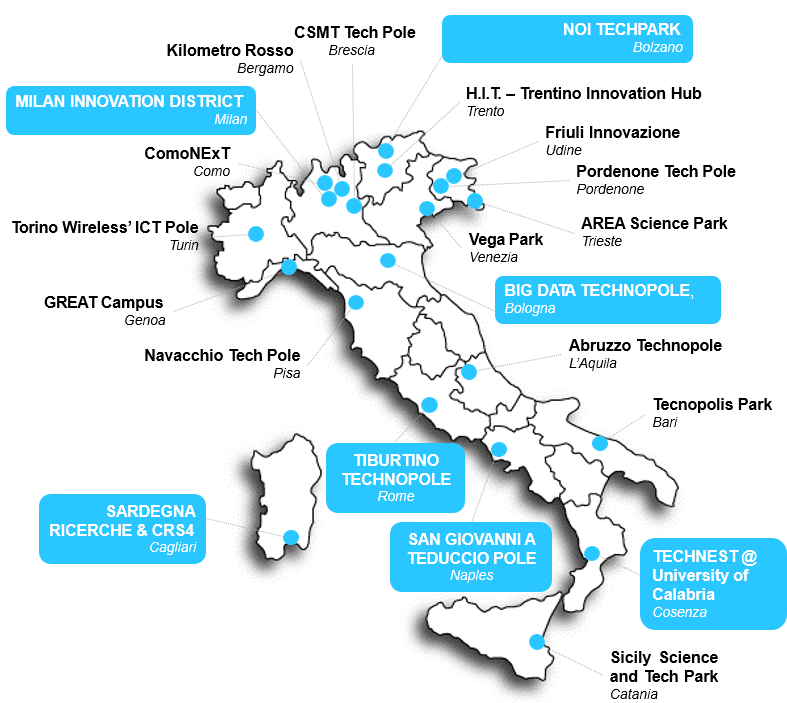 Innovation hubs provide companies and research institutes with many tools and services: spaces, labs, consulting and networking services, and many more.
CINECA
Cineca is the largest Italian computing center, one of the most important worldwide. It operates in the technological transfer field through high performance scientific computing, the management and development of networks and web-based services, and the development of complex information systems to process large amounts of data.
Cineca, indeed, provides an extremely high-performance computing system capable of addressing the major scientific and industrial challenges of our time. Cineca helps companies to accelerate the "time-to-solution" through services ranging from on-demand access to the computing infrastructure, performance evaluation and optimization, to the development of PoC projects.