The initiative, realized by ICE Agency, is the result of the collaboration with the two main Italian logistics trade associations, Assoporti and UIR - Unione Interporti Riuniti.The objective of the participation in CILF is to include the activities of attracting investments within the dynamics of logistics developments and Real Estate that arise from the One Belt One Road Strategic Plan, also with reference to the significant growth of cross border e-commerce.
The Italian presence, at its 2nd edition, is part of the activities foreseen by the agreement between ICE Agency and the above mentioned Associations, signed in July 2018 with the aim of establishing a collaborative relationship to enhance the "Country System" and introduce the foreign investor as a strategic player for the evolution, specifically, of the competitiveness of the Italian ports and the distribution system based on the network of interports.  
CILF is one of the main trade fairs dedicated to logistics held in China with, in addition, a strong resonance in Asia. Its particularity is to address the vast market of southern China: this year the exhibitors will be about 1000, and 50000 visitors are expected.  
This year, in consideration of the health emergency still in progress, Italy will be present with an institutional stand at which the staff of ICE Canton, together with the staff of the Fdi Desk in Beijing, will collect the expressions of interest from the Chinese side and will distribute a book of Italian project proposals, duly translated into Chinese.
The aim is to maintain the attention on the Chinese market, focusing on the role of the Italian ports that, during the health emergency, have guaranteed the continuity of the logistic chain.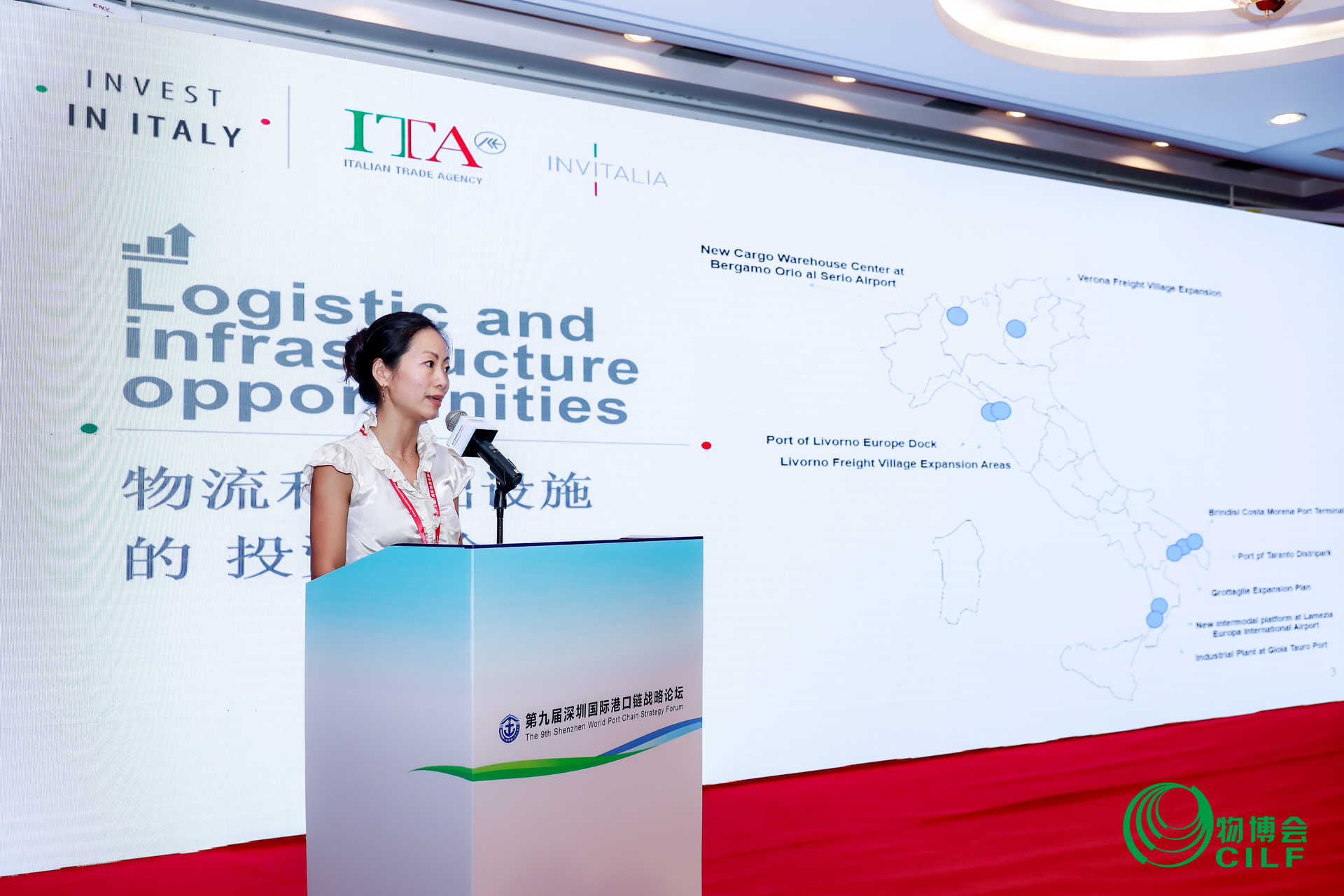 The ICE Agency, together with the Fdi Desk in Beijing, has also coordinated the presence at the World Port Chain Strategy Forum with a presentation entitled "Presentation of the Italian Ports and Interports Offer".
Our country can count on 16 Port System Authorities and 24 Interports, both fundamental nodes as far as the transport modalities of Italian trade of goods are concerned.  As regards the 2018 annuality: - in volumes: 57.4% of the import takes place by sea and 22.9% by road (RAM elaborations on Bankitalia data, Eurostat 2018); the sea remains a prevailing mode of exchange for many geographical areas both in import and export. This is also demonstrated by the fact that Italian ports of call, due to their geographical position and logistics, host routes to the Middle and Far East, including China. Italy is in fact a strategic hub for the BIS, an initiative that has led to the signing of 29 agreements between Italy and China, for an estimated value of 2.5 billion euros (SRM 2019).