Sensoria Italia opens R&D operations in Italy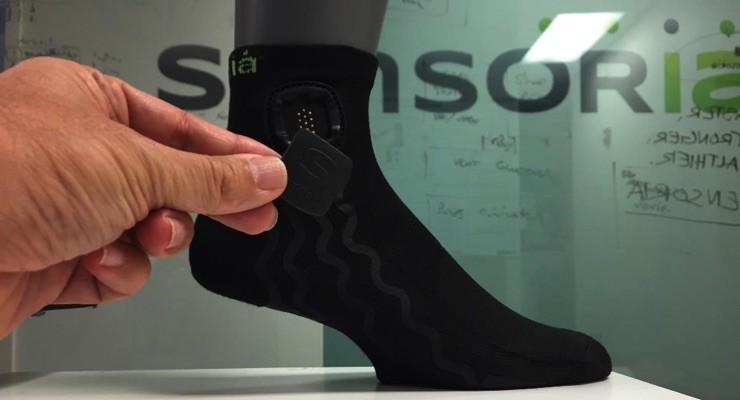 Why Italy
A new high-tech R&D entity, Sensoria Italia srl, opens for business in Italy. The European wearable medical devices market is forecast to grow at a CAGR of 18.8% over the next 5 years, from $2.5B to nearly $6B.
Sensoria Health Inc. is a US-based company whose vision is The Garment is the Computer®. Founded in 2017 by Davide Vigano' and Maurizio Macagno., two Italians based in Redmond, WA, Sensoria Health is the leading developer of remote patient monitoring Internet of Me (IoMe) smart garments and artificial intelligence software solutions that improve people's lives.
By choosing Italy as its first overseas R&D location, Sensoria Health is tapping into the country and its fast-growing Human Augmentation and IoT highly skilled and available resources for the Healthcare industry.
The Sensoria's Developer Kit includes proprietary textile sensor infused smart garments, Sensoria® Core microelectronics, and a Microsoft Azure based cloud software system enabling footwear and clothing brands to convert their analog products (shoes, apparel, accessories, etc.) into digitally transformed IoMe solutions, and their usage and biometric data into actionable information for users, patients, and clinicians remotely and in near real-time.
Support Provided by Invest in Italy
The "Invest in Italy" team that involves the Italian Trade Agency and its office in San Francisco, California, in collaboration with Invitalia and the Federico II University in Naples, supported Sensoria throughout the process of establishing its Italian legal entity in Bergamo, opening its operational R&D office in Naples and applying for and receiving the Smart&Start National Investment Incentive Program for innovative startups and SMEs.
Aim of the Investment
Sensoria has built artificial intelligence algorithms based on its proprietary textile sensors, microelectronics, and software that can enable apparel, garments, footwear, and accessories to collect data from the human body. Embedding sensors into clothing and apparel that are used by most people every day has multiple fields of solution applicability. Smart garments have proven to be uniquely helpful in monitoring novel biometric data. Sensoria's smart products: socks, insoles, diabetic foot-focused boots, knee braces and wheelchair smart cushions will collect and monitor data helping to diagnose and also allowing clinicians to intervene in improving the lives of patients with disabilities or suffering from diabetic complications and Parkinson's and many other chronic conditions. Sensoria established its legal entity in Bergamo, Lombardia, in spite of the challenges posed by the pandemic situation in November of 2020, visited in person the New Steel incubator offices in the Campania Region and is now planning to open its first R&D office in Europe in Naples.
Thanks to the Smart&Start Incentive program, Sensoria is planning to hire engineers from the local vibrant ecosystem and further accelerate the development of its SDK and technology platform and product pipeline.
Sensoria Heath's Italian investment represents its first European R&D center with the mission of developing its product line of biometric-sensing smart garments and artificial intelligence-connected software. Sensoria is looking forward to working and partnering with the textile, clothing, and fashion ecosystem in Italy.
Sensoria Health looks at Italy as a first step in its race to improve people's lives by better understanding their health data, both in Europe and across the globe.
For more information please visit: www.sensoriahealth.com