CUFMilano is the export brand of the historical company "Centrufficio Loreto", founded in 1986 in Milan (Italy). CUFMilano is now specialized in Office Furniture, Partition Walls and Acoustic solutions. Our strenghts consist in creating a high quality Made in Italy furniture at competitive prices with a large stock of items for immediate delivery
FROM 100 TO 499 EMPLOYEES
Reference year of turnover:
From 250.000 to 750.000 Euro
Manufacturing of furniture for offices and shops
Manufacturing of chairs and armchairs for offices and shops
Manufacturing of other non-metal furniture for offices and shops
Manufacturing of other furniture (including those for external furnishing)
Thermal, acoustic or anti-vibration works
Installation of doors and windows, furniture, ceiling voids, mobile dividers and similar
WHOLESALE TRADE (EXCLUDING MOTOR VEHICLE AND MOTORCYCLE TRADE)
Wholesale trade of furniture in all materials
Wholesale trade of paper, cardboard and stationary items
77 desk, Fusion desk, Vittoria/Magenta desks, Taurus/Acquarius partition walls
Contact Information
Business Proposals
No business proposals uploaded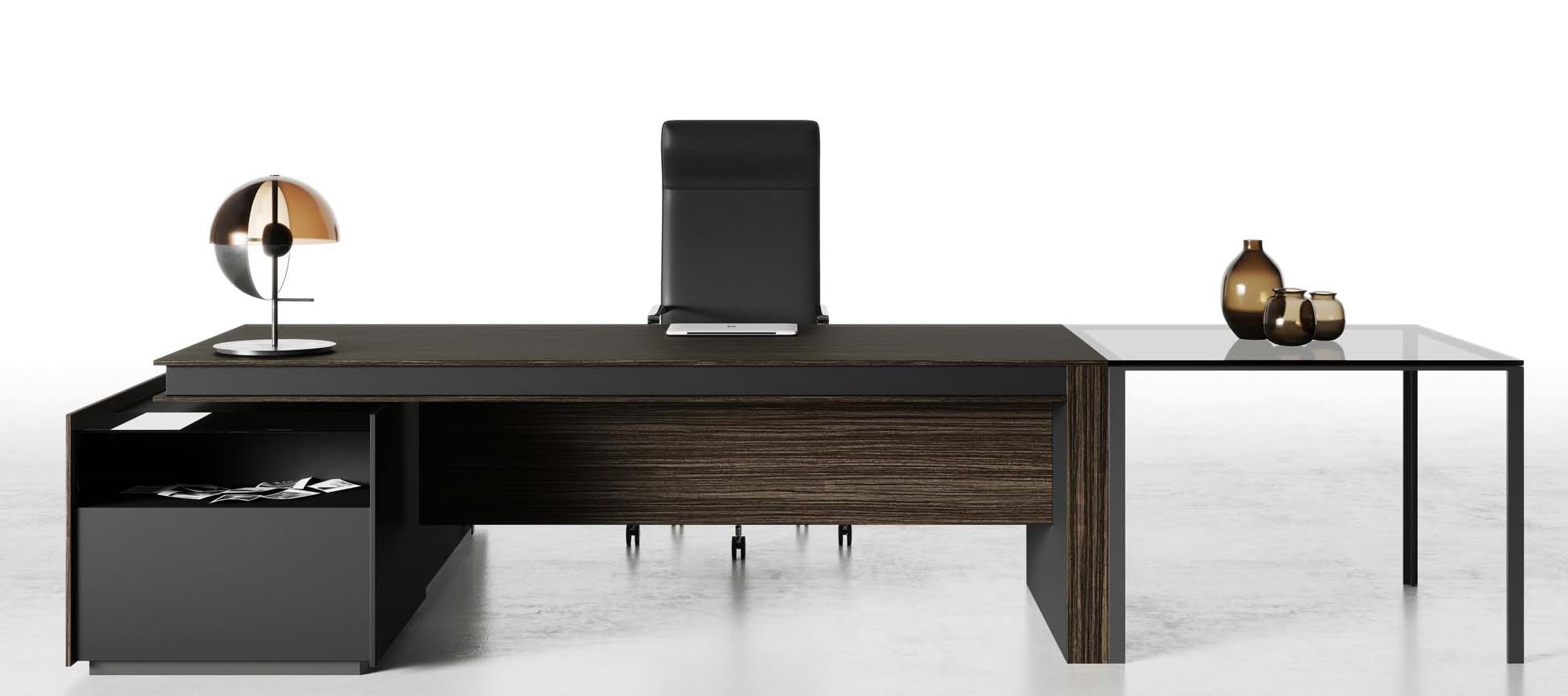 The Vittoria desk's design is inspired by an aesthetic and referential approach to architectural values. The process of form identification is achieved through the construction of various functional elements and the variation of different distributive layouts. By exploiting the use of the technical characteristics of laminates and of metal, it is possible to combine solidity and lightness as modern architecture requires. The principle of formal discretion gives an identity to the design without being invasive. The top surface of this desk accentuates the horizontal alignment, and the intersection of the side desk defines a space that is functional but at the same time meticulous. The union of the materials is inspired by contemporary urban architecture. Stone, wood, crystal and metal are reproduced with balance in the various components. Everything is designed to be functional but also invisible: the double layers and the panel grooves allow the presence of various technical cabling. The flush crystal cases work as open compartment units: they enhance a feeling of prestige, transmitting the perception of the furniture as an architectural element. The crystal courtesy frames show that we are in executive mode and hint to private corners whilst being aesthetically functional in concealing any monitors or computers. The laminate tones belong to the warm grey and natural oak, combined with bronze and metal. The design finishing mixes the neutral tones of the tobacco with the sand colors; furthermore, the metals have a pleasant effect and are easily placeable. The use of dark colored crystals enriches the design with elements of depth and contrast. The designs have been realized using the latest generation of technical laminates which give intrinsic material characteristics to the furnishing surface. The technical marble tops give an added value of exclusivity and individuality. This project reveals multiple configurations and introduce the concept of glass showcase: a simple accessory that can become a privacy screen or a storage compartment. The Vittoria desk is characterized by the linearity, elegance and dignity of the materials. The top and the side desk are in honeycomb core with double laminate panels, with brushed oak texture in tobacco and ash grey oak finishes. The desk can be equipped with 6mm Gres with Sahara Noir and Calacatta Gold finishes. On desks a meeting smoky grey glass meeting table with metal structure can be added.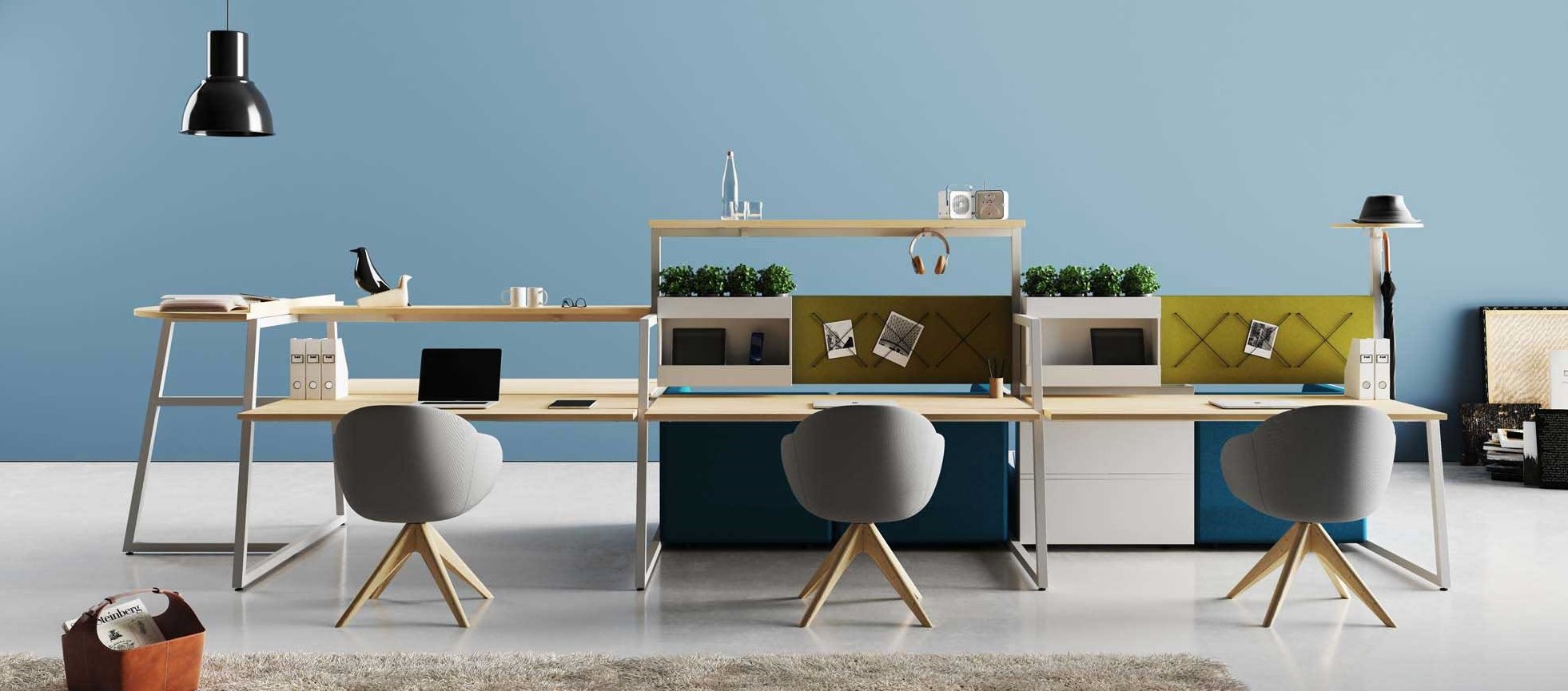 The office work environment is becoming more and more versatile. It is not only a place to work, but also to meet and chat, to eat and drink, to rest and relax and to do many other activities. The office system Fusion is what makes architecture functional and is what helps people do various activities in office. Every detail is carefully designed around people's behaviors and activities in office space. There are designated storage spaces for personal and workplace belongings, to articulate and get better management of space. A variety of configurations create different atmospheres and landscapes, which are not only for solo and collaborative working, but also for impromptu meetings and short breaks in a more relaxed, home-like and less institutionalized environment. The office system FUSION is a "low-tech" product solution designed for a smart workplace, which requires an integrated behavioural approach to the office space based around new lifestyle and work-style trends, like co-sharing and co-working spaces. The workplace should be like a kind of social network, but with real people who want to express their personalities and individual characters even when they are working as a team. The furniture develops in height and length by connecting different leg configurations according to the client's necessities. The Fusion system basically consists of: • a first level of single desks, available in multiple configurations with or without sliding tops. The desk tops open above a central cables tray to make it easy and user-friendly the access to plug bars and data connections. • On top of the desk height 73cm, the second and third levels (110 and 150 cm) are introduced to be able to add various functions. • Screens can be added to the second level and shelves can be added to the second and third levels. The screens are available with elastic bands that hold business cards and documents and/or pockets to keep magazines and newspapers. Under the rectangular shelves, hidden hooks can be added to hang personal belongings and small accessories. The round shelf fixed to the 40 x 40 mm structures functions as an integrated coat stand thanks to the hooks under the round shelf. • "Charger boxes" fitted with plug bars serve as a desktop height accessory for smartphones and tablets when batteries are low. Charger boxes have a space at the top dedicated for stationaries such as pens, clips and staplers, or small plants for people who like to personalize their space. • Stand-up "touch-down" semi-circular tops are available at 110 cm height which can be used for a work place or for "chatting". • Below the desktop height, "storage boxes" are available for personal belongings such as work bags and computer bags. Also, hooks are provided externally for other personal objects. • The Fusion system includes a range of sofas which can be integrated into the layout for dedicated lounge and informal meeting areas in and around the desks. Low tables can be combined with the sofas and the charger boxes can also be placed on the tables for phone charging or laptops connection. • The structure goes up to 220 cm in height. A fabric roof creates a more intimate "hub" working situation. It also gives you a relaxed and home-like environment, with a feeling of working at a terrace outdoor.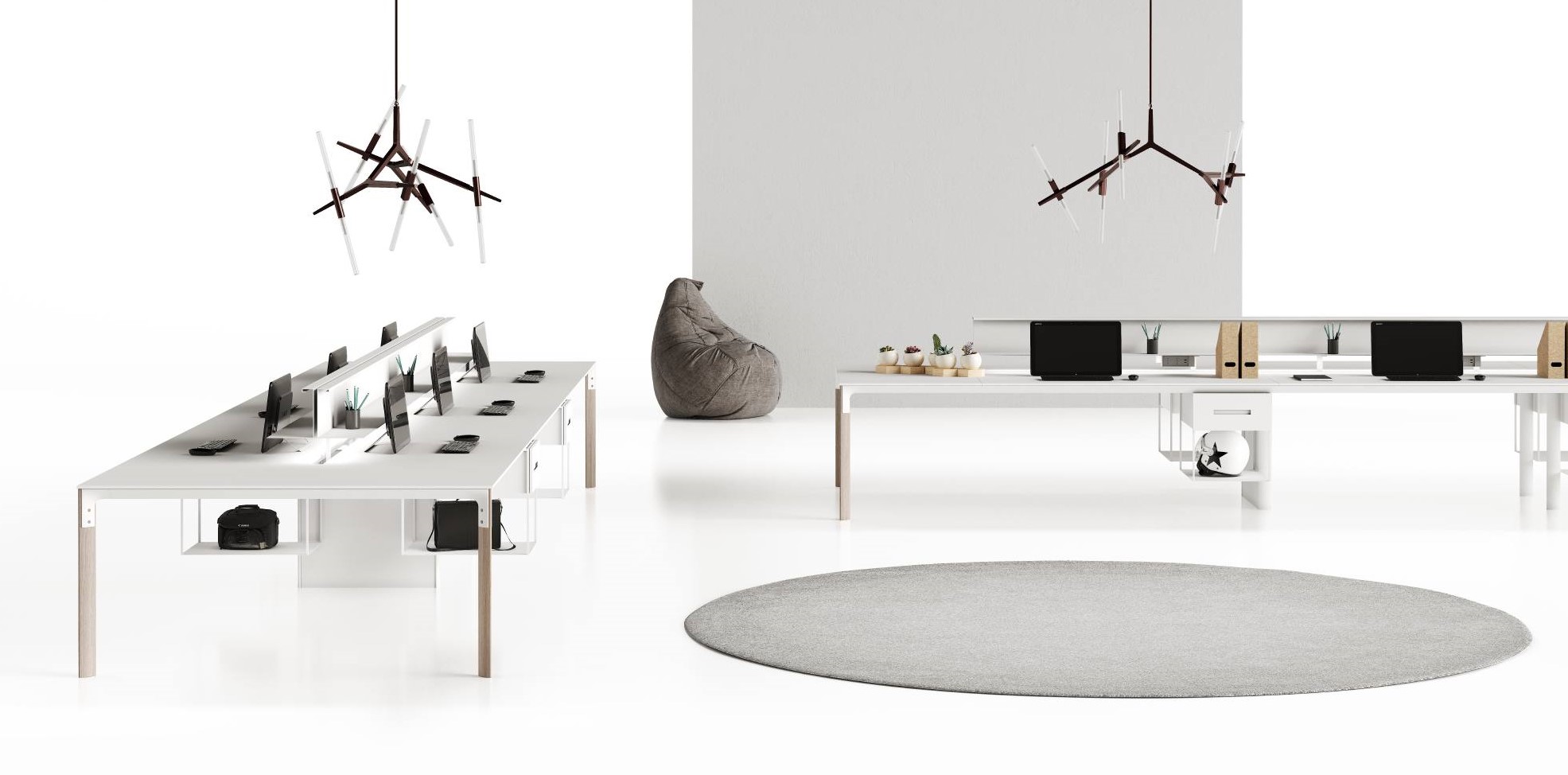 SeventySeven is an office furniture system characterized by a strong research towards the combination and coexistence of an aesthetic language characterizing both the working and the domestic settings. This system involves a high performance that presents, at the same time, an original, young, fresh and domestic image. The final result is an operative desk series characterized by a light and contemporary aesthetics, slim plane leans on top of a fleeing structure, adorned by connection elements that, starting from the beams, embrace the table legs. The table top sizing is pushed to unusual depths (77-57 centimeters) in order to take advantage of a perfect modularity in situations in which the workstations are at a 90 degree angle between each other. The accessories completing the system take to the extremes the light aesthetics theme, working with slim metal plate and framed volumes. The aesthetics choices, as well as the material selection and hidden structural elements, give to the system a versatility of language that makes it adapt to be put in architectonic environments, presenting peculiarities. Seventyseven desk has received the Declaration of conformity D.L. 81/2008 N. 1622/2020.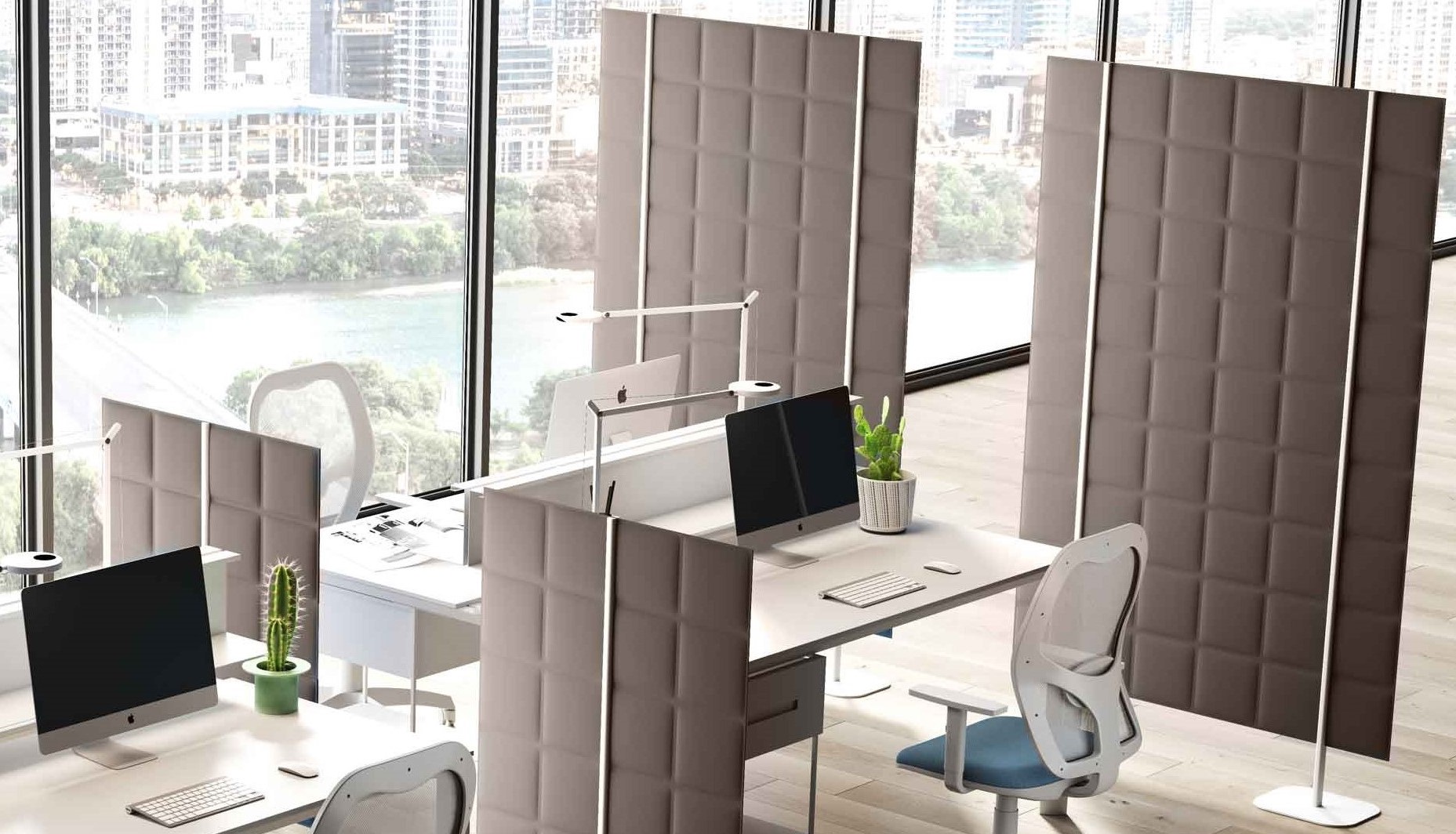 Tetrix is a colorful sound-absorbing fabric panel, available in different dimensions, that perfectly combines aesthetic and sound absorption. This element is Eco-friendly, it is made of recycled and recyclable content, it is moisture resistant and has a washable surface. The involvement of Tetrix contributes to Leed certifications. Its acoustic performance is in range of αw=0,65 up to αw=0,95 based on the installation method. Tetrix is also available in the Free-standing version, suiting any design need: its supporting bases can reach over 200 cm from the floor. The bases are available in different heights and in two neutral colors (white or bonderized gray) that make the vibrant colors of the panels stand out. Tetrix is also available in the Bicolor version, which gives an improved color harmony to the rooms in which it is installed. The balanced acoustic absorption power helps to reach a pleasant acoustic comfort and it makes it suitable to any situation where acoustic comfort is desired. Tetrix has just obtained the has just obtained the fire reaction certificate with a Bs2d0 classification. This abbreviation is a European classification corresponding to the Italian CLASSE 1 (non-flammable combustible materials). The Tetrix panel has been tested in different configurations: on the ceiling, on walls and free standing; the result is that it is perfectly suitable for any place in which the fire prevention certificate standards are applied. Thanks to the positive result of this last certification, Tetrix panels successfully passed all the tests regarding acoustic performance.
Aquarius Duo glass partition wall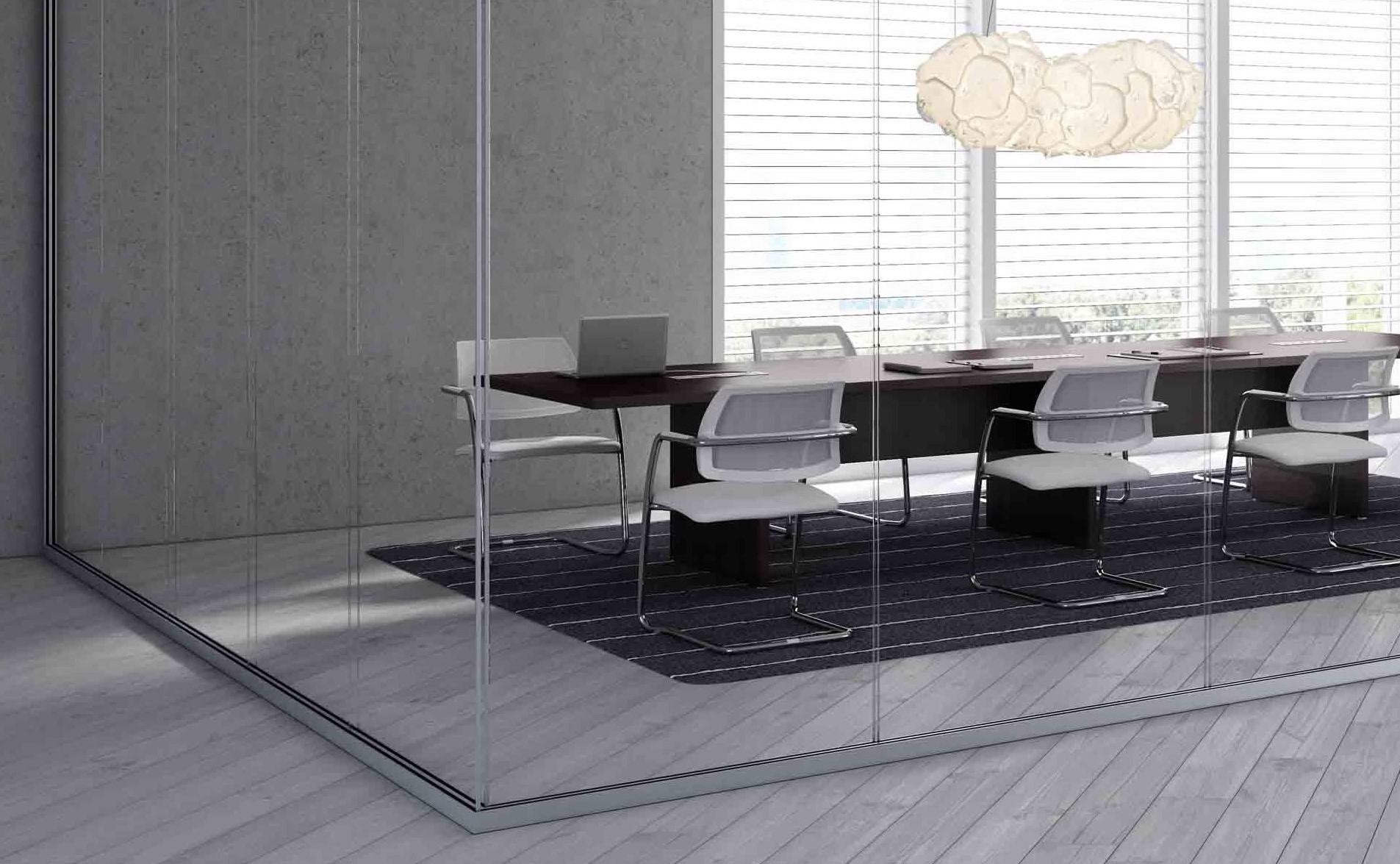 Aquarius is a system of single-glass or double-glazing glass walls in the Aquarius Duo version, with aluminum perimeter profiles and a height from 250 cm to 340 cm. The double-glazing system makes it possible to create partitions with high soundproofing values, ensuring not only the passing of natural light but also a great acoustic comfort. The double perimeter profile in natural aluminum has a 48.5 mm section x 28 mm (cd), while the compensating profile in natural aluminum has a section of 29.5 mm x 59 mm. Inside the perimeter profiles there are levellers for glazing and safety anti-unlocking profiles. The glasses are available with 5+5 or 6+6 double laminated-glass, with PVC seals in the middle. Glass used: • double laminated transparent glass 5+5 • 5+5 laminated etched glass (only 1 etched glass, the other one is transparent) • double laminated transparent glass • 6+6 laminated etched glass (only 1 etched glass, the other one is transparent) • 10mm tempered clearcoat (for doors without frame) • temperate acidated 10mm (for doors without frame).The doors can be supplied with three types of sash: blind, framed or in glass, with two types of movement: door leaf or sliding in two heights: standard with H 210 cm or H 260 cm high. The combination of these parameters offers a very wide range of doors. For further necessities, it is possible to custom-made components. Even if it is thinner than 3 cm, the wall is stable thanks to the fact that it is fixed to the existing wall structure along the entire perimeter. It is possible to create integrated partitions, moved by an alternation of full and empty volumes, combining the Aquarius glass wall with the Gemini wall.